If you love yarn you've probably heard of Jimmy Beans Wool, which is one of the most famous local yarn shops (LYS) I know of.
But, if you don't live in Nevada you might not know that Jimmy Beans Wool is not just an online retail shop; they also have a storefront you can shop in Reno!
And so, while on a road trip with my family this past summer, I was finally able to visit Jimmy Beans Wool in person.
And to be honest, I never write entire articles dedicated to the yarn shops I visit, but this one was very different and it took me by surprise.
Jimmy Beans Wool is a wonderland for yarn lovers, and because I had such a great experience I just have to share it with everyone else who loves and appreciates yarn too.
From skein to skein, aisle to aisle, join me as I relive the yarns, projects, souvenirs, and camaraderie of kindred craft souls that made my visit to Jimmy Beans Wool unforgettable.
Estimated reading time: 12 minutes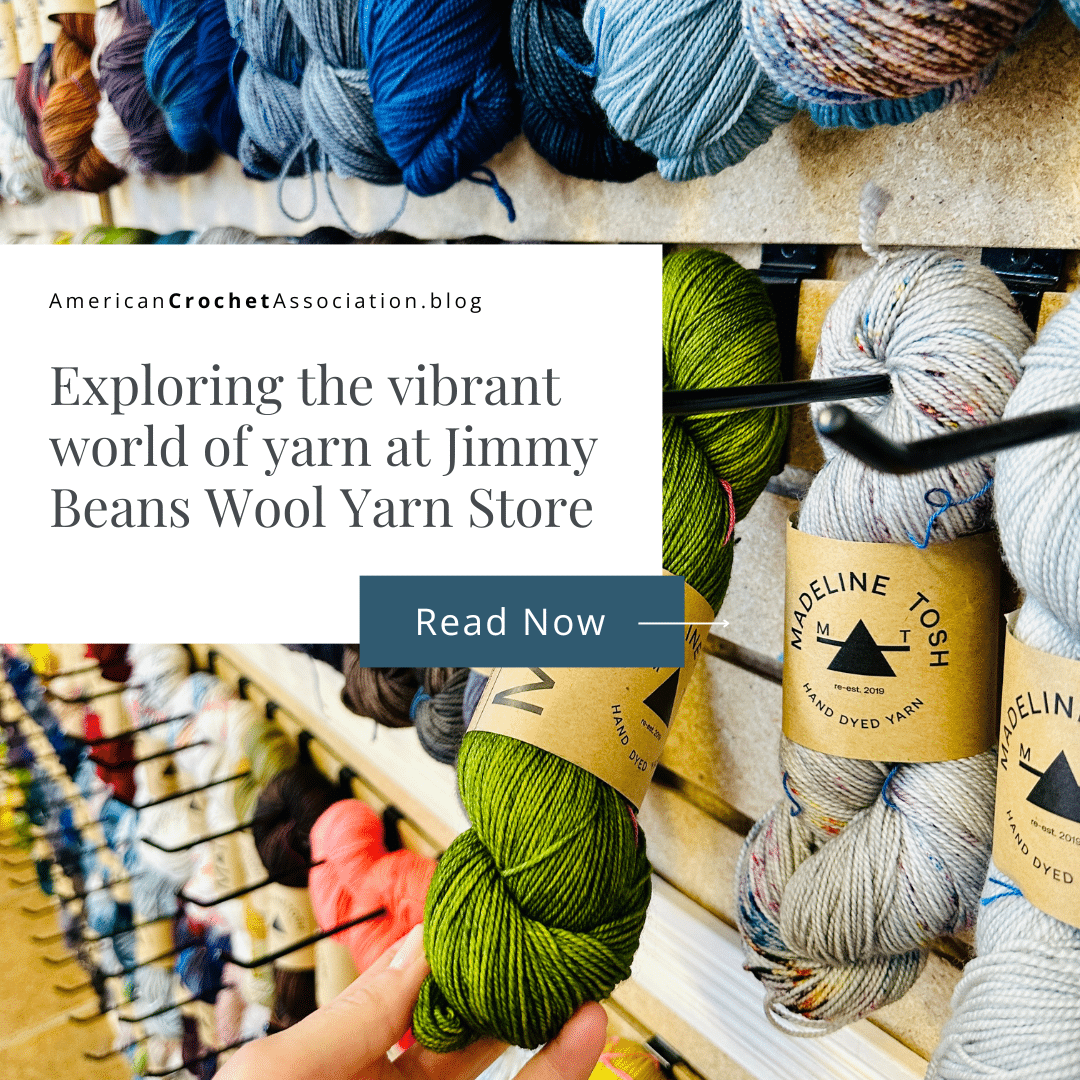 About Jimmy Beans Wool
Founded by Laura Zander and her husband in 2002, this haven for yarn lovers has grown from humble beginnings to become a globally recognized destination for all things yarn.
Their tag line is: Jimmy Beans Wool is your local yarn store…online!
Nestled in Reno, Nevada, the store's location is mainly a warehouse for global distribution, with space for a gorgeously curated storefront with dozens of creatively displayed walls and shelves of yarn!
Jimmy Beans Wool is not just a yarn retailer; it also offers a classroom where crocheters and knitters can learn, create projects, and build new skills.
If you can visit in person, Check their website for details about various knitting and crochet classes and workshops.
Their website offers a diverse selection of yarns and tools, with an array of informative articles, patterns, and resources to support and inspire any yarn enthusiast.
Unlike other LYS, Jimmy Beans Wool is a large enterprise with lots of employees; You can "Meet Team Beans", which features a playful dynamic of their people, with job titles like:
The Know it all
Yarn Snatcher
Content Cowgirl
Wholesale Witch
The Glue
Sounds like my kind of company culture!
Where is Jimmy Beans Wool located
Jimmy Beans Wool is predominantly an online yarn retailer, but they do share a storefront, warehouse, and headquarter offices all in one facility located in Reno, Nevada.
Online shopping is always open, but do check their website for details about postage rates and available shipping destinations.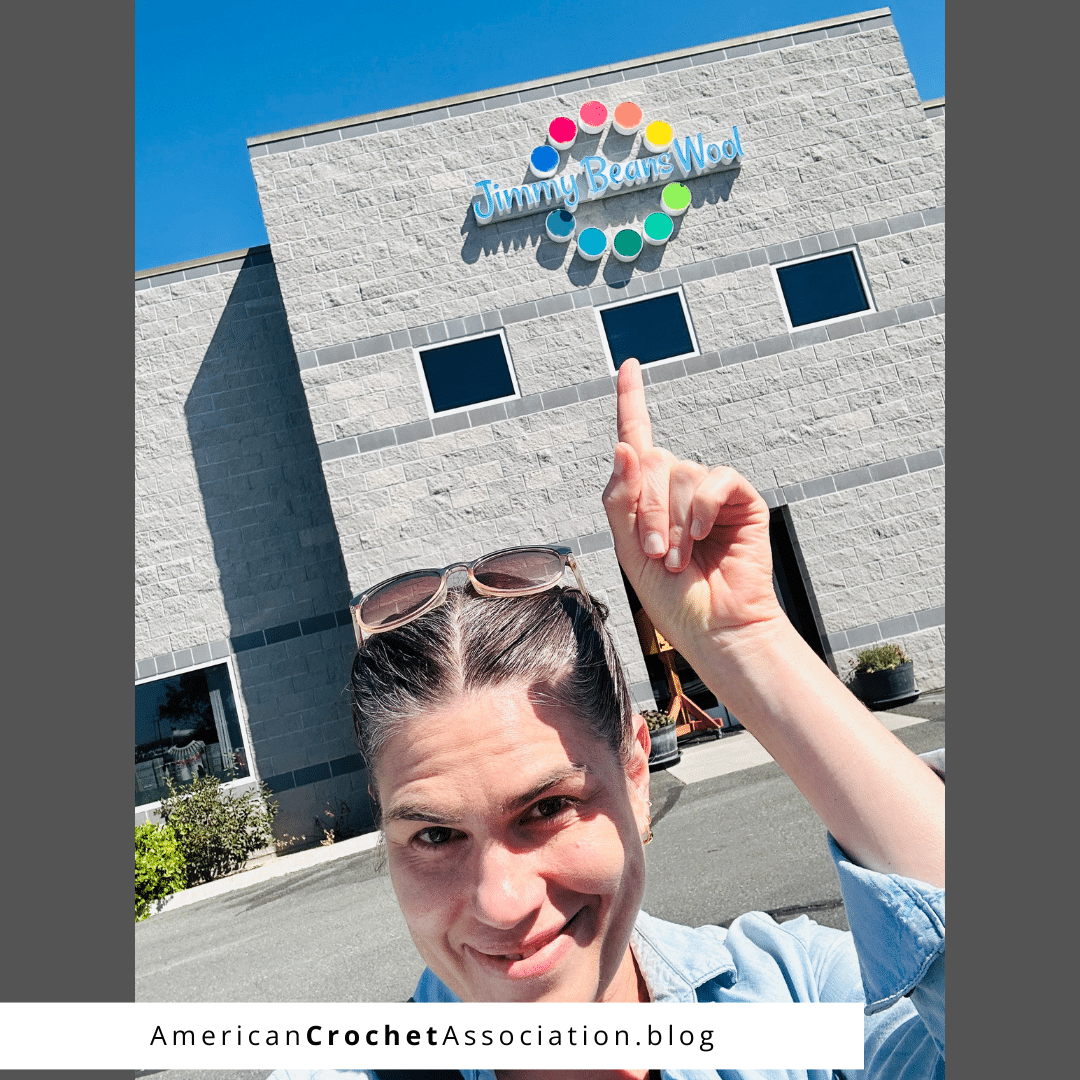 The storefront is open for in-person shopping Monday through Saturday (closed Sunday) from 10am – 5pm.
Jimmy Beans Wool
891 Trademark Drive
Reno, NV 89521
Their phone number is listed as (775) 827-9276.
What does Jimmy Beans Wool sell
Jimmy Beans Wool is a retail company that specializes in selling various types of yarn, knitting and crochet supplies, and other crafting materials related to fiber arts.
Yarn Selection
Jimmy Beans Wool is known for its extensive selection of yarn, ranging from various fibers like wool, cotton, silk, and blends.
They offer yarn in different weights and colors, including popular brands and indie dyers.
There are said to be over 217 varieties of yarn, including brands such as Blue Sky Fibers, Brown Sheep, Cascade, Hedgehog Fibers, Malabrigo, Noro, Jimmy Beans Wool, and the newly created Yarn Citizen (more on that in a bit).
Jimmy Beans Wool also offers yarn subscription clubs, where you can receive specially curated yarn and patterns on a regular basis.
These clubs can be a great way to discover new yarns and ideas.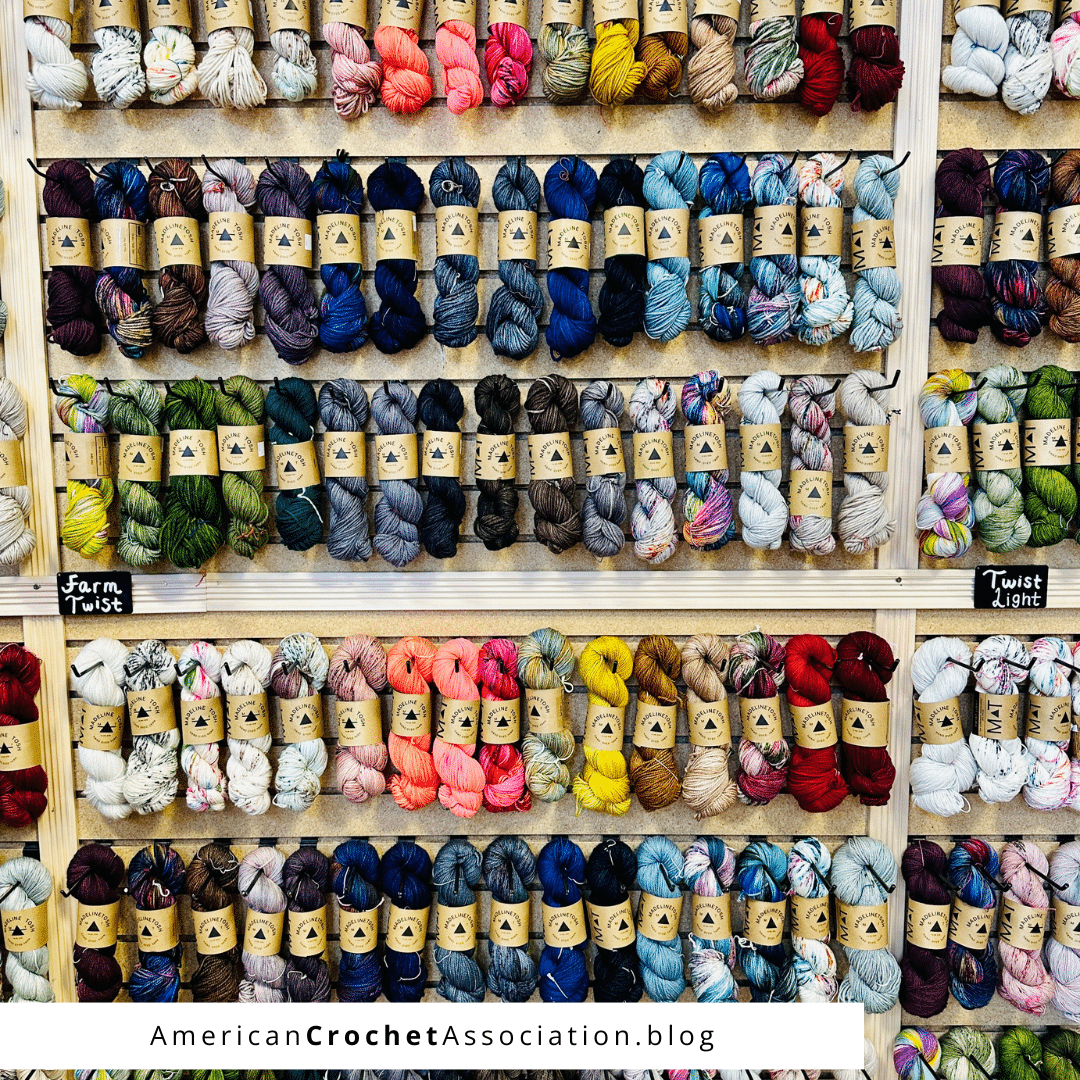 Knitting and Crochet Supplies
The website provides a wide range of knitting needles, crochet hooks, notions, and accessories that complement yarn crafting.
Project Kits
They often offer project kits that include both patterns and the necessary yarn, making it easy for crafters to start a new project without having to source materials separately.
Patterns
Their website includes a variety of knitting and crochet patterns for different skill levels and projects.
LYS are not just for knitters, and they have a lot to offer the crochet community.
Read more about making the most out of your LYS right here: 5 Reasons Crocheters Should Visit Their Local Yarn Stores (LYS)
Interesting things on the Jimmy Beans Wool website
Beans For Brains Scholarship is a 501(c)(3) merit-based scholarship for artistic students
Broken Needle Exchange allows you to send broken needles back for a new pair (even if you ordered elsewhere).
Project Sketchbook is a grid-like page where you can arrange different yarns from the site, so you can "sketch" your next project based on color.
How is the service at Jimmy Beans Wool
In one word?
Great!
Upon walking into the building, you'll be greeted by a mural made of buttons spelling out "hello", and that's the general vibe throughout.
Hello, welcome, come look around, pick things up, enjoy!
The shopkeeper was really warm and friendly; they checked in on me, answered my questions, helped me look for things, and pointed out some new and interesting products and yarns.
My experience visiting Jimmy Beans Wool
In two words?
Totally awesome!
I've only seen a few pictures of this store online, so I wasn't really sure what to expect.
Most local yarn shops are about the size of an average living room, so I didn't plan to spend more than 30 minutes looking around.
But as soon as I opened the door, I was so amazed that I knew I'd need more time.
My biggest complaint is that this place is so carefully and beautifully decorated that I didn't know where to turn to first.
That's a good problem!
There are displays everywhere (in front, right, left, and in the back) so I stood near the entry for a few minutes just turning around to ooh and aah in all directions.
My advice for first-time goers is to start on the right wall and work your way around the entire storefront so that you'll end up near the checkout counter.
But, if you have a few hours to spare feel free to zig-zag around in any direction that pulls you in!
Something I noticed, and really appreciated, was the abundance of crochet projects around the store.
One of my favorite pieces to see in person was the brand new Rustic Rainbow crochet blanket by TL Yarn Craft – what a gorgeous piece!
And, I was thrilled to see that a sample of my Hexagon Market Bag was worked up to display a brand new Jimmy Beans yarn exclusive: Yarn Citizen!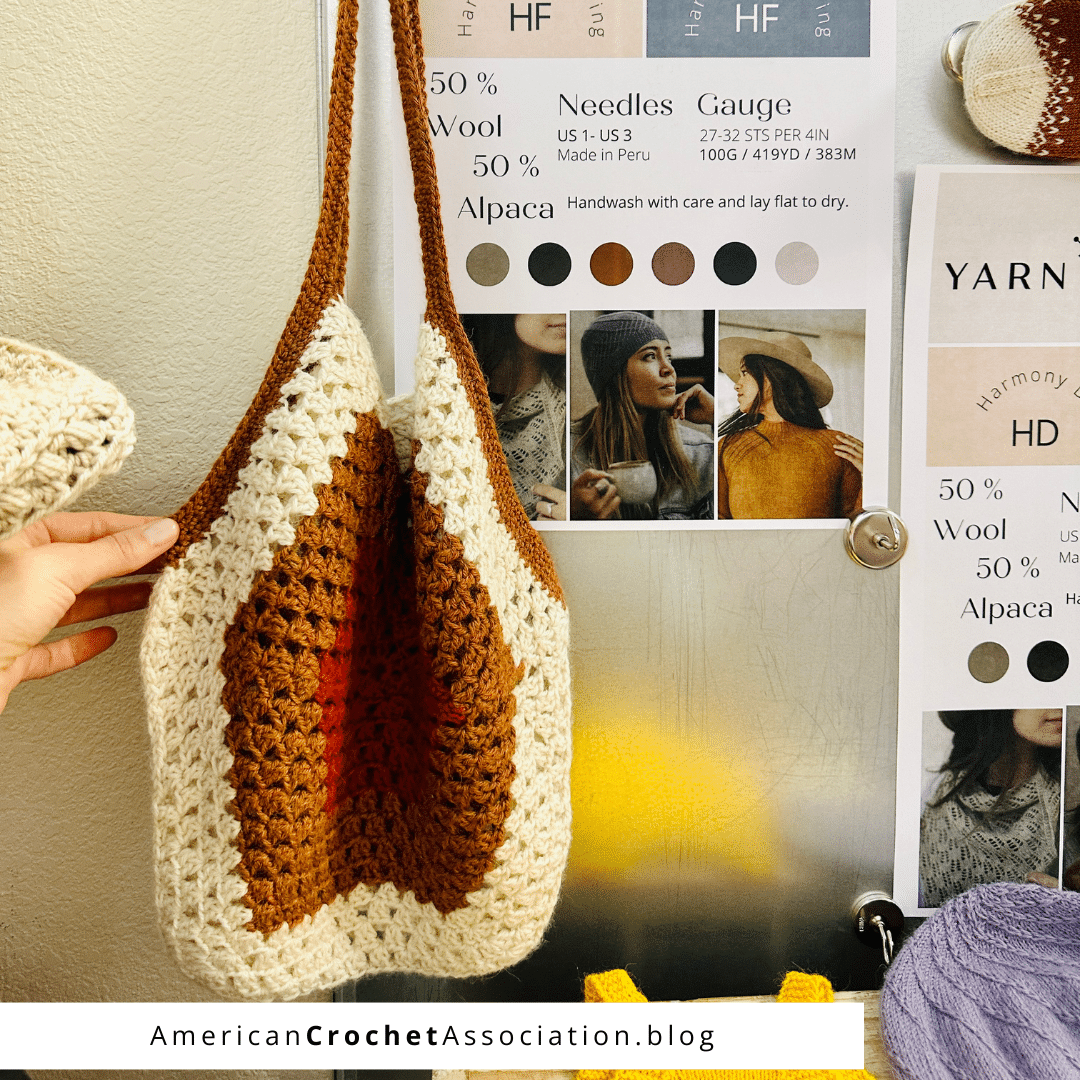 I even got to meet the person at Jimmy Beans Wool who worked up the Hexagon Market Tote sample, and they were so nice!
I had no idea my bag would be featured in their shop, so that was such a nice experience.
Everywhere I turned I found huge display of yarn or cute little yarn decorations, making this LYS feel very boutique.
My only other complaint is that they need to offer bigger shopping carts!
What I purchased at Jimmy Beans Wool
When I visit a new LYS I first look for locally sourced, made, and dyed yarns because I want to get things that would be hard to find elsewhere.
Jimmy Beans Wool has a few yarns and products that they exclusively source, and I was really excited to see that there were some brand new ones on display.
One new release is Yarn Citizen; a line of yarn that is said to be from fair trade mills, super soft, and affordable.
Yarn Citizen comes in a variety of weights (DK, Worsted, Fingering) and fibers (100% Wool, 50% Wool + 50% Alpaca), in up to 30 different colors.
I picked up some Yarn Citizen yarn, the della Q Maker's Mesh Tote, and a few branded souvenirs.
Yarn Citizen Unity Worsted
Worsted is my favorite weight to work with, so I grabbed 3 hanks in the colors Natural, Mushroom, and Chestnut.
Each hank is 211 yards in length and 100% wool (not superwash, to reduce water waste), and available in 15 different colors that pair really nicely together.
Hanks are currently listed online for $10.00 each, RIGHT HERE.
Some of the crochet projects I have in mind for this are:
Yarn Citizen Harmony Worsted
Because I'm a sucker for worsted weight yarn, I had to get some of this line too and decided that the color Apricot looked best with the 3 colors of Unity I grabbed.
Each hank is 211 yards in length and 50% Wool / 50% Alpaca (not superwash, to reduce water waste), and available in 30 different colors that look fabulous together.
Hanks are currently listed online for $14.50 each, RIGHT HERE.
Some of the crochet projects I have in mind for this are:
The della Q Maker's Mesh Tote
I cannot pass up a good project bag, so I immediately knew that this one was coming home with me.
The della Q Maker's Mesh Tote is a great mix of see-through mesh and stiff waxed cotton canvas fabric that it is sturdy enough to actually stands up on its own!
At 15" long 10" tall and 6" wide, this tote can easily carry a medium size project, notions, a few skeins of yarn, some snacks, and a water bottle.
The handles are about 16" in total length (8" tall), which comfortably fit in hand or on the shoulder.
This tote comes with a matching pair of scissors you can clip into the interior, a matching notions bag with snap closure, and a removable strap that can be clipped to the sides, and is adjustable in length to fit on your shoulder or cross-body.
The top of the bag has 6 buttons that snap closed, so that your yarn or project will never get stuck in a zipper, or spill out.
Finally, there is an exterior pocket with zipper closure that is large enough for a notebook, patterns, phone, and writing utensil.
While this tote was made for makers and their projects, it is gorgeous enough to be carried around as an everyday bag too.
Available in four gorgeous colors, I had a hard time choosing a favorite between them all: Purple, Red, Olive, Mustard.
I picked one up in the color Olive, which is currently listed online for $78.00, RIGHT HERE.
My Jimmy Beans Wool souvenirs
When I was ready to checkout, I asked if there were any branded souvenirs, so the shopkeeper went into the back of the warehouse to look.
I'm delighted to say that they found some fantastic items, including:
Jimmy Beans Wool "Celebrating 20 Years" tape measure (no longer available)
And, two rolls of Jimmy Beans Wool toilet paper (not available for purchase, lol)
I was thrilled!
I love little novelty souvenirs of the places I visit, and while I love all of these little goodies I think the toilet paper is my favorite.
Follow Jimmy Beans Wool online
You can follow Jimmy Beans Wool through various platforms online:
Official Website
Their official website is likely the best place to start. This is where you can browse their online retail store, view their blog, and get information about new yarn arrivals, sales, events, and more. www.JimmyBeansWool.com
Facebook
They usually maintain an active Facebook page where they share updates about new products, promotions, and community events. www.facebook.com/JimmyBeansWool
Instagram
You can follow them on Instagram to see photos of their latest products, customer projects, and behind-the-scenes glimpses. www.instagram.com/JimmyBeansWool
YouTube
Their first videos include knitting tutorials, which were posted 14 years ago! Since then, their playlists include tutorials, product reviews, conversations, unboxings, and a few seasons of what looks like product sourcing with "Jimmy's Journey to India". www.YouTube.com/user/JimmyBeansWool
Ravelry
If you're looking for project inspiration, this is where you can view more details about exclusive Jimmy Beans Wool yarns and lots of finished projects other Ravelry users make with them. www.Ravelry.com/people/JimmyBeansWool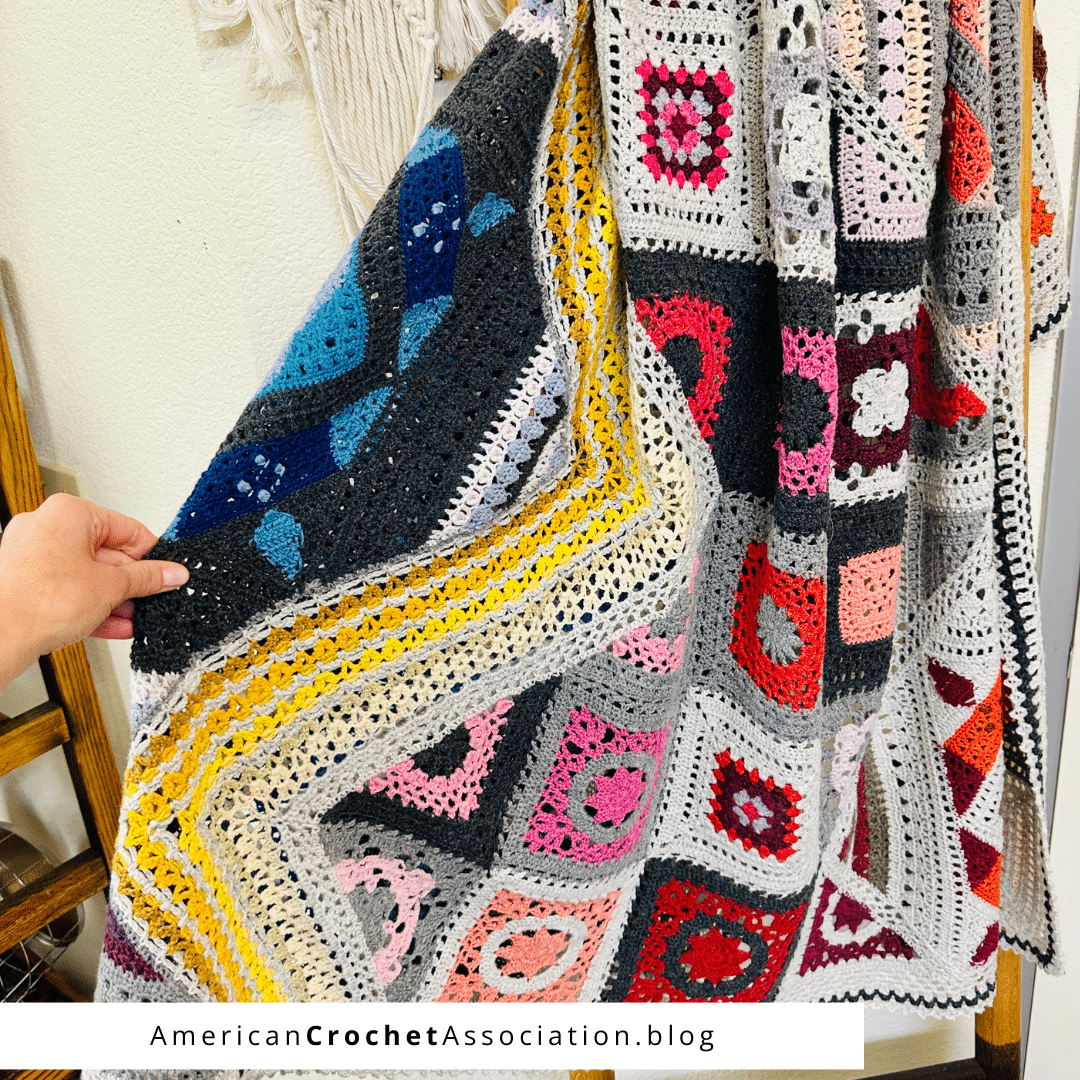 Giveaway
Enter for a chance to win a $75.00 gift card to www.JimmyBeansWool.com when you drop a comment to let us know what you would buy if you won!
Each comment counts as an entry for a chance to win.
1 winner will be chosen from the comments after Friday, 15 September 2023. Giveaway is open worldwide. Winners will be replied to in the comments, and updated below, with instructions to claim their prize via email within 5 days of notification. Jimmy Beans Wool has not sponsored this post or giveaway. 
Winner #1: Joanne Green
Peace, Love & Crochet
Salena
Click Here to start a conversation in our community!