Hats are a staple in the crochet world but they can be a bit tricky to size, so we've gathered 7 of the most popular measurements for you to use as a guide and some tips to help you crochet the right size!
Before you get started, here are some things to know:
How to measure:
To measure for the circumference of a hat (around), use a fabric tape measure from the center of the forehead and wrap snugly around the head.
To measure for the height of a hat (tall), use a fabric tape measure from the crown (top) of the head, down to the center of the ear.
Sizes by age:
Sizes by age may differ, so always measure the head first for the best fit (not all newborns have a 12" head, and a five-year-old may have an "adult size" head).
Sizes by style:
This size guide can not account for all hat styles; some styles will be fitted (exact) measurements, and some will be oversized (larger) measurements. 
Gauge and size:
When following a pattern, be sure to use the same yarn and hook size a pattern indicates so that your gauge matches the pattern gauge.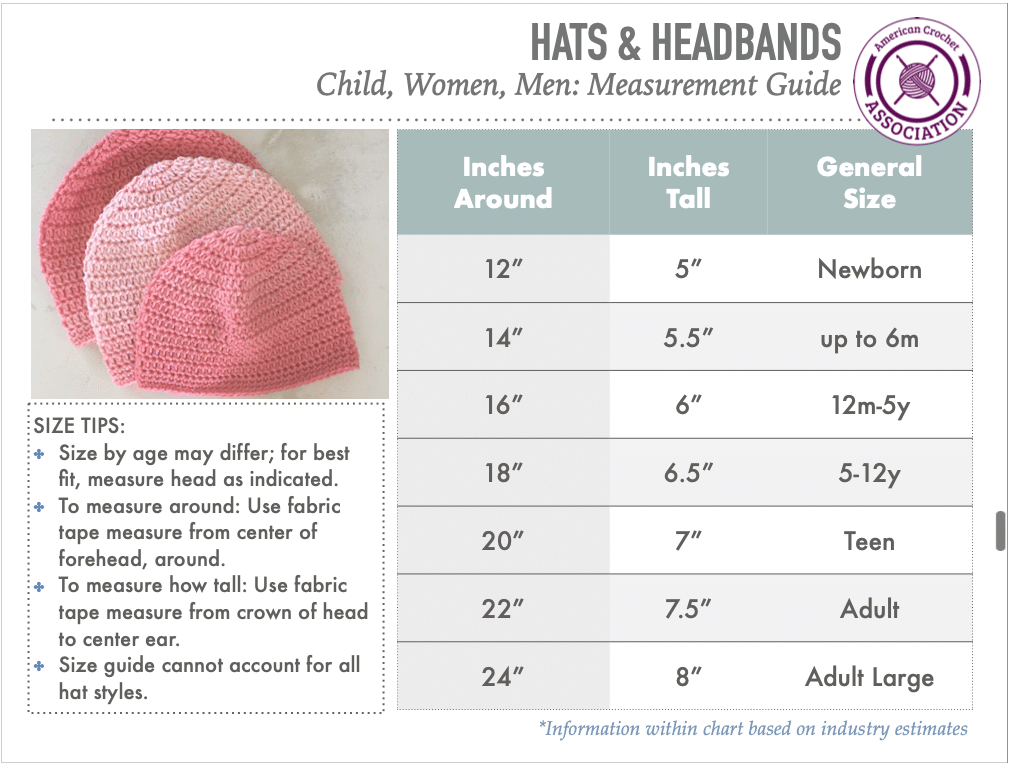 Ready to make a hat? Click here to try our Ombre Beanie!
Crochet Hat Size Calculator
Working hats from the center out in rounds can also be tricky to measure, especially since just an inch of crochet fabric can be the difference between a toddler or adult size.
But, with a simple math trick (and our crochet hat size calculator), you'll be able to measure your work to get the perfect size hat every time.
Click the image below (or right here) to read more and try this today!
Peace + Love + Crochet
Salena