Can you really make money with crochet?
Yes, you really can have a crochet job, make money with crochet, and build a crochet career, and I'll tell you how you can start one of 3 popular crochet careers today.
I'm Salena Baca, and I have working professionally in the world of crochet since 2009. My resume includes:
Created and sold hundreds of made-to-order crochet items,
Taught over 50 courses, lessons and workshops offered world-wide, and for the American Crochet Association.
Since I began my first crochet job in 2009, I've learned that if you love to crochet there are three main careers you can easily begin:
Selling Crochet Items
Teaching Crochet
Writing Crochet Patterns
While you may be familiar with each one, I'm here to offer a clear and actionable path to help you start any one of these, beginning today: How to make money with crochet!
Estimated reading time: 6 minutes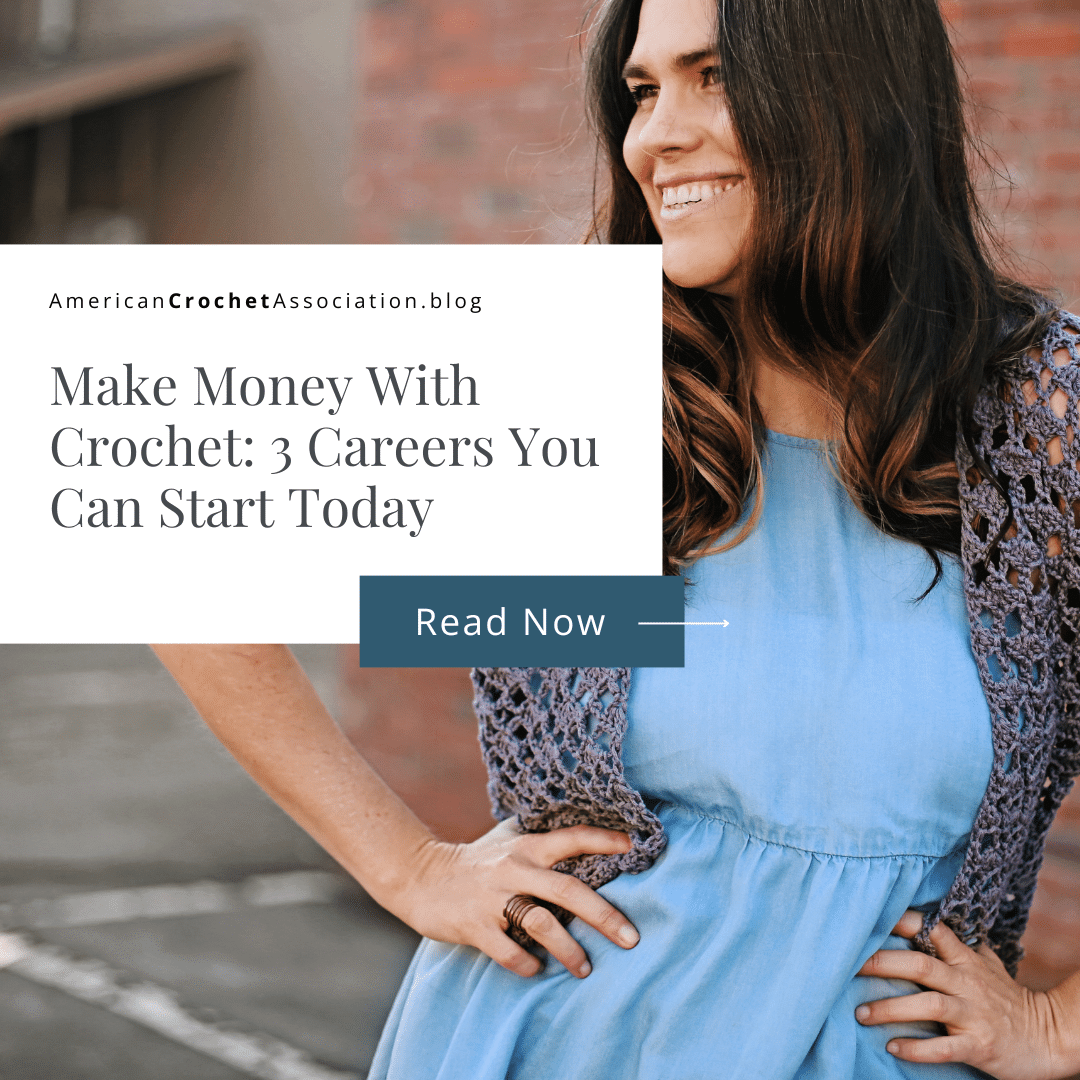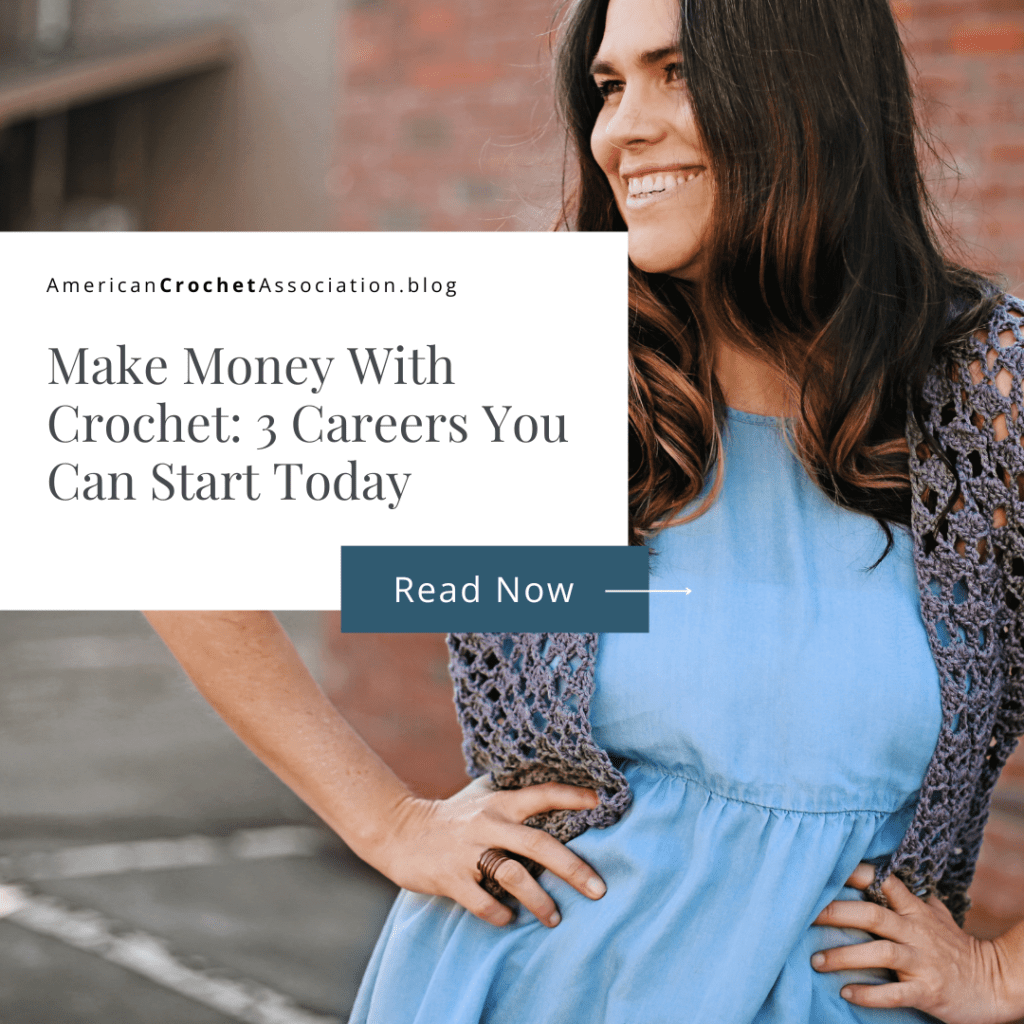 FAQ
Before we outline each crochet job, let's go through some FAQ first…
FAQ 1: Am I good enough to start a crochet job?
There is a spectrum of skill in the crochet world, ranging from beginner through experienced.
Just like any careers, knowledge and skill are important foundations to build a successful path forward.
In crochet, a well-rounded knowledge of yarn (fiber, weight, color, care, substitution) is a key factor in your own personal experience level, and how well you can create projects and patterns.
Even though there is a spectrum of skill in crochet, most don't realize how to assess and build their crochet knowledge and skills in a meaningful way.
After all, most of us have been self-taught, without a clear way of identifying what our skills are or how to build them.
Are you a beginner?
Are you experienced?
How do you know for sure… or, are you just guessing?
My thoughts?
Your passion for crochet will always deem you "good enough" to pursue any crochet job.
And, with a bit of education, you'll have the confidence, knowledge, and skill to grow a thriving one!
FAQ 2: How do I know which crochet job to choose?
After you read through all 3 crochet jobs that are outlined below, you may wonder which one is right for you.
How can you choose?
If you naturally feel more drawn to one of the careers we list, then take time to better outline a business strategy to pursue it!
Do you love fine-tuning your crochet skills, and making lots of items? Then you may want to sell your crochet projects.
Do you have the patience to pass on your crochet knowledge? Then you may want to learn how to teach crochet to others.
Do you like to make up your own patterns and designs? Then you may want to learn how to write and publish crochet patterns.
Don't stress or get overwhelmed – you can have more than one crochet job!
And, you can definitely have fun learning and growing your skills while you choose!
FAQ 3: How can I prepare for a crochet job?
My best advice to starting a crochet job is to build your crochet knowledge and skill.
With the Learning Path at the American Crochet Association, of course!
I'm plugging this in here because IT JUST WORKS.
This one-of-a-kind resource offers a precise path to help you build your knowledge and skills with 12 of the most instrumental crochet subjects, like: Yarn, Swatching, Pattern Reading, Tools, Sizing, Seams & Joins, Finishing, and a variety of stitches and fabrics.
Before you start a career, you've got to get some training, right?
The Learning Path is kind of like earning an associate degree in crochet, and it prepares you for specialized training to build a successful crochet career.
These courses fill in learning gaps that you don't even know you have.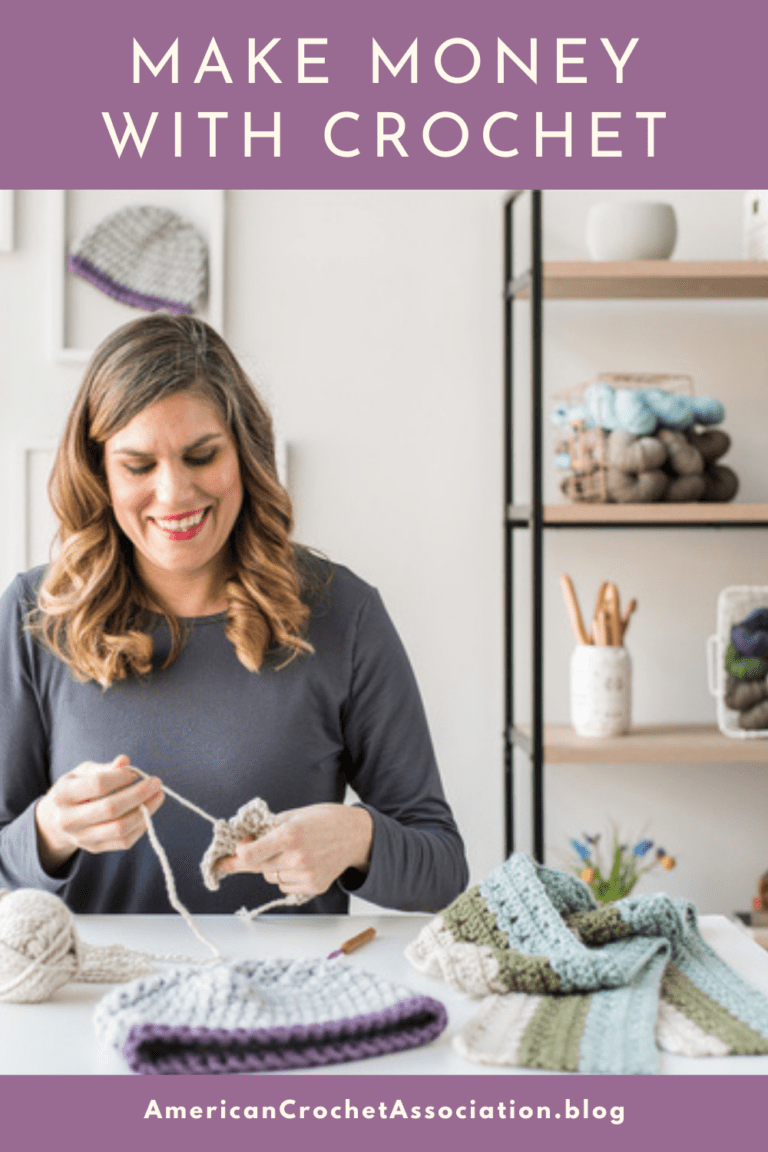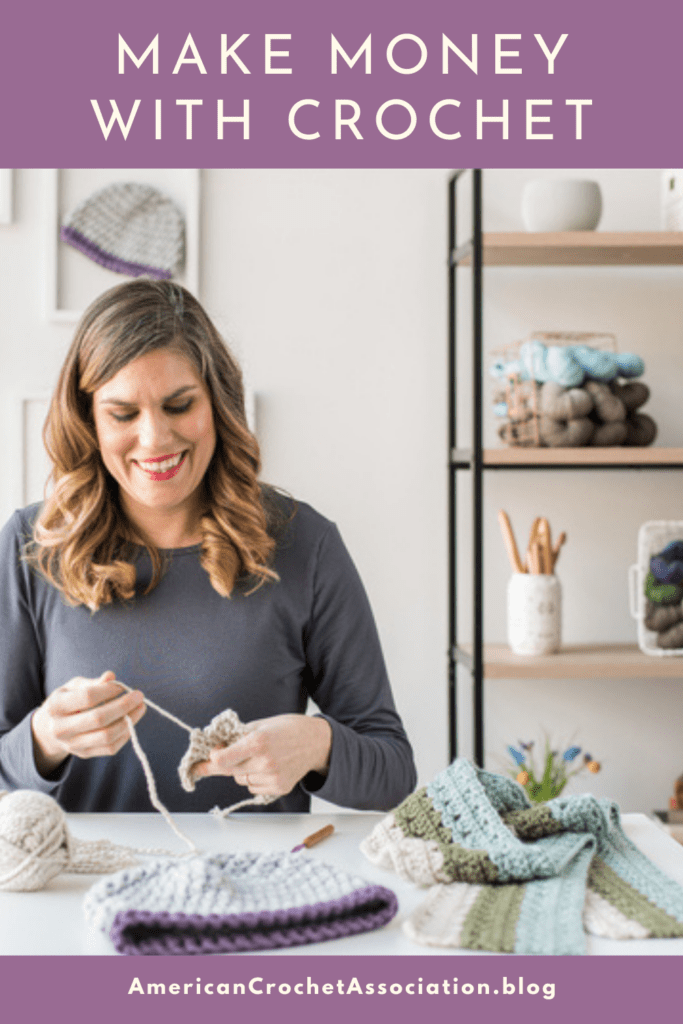 You can read more about the Learning Path by CLICKING HERE.
The Top 3 Crochet Careers are…
Selling Finished Projects
This is where most crocheters start professionally because it's a very natural progression to take from hobby.
If you love to crochet (a lot), and you're often asked to sell your work from friends, family and strangers, this can be a great crochet career!
Here are some tips for success:
Build a consistent resume: What do you crochet better than most? What do you enjoy making? Fine tune your crochet resume by working up a variety of items until you find your niche! Be sure to document your projects too, so you can follow your own progression!
Respect your schedule: You literally can't crochet 24/7, so be honest about how often you can commit to orders and how long an order can take. You are not a machine!
Charge a fair wage: Your skill and time is valuable, and it's worth a fair wage. When you value your time, you will find happy clients who will, too. Price your work according to your worth, and don't allow hagglers to dictate your wage. Try this FREE calculator to help you price any crochet item.
CLICK HERE to learn more about selling finished projects in this workshop: My Crochet Career.
Giving Crochet Lessons
If you're patient, enjoy working one-on-one, enjoy guiding and coaching others, and want to help pass crochet through the generations, this can be a great crochet career choice!
Here are some tips for success:
Education: you may already know how to crochet like a pro, but knowing how to clearly articulate and teach your knowledge in an effective way will take some real training on your part. To be a good teacher, you must always think of yourself as a perpetual student.
Private instruction: Group lessons are not a good environment for teaching beginner crochet. To effectively offer beginner crochet lessons, do not teach more than 2 students at one time.
Student journey: Learning to crochet can be a clear process, and as a teacher it is your job to make that possible. You must assure each student can be taken from beginner, to easy, and intermediate levels of crochet with ease. To be an effective teacher, offer a lesson plan that outlines exactly what you teach, with clear learning objectives.
CLICK HERE to learn more about how to teach crochet in this workshop: Crochet Instructor Training.
Writing Crochet Patterns
Whether you run a crochet blog, sell online, work with magazines, or want to author a book, it has never been easier to publish crochet patterns!
Here are some tips for success:
Education: While freedom of publication can bring creativity and advancement, there are some universal standards and guidelines that most writers are overlooking (much to their dismay). Overall, there are standard formats and practices that patterns should follow, especially if your goal is to reach a universal audience and have very little (if any) unhappy or frustrated readers.
Don't be a copycat: Publishing work (whether free, or paid) must follow standard rules about plagiarism, copyright and trademark. As a publisher, you have a responsibility to assure your work adheres to each.
Always test: Before any pattern is ever published, it must be thoroughly edited and hand-tested. It's your job to suss out issues, so that your readers have the best experience possible and are delighted with your work!
CLICK HERE to learn more about writing crochet patterns in this workshop: Crochet Pattern Writing Training.
If crochet is your passion, you can also have crochet jobs that you love!
Video Chat
Watch my chat on this topic for even more details, right here:
Peace + Love + Crochet
Salena
Click Here to start a conversation in our community!