The Ombre Crochet Scarf can be worked in any yarn you want, and made in any length you need!
This design begins in simple rows of stitches worked end to end, using just the chain, double and slip stitches to create a beautiful look and texture.
Don't worry because even if you're a beginner this is a simple stitch and row repeat to follow!
The Ombre Crochet Scarf is named because I worked five skeins of yarn to make the sample, using one entire skein at a time from lightest to darkest.
The original yarn used (Sprightly Acrylic Worsted, Medium 4) has since been discontinued, but this design can easily be worked up in other yarn weights, types, and colors of your choice.
Why are all great yarns discontinued?
If you're not sure how to substitute yarn, this pattern includes a link to yarns you can substitute Sprightly Acrylic Worsted with, so that you can use another yarn to create the same great look.
Or, you can be adventurous and try yarns you love! Just be sure to measure as you go to get the best size and fit.
The two stitch repeat creates a really lovely fabric texture that is reversible, so either side of this scarf will look exactly the same.
Finally, this scarf is finished with fringe that is grouped and knotted into two large tassels, giving this super sized scarf a really different look.
The Ombre Crochet Scarf a great pattern because:
Scarves are quick and easy projects to work up!
The dense texture in this scarf is a great accessory for winter and cooler months!
This project is perfect for any age or gender, whether you're looking for a fitted or oversized style.
You'll get to practice a lot of crochet skills: rows, stitch tension, gauge & size, slip stitches, dense texture, yarn substitution, finishing techniques & more!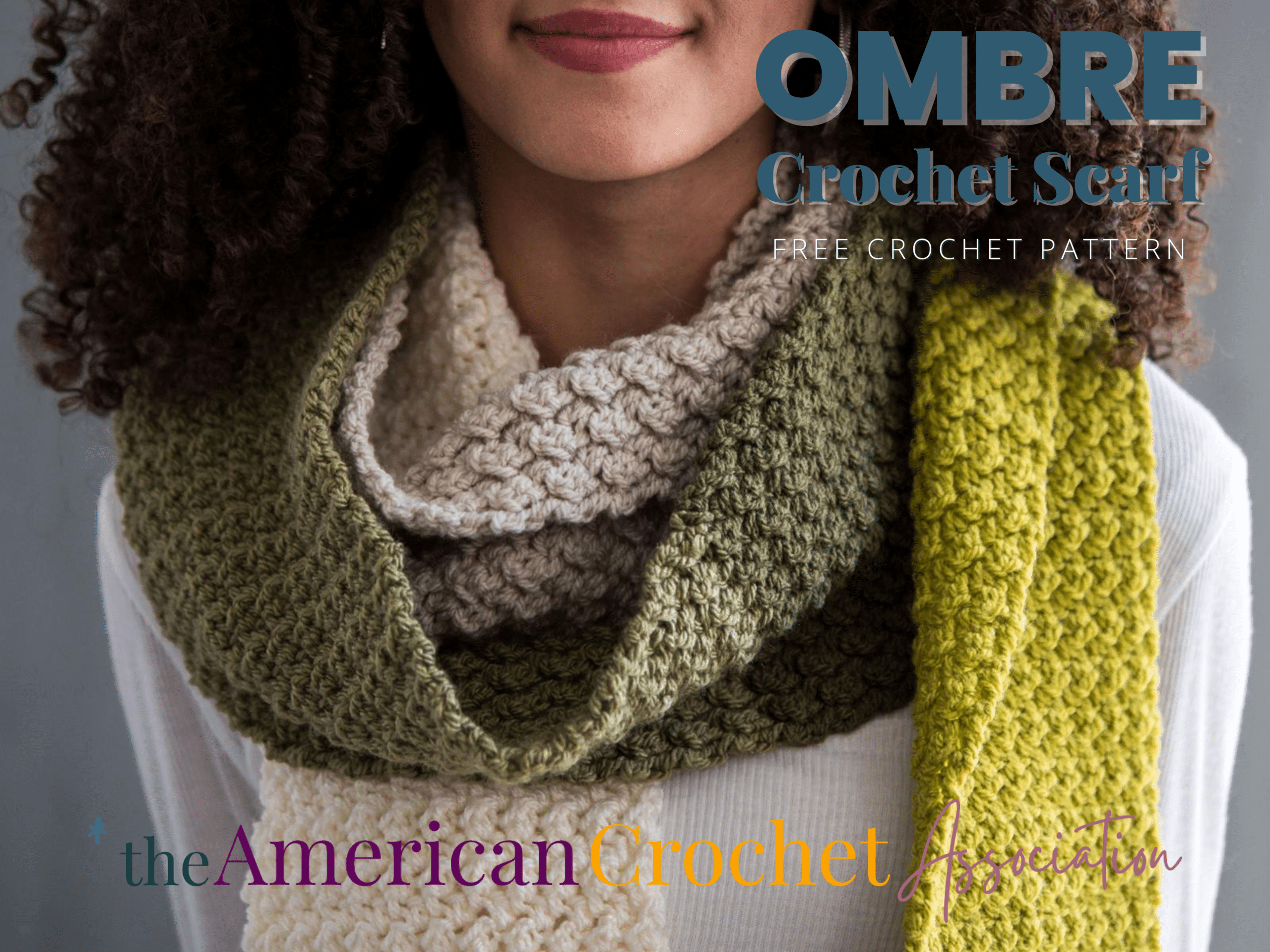 Before you get started…
Need some inspiration?
Check out other finished projects, here:
Want to learn more about how to substitute yarn in crochet?
CLICK HERE for more about understanding yarn substitution, an easy reference for crochetrs.
Let's get started!
Pattern Designed By: Salena Baca Crochet. This pattern is copyright protected; it is unlawful to distribute this pattern in any form (free, sale or trade).
Click Here to buy a downloadable PDF version of this pattern!
YARN
Sprightly Acrylic Worsted, Medium #4 yarn (100% Acrylic; 201 yds/198 m per 3.5 oz/100 g skein): 1005 yards
Ecru x 1 skein
Suede x 1 skein
Olive x 1 skein
Misty Green x 1 skein
Grass x 1 skein
HOOK & OTHER MATERIALS
US Size J/10 6.00 mm Hook
Measuring Tape
Yarn needle
GAUGE
14.5 pattern Sts = 4"
12 pattern rows = 4"
SIZE
STITCH KEY
NOTES
Fabric is reversible; either side can be right side.
Change color as desired. Example worked as follows: Ecru (Row 1-60), Suede (Row 61-120), Olive (Row 121-180), Misty Green (Row 181-240), Grass (Row 241-300).
This pattern can be replicated in multiples of 2 + 1.
INSTRUCTIONS
Scarf
Row 1: Ch 23, Skip 1 Ch (not a St), Sl St, Dc into next St, [Sl St into next St, Dc into next St] across row – 22 sts; 11 Sl St + 11 Dc
Row 2: Ch 1 (not a St), turn, [Sl St, Dc into next St] across row – 22 sts; 11 Sl St + 11 Dc
Repeat Row 2 until 300 rows are complete. Fasten off.
Fringe
1 Yarn Bundle: Cut 2 20" strands of yarn, evenly fold in half.
Attach Bundles: Insert centerfold of 1 Yarn Bundle through every stitch across bottom of first row (22 total), then top of last row (22 total), pull ends through center and knot (44 total).
Fringe Knot: For each Scarf end, separate Yarn Bundles into two equal halves (4 halves total; 2 per Scarf end). For each half, loop Yarn Bundles into a knot 2-3" from end of Scarf.
Finishing
Sew in all ends, trim excess.
Trim to even ends of Fringe Knot.
Click Here to share your finished project in our community!
Peace + Love + Crochet
Salena