Modern Tapestry Crochet is Alessandra Hayden's book of crochet patterns all featuring the graphic colorwork of this unique technique.
We've got a book review to introduce you to what you'll find inside its pages, then we have an interview with the author.
Estimated reading time: 8 minutes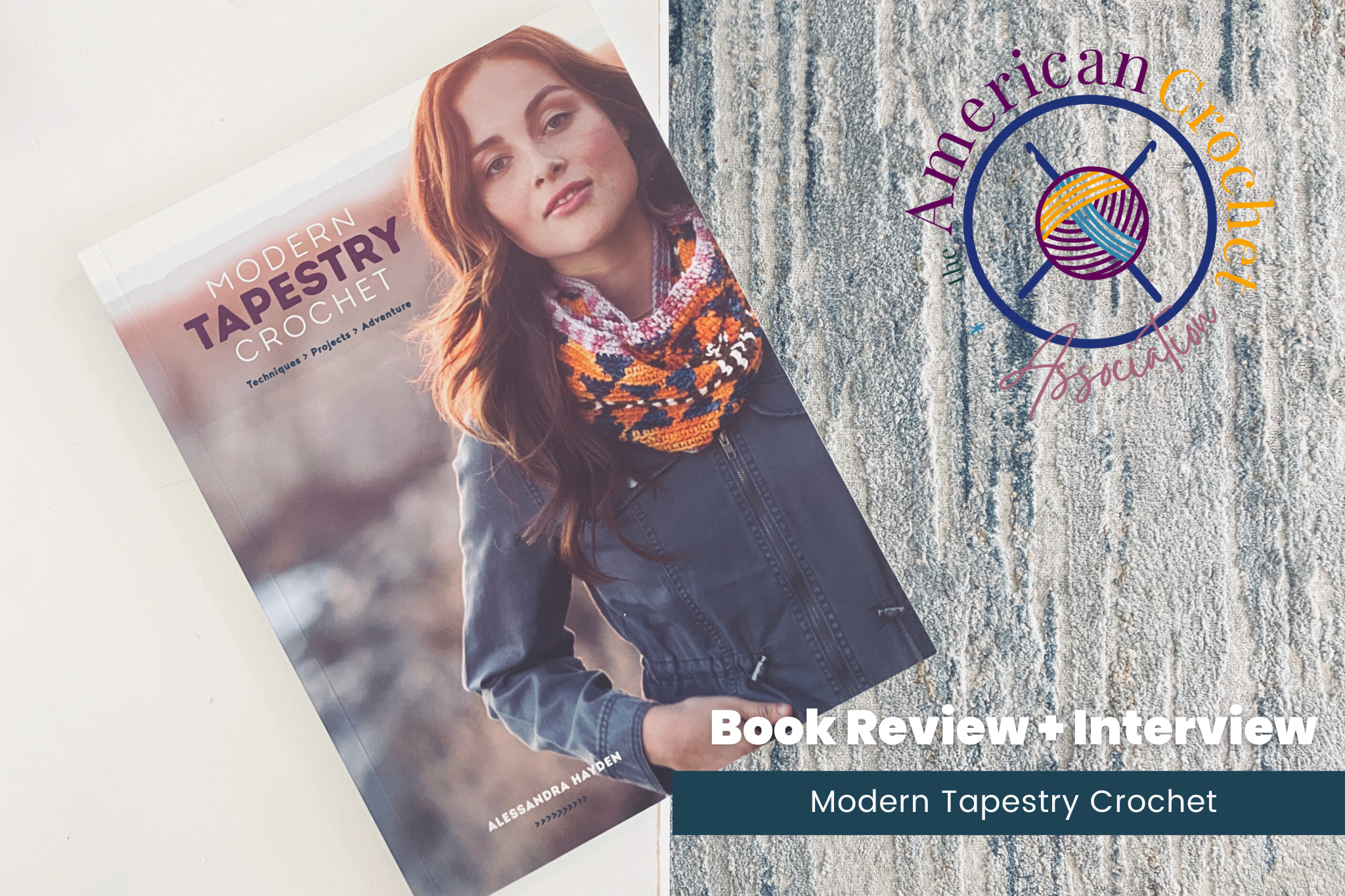 What is Tapestry Crochet?
Alessandra explains in the book's Techniques section:
At a fundamental level, tapestry crochet is a technique for changing colors within a row or round while carrying and crochet over the color that's not in use."

Alessandra Hayden
In other words, you work with multiple colors of yarn in each row.
You learn how to carry one color behind the other, switching back and forth depending on which color you want to reveal at any particular place along the row.
The result is bold colorwork featuring very graphic designs.
While you'll learn a few new terms and skills, you'll use the same basic crochet stitches that you already know.
In fact, although you can work tapestry crochet using different stitches (and a few are used throughout the patterns in this book), this technique is often worked using only single crochet.
Therefore, although it seems intimidating at first because of the bold designs, it's actually not nearly as hard as you may think.
View all 20 crochet projects in this title on Ravelry.
CLICK HERE to learn about other types of crochet colorwork (Tapestry, Fair Isle, Intarsia).
Learning the Basics
Alessandra provides a solid overview of all of the things that you'll need to know for tapestry crochet.
Of course, you'll learn how to change colors in the unique way necessary for this technique.
You'll also learn:
How to crochet in the back loop only
How to read the color charts that are used in tapestry crochet in general and specifically in this book's patterns
Tips for working both in rows and in the round
Information to help with gauge and tension, which tend to differ slightly in this technique than in regular crochet
Tips for finishing and blocking your work
There are photographs, diagrams, and notes that help to explain each of these things.
Alessandra manages to be both thorough and succinct, which is not an easy combination to master.
Categories
There are twenty tapestry crochet patterns in this book; 4 Categories of 5 Crochet Patterns Each.
They are mostly crochet accessories with a few blankets throw in for good measure.
The patterns are sorted into four different categories, with five patterns in each category.
All of the projects fit the larger theme of "hit the road."
The four subcategories are:
Ready for Adventures: Scarves, Shawls, and Cowls
Enjoy the Ride: Hats and Headbands
Be Prepared: Bags and Throws
Take a Break: Socks and Mittens
This shows that Alessandra is not only thoughtful (providing well-categorized projects) but also a bit whimsical.
You can see the joy that she takes in crochet and that joy is infectious as you work through the book.
She doesn't go into some big story about what each category means but you get the gist of the adventure just from the titles and short descriptions of each project.
For example, the description for the Switchback Throw from the Be Prepared section reads:
The motif on this blanket echoes the curvy path that makes traveling uphill so much easier. The crisp black-and-white contrast looks equally great spread out for a roadside picnic or snuggled in your lap.

Alessandra Hayden
It makes you ready to "hit the road" with the blanket in hand, ready for an impromptu picnic or watching the sunset.
About The Patterns
Each crochet pattern in this book has all of the information that you need so that you're not left wondering if you're doing it right.
The patterns include:
Several clear photographs including detail shots so that you know exactly what an item should look like
Finished size and gauge necessary to achieve finished size
Materials required; she uses some great yarn including baby merino and a blend of acrylic, wool, and nylon
Written row-based instructions with information for finishing
Color chart that shows the pattern repeat and also reminds you which stitches to use
Plus, each pattern begins with detailed notes that really make it easy to know what to do as you work.
The notes are short bullet points, but they have so much information in them.
For example, the six notes for the Route Maps Scarf include reminders to "always start with A and carrying a strand of B" and "start each row with a slipknot on your hook."
The notes for the West Wind Shawl explain that you create the triangle shape by leaving the last stitch of every row unworked.
This kind of detail helps you know what you're supposed to be doing before you even begin, which makes it a lot easier to follow any pattern.
Additional Things to Know About This Book
Here are just a few other things you might want to know about Modern Tapestry Crochet:
Almost all of the projects use worsted weight yarn and a size G or H crochet hook.
Most of the projects are worked in sc blo. However, you'll have the opportunity to practice a few other stitches. For example, the brim of the Horizon Hat uses hdc.
Most of the crochet projects in this book use only two colors. However, a few of them use more; you'll only use two colors per row in any of those patterns. The Distant Mountains Throw uses more than one dozen colors because each chevron-inspired stripe is a different color.
Projects worked in the round are usually made using continuous rounds which means that you'll want to use stitch markers to mark your work as you go.
Several of the projects have fringe added to them. It's always fun to work with fringe.
Alessandra has made some really smart color choices throughout the patterns in this book.
Some of the designs have a contemporary Southwestern style to them.
Others play with colors in a fun, bold way.
For example, the Seaside Slippers are gray and bold with a big pop of yellow at the toes.
Interview with Alessandra Hayden
Alessandra Hayden of Just Be Happy Crochet has authored the book Modern Tapestry Crochet.
It celebrates her passion for this niche of our craft.
She tells us more about this in an interview:
When and how did you learn tapestry crochet?
I have always been a big fan of Fair Isle knitting, which is a colorful graphic technique.
I can knit but my knitting skills aren't very advanced.
Therefore, I wanted to take that same idea but learn how to work with it in crochet.
That's what tapestry crochet offers.
I actually can't remember when I first attempted it, but I have loved it from the get-go.
In fact, I love it so much that sometimes I have to make a conscious decision to use other crochet techniques instead of only working in tapestry crochet.
What is it that you love so much about tapestry crochet?
I absolutely love being able to create shapes just by changing colors.
Plus, you can do really colorful work with this technique.
It's certainly beautiful but it can look intimidating to someone who is new to it. What do you think is the hardest part about it?
The most challenging thing about tapestry crochet is getting the tension right, especially at the spots where the color change happens.
Having a consistent tension throughout will give your piece a polished look at the end.
The only way to overcome the challenge of it is to practice.
What can you tell us about how this book came to be?
I received a proposal from the publishing company, which was really exciting.
I could barely believe that they had found me and asked me to write a book!
That's definitely exciting. But, of course, writing a book is hard. What was the most challenging part for you?
One of the hardest things was to have all the patterns written and the samples mailed by the deadline.
It was crazy-making.
What was the best part?
It was definitely choosing the yarns and colors, then eventually seeing the finished photos from the photographer.
There is nothing more exciting than having a vision and seeing it come to life.
What is your favorite yarn?
I have a soft spot in my heart for Malabrigo Rios and Scheepjes Stone/River washed yarns.
What is your favorite project in this book and why?
My favorite project is the Switchback Throw.
If you do an online search for "Copacabana Beach Sidewalk" then you will find my inspiration.
It came from a picture of my mom on that sidewalk that was taken during her honeymoon.
That picture always made me smile, so I wanted to make a tribute to my mom by crocheting the throw with that design idea.
What are you working on now?
I love crocheting items for my home as well as for my shop.
Usually I'm working on something for each of those.
So, I might crochet décor for my own home while also working on a pattern for a new accessory.
Do you ever craft with other people?
I belong to a local crochet group where we make items to donate through our church.
I have also made real life friends with people that I initially met through online crochet groups.
What social media platform do you love?
Instagram (@justbehappycrochet) because I don't feel as confident expressing myself in words and Instagram allows me to tell stories with pictures.
You can view all of Alessandra's work in her Ravelry store.
This article contains some affiliate links.