If you are looking for a beginner friendly crochet half circle wrap or scarf pattern that is quick and easy to make, give this one a try!
The concept for this piece was made in collaboration with Shibui Knits and Madelinetosh Yarn; two brands most crocheters may not be familiar with.
Because these yarns are typically known to knitters (seen in local yarn shops (LYS), and worked mainly in knit) we decided that some crochet representation for some of their yummiest yarns was in order!
And so, I got to work with some Shibui Silk Cloud and Madelinetosh Merino Light to design a piece just for crocheters.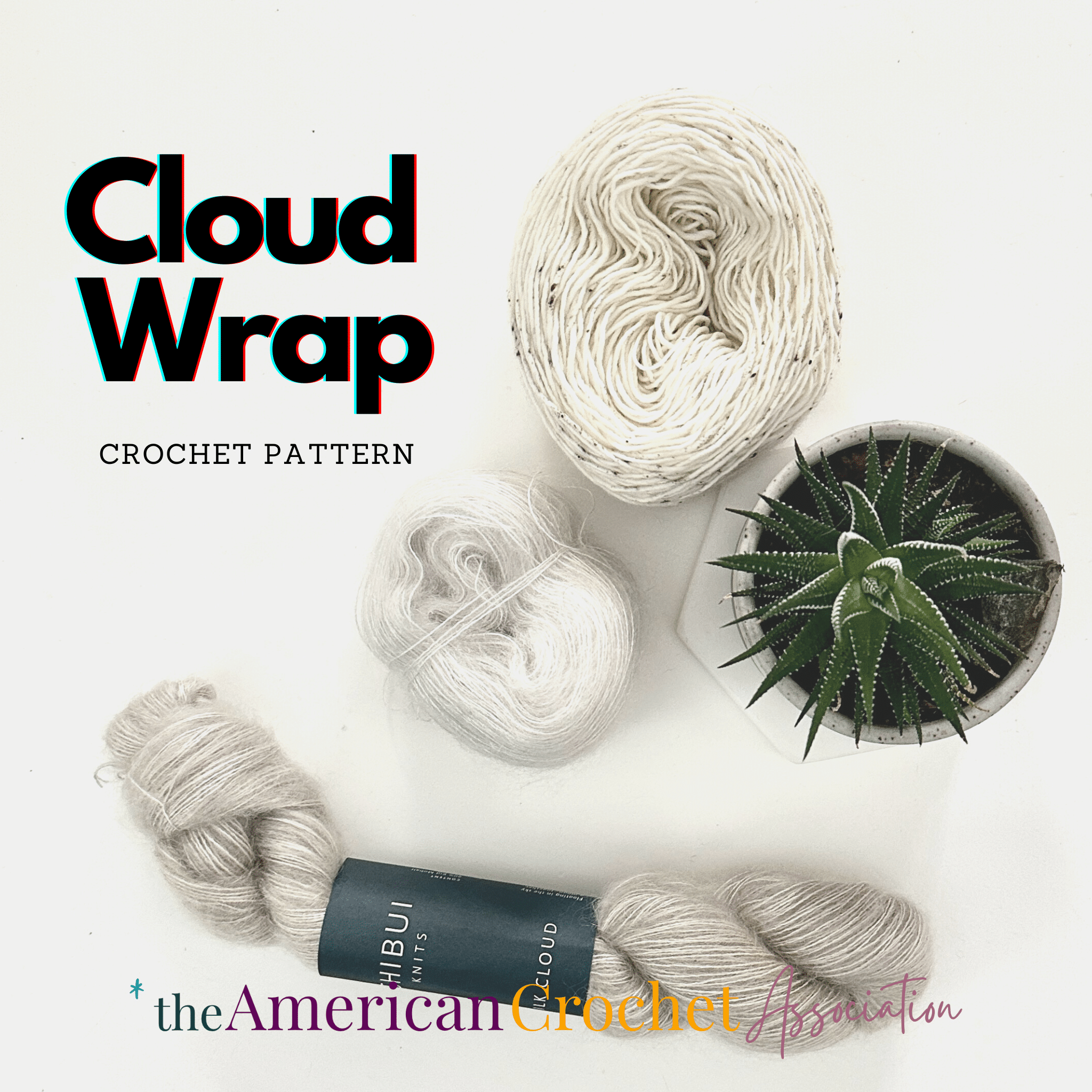 But, I'm not the only pattern writer working with these two yarns together.
There are a few knit and crochet designers who also worked with this combination of yarns, and you can follow the whole collection to learn more:
While there is simply no substitute for feeling a yarn in your hands and crocheting with it, I got a lot of inspiration before I even touched the yarns…
Just by reviewing finished projects made with each yarn that were posted on Ravelry.
Crocheters can read more about Shibui Silk Cloud and Tosh Merino Light just like I did (including where to make a purchase or find them in person), right here:
After reviewing a lot of knitting projects using each of these yarns, I found that most of them were accessories and wearables.
And to be honest, I can understand why!
The blend of merino wool, mohair, and silk are some of the most luxurious fibers you can feel – and that's why I also decided that I had to design an accessory!
Meet the Cloud Wrap:
A beginner friendly crochet half circle pattern that you can wear as a wrap or scarf.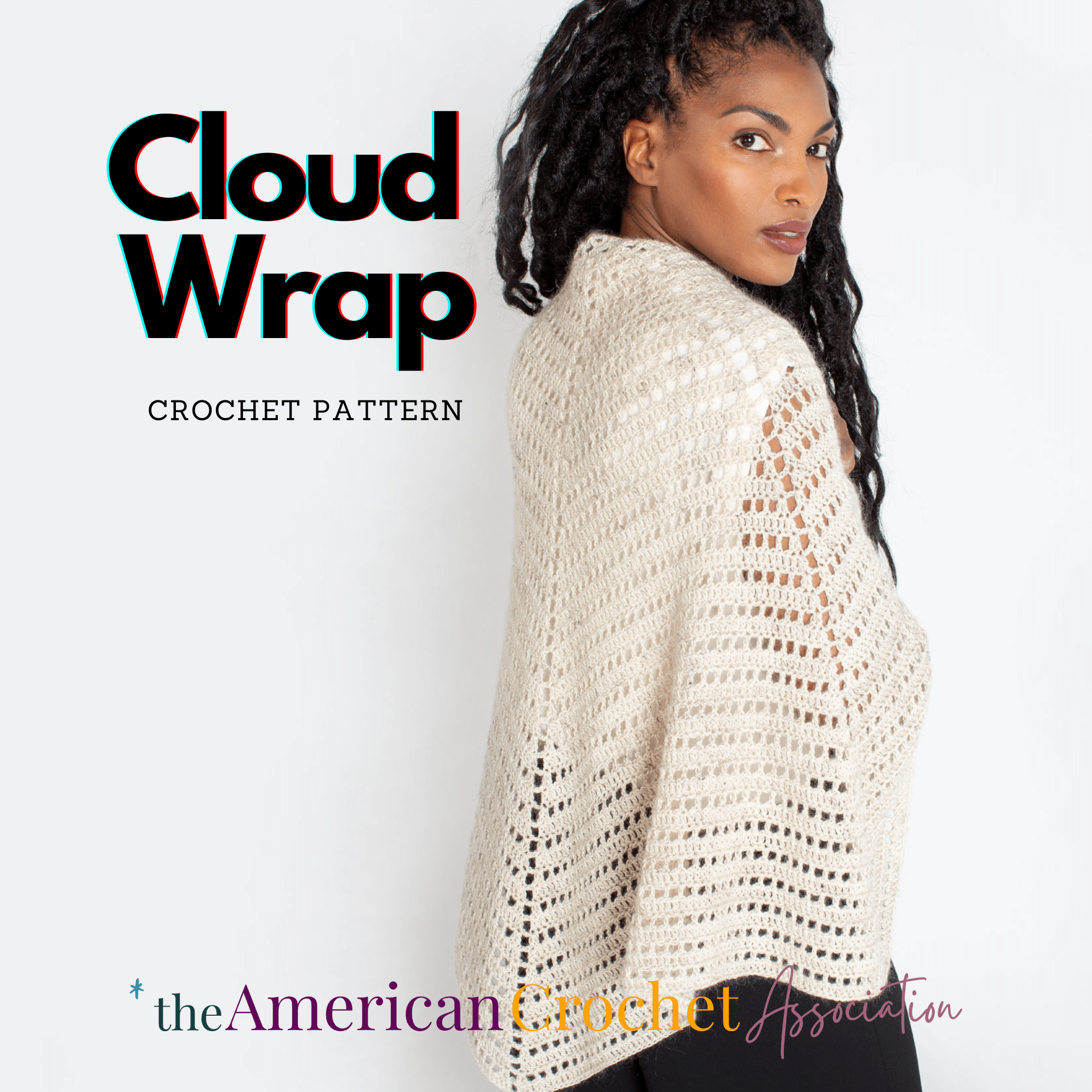 The Cloud Wrap is a half circle shape worked from a center point outward in rows.
That means you won't join each row, and your stitches will increase with every new row you add!
This is a beginner friendly crochet pattern because only basic stitches are used:
Chain, single and double crochet.
These basic stitches are worked in very simple repeats, creating a light and lacy open stitch fabric.
Because there are repeating sections of crochet stitches, you'll notice that a few repeat symbols are used to work the half circle pattern instructions:
Bracket, asterisk.
Don't fret if these repeat symbols seem tricky to read and follow – I can help, and I have a cheat sheet to prove it.
How to read and follow a crochet pattern with asterisk, brackets and parentheses:
Crocheters will absolutely love the half circle shape of this design; it's a versatile style that can be worn in a few different ways:
Bundled up around the neck, like a scarf.
On top of the head, like a hood.
Wrapped or loosely draped around the shoulders, like a shawl.
This pattern gives instructions for just one size, but the repeating rows can be worked as many (or as few) times as you like to make any size and dimensions that you choose.
If you're unsure of the style, fit, or feel that you want to create, you can simply try on the fabric as you go until you are absolutely satisfied.
This Cloud Wrap is a great design to crochet because:
You can use yarn you already have on hand – I absolutely recommend trying the two yarns suggested in the pattern, however this design can easily be worked in a yarn fiber, size, and color of your choice!
Wraps, shawls, and scarves are one-size-fits all designs, so they make great gifts!
The bigger these projects get the more yarn they use, so this can be a great stash-buster!
You will finally be able to use that gorgeous, super-soft, luxury yarn you've been saving for the perfect project – this is it!
You'll get to practice a lot of crochet skills: Yarn and color choice, increasing rows, simple stitch and row repeats, shaping, one-piece projects that can be adjusted in size, finishing techniques & more!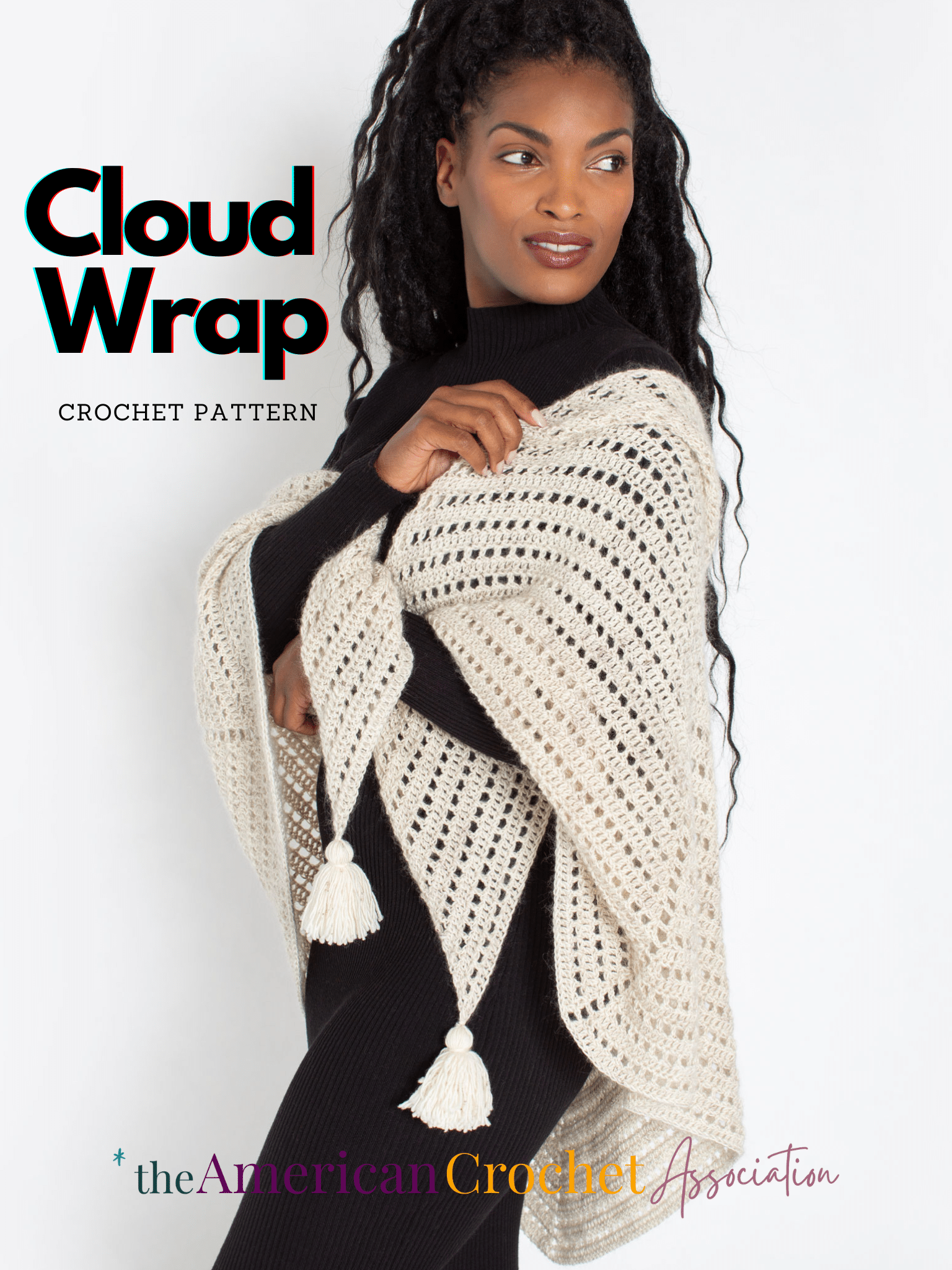 Before you get started…
Need some inspiration?
Check out other finished projects, here:
Want to substitute yarn for this project?
Here are some tips to help you make the best choices:
Not sure how to make tassels?
This tutorial shares all my best tips for a professional look:
Let's get started!
Pattern Designed By: Salena Baca Crochet. This pattern is copyright protected; it is unlawful to distribute this pattern in any form (free, sale or trade).
Click Here to purchase a downloadable PDF version of this pattern!
YARN
Shibui Knits Silk Cloud Yarn, Lace Weight #0 yarn (60% Goat Mohair, 40% Silk; 330 yds/302 m per .88 oz/25 g hank): Icecap x 3 hanks
Tosh Merino Light, Fingering Weight #1 yarn (100% Wool Merino; 420 yds/384 m per 3.5 oz/100 g hank): Glacier Speckle x 3 hanks
MATERIALS
US Size H8/5.00 mm Crochet Hook
Scissors
Yarn Needle
3.5" cardboard square (tassel)
GAUGE
10 pattern rows = 5.2" (unblocked)
17 pattern Sts = 4" (unblocked)
SIZES/FINISHED MEASUREMENTS
65" across x 29" tall (unblocked)
STITCH KEY
St(s) = stitch(es)
Sl St = slip stitch
SPECIALTY STITCHES & TECHNIQUES
NOTE
Design made in collaboration with Shibui Knits & Mad|Tosh.
Instructions are double-stranded; worked while holding Shibui Silk Cloud together with Tosh Merino Light.
Pattern worked in rows from a center point outward.
Size is adjustable; add or omit repeat rows until desired size is reached.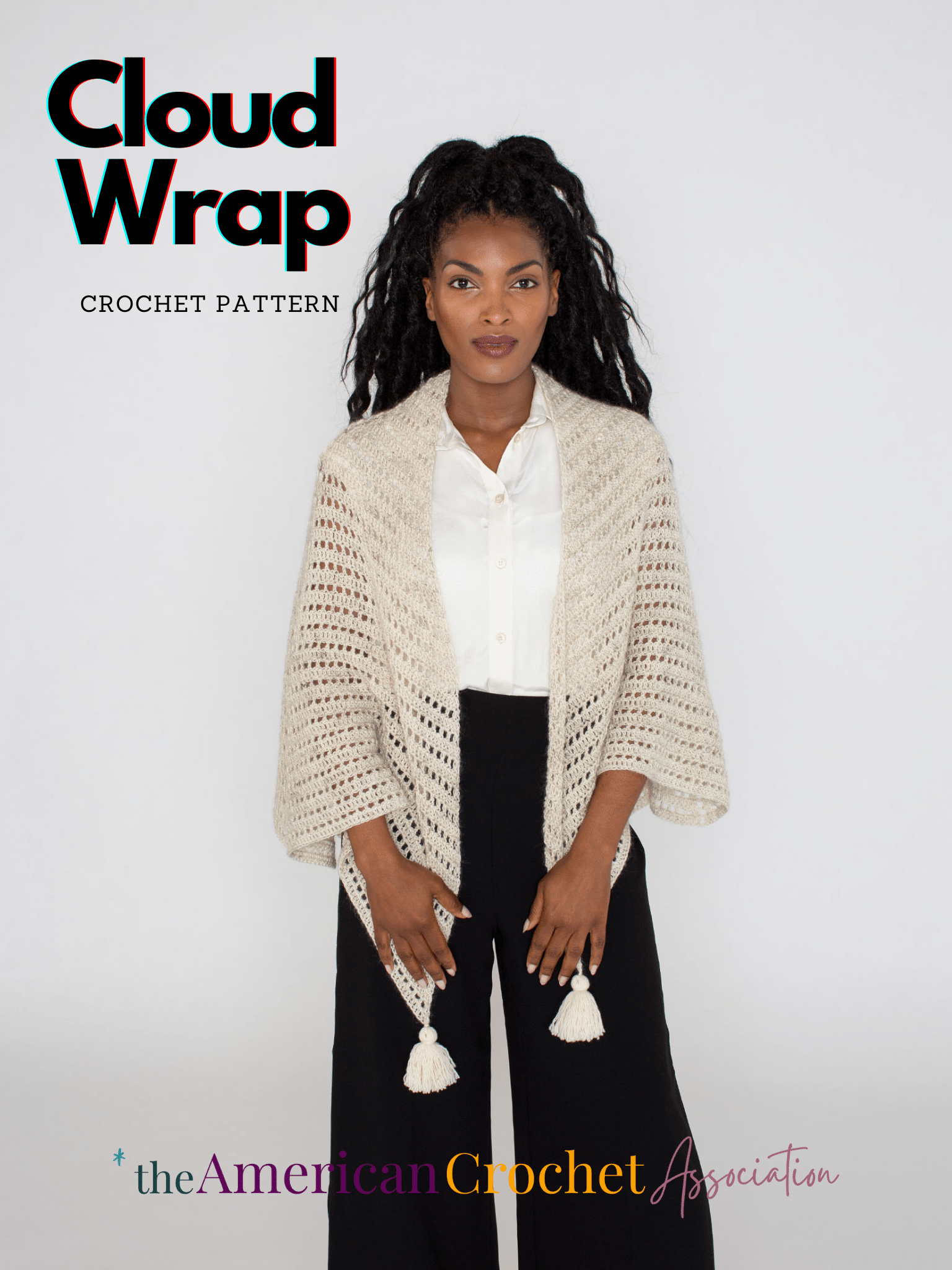 INSTRUCTIONS
Row 1: Form adjustable loop, Ch 5 (first Dc + Ch-2 space), Dc, [Ch 2, Dc] 2 times – 10 Sts; 4 Dc + 3 Ch-2 spaces
Row 2 (Right Side): Ch 3 (first Dc, here and throughout), turn, work 2 Dc into same St, [Ch 2, skip 2 Ch, work 3 Dc into next St] 3 times – 18 Sts; 12 Dc + 3 Ch-2 spaces
Row 3: Ch 3, turn, Dc into same St, Ch 1, skip 1 St, work 2 Dc into next, [Ch 2, skip 2 Sts, work 2 Dc into next St, Ch 1, skip 1 St, work 2 Dc into next St] 3 times – 26 Sts; 16 Dc + 3 Ch-2 Spaces + 4 Ch-1 spaces
Row 4: Ch 3, turn, Dc into same St, Dc into next 3 Sts, work 2 Dc into next, [Ch 2 skip 2 Sts, work 2 Dc into next St, Dc into next 3 Sts, work 2 Dc into next] 3 times – 34 Sts; 28 Dc + 3 Ch-2 spaces
Row 5: Ch 3, turn, Dc into same St, Ch 1, skip 1 St, [Dc, Ch 1, skip 1 St] until 1 Dc left unworked, 2 Dc, [Ch 2, skip 2 Ch, work 2 Dc into next St, Ch 1, skip 1 St, *Dc, ch 1, skip 1 St* repeat from * to * until 1 Dc left unworked, work 2 Dc into next St] 3 times – 42 Sts; 24 Dc + 12 Ch-1 spaces + 3 Ch-2 spaces
Row 6: Ch 3, turn, Dc into same St, Dc until 1 Dc left unworked, 2 Dc, [Ch 2, skip 2 Ch, work 2 Dc into next St, Dc until 1 Dc left unworked, 2 Dc] 3 times – 50 Sts; 44 Dc + 3 Ch-2 spaces
Repeat Row 5 and 6 until 55 rows are complete; adding 8 Sts per row of work, and ending on a row 5 repeat. Fasten off after the last row is complete.
Tassel
Repeat instructions twice, placing one tassel around first and last stitch on last row of wrap.
Wrap yarn around 3.5" cardboard 100 times, cut on one end (1 tassel).
Cut 4 strands of yarn 10" each (5" folded), fold in half, loop and knot around stitch, separate strands in half.
Evenly place tassel between separated 5" strands, knot 5" strands together around tassel. Evenly fold tassel strands together until even.
Cut 20" strand of yarn; wrap around tassel 1" below wrap. Knot, tuck ends into tassel.
Trim tassel ends to even, as desired.
Finishing
Sew in ends, trim excess.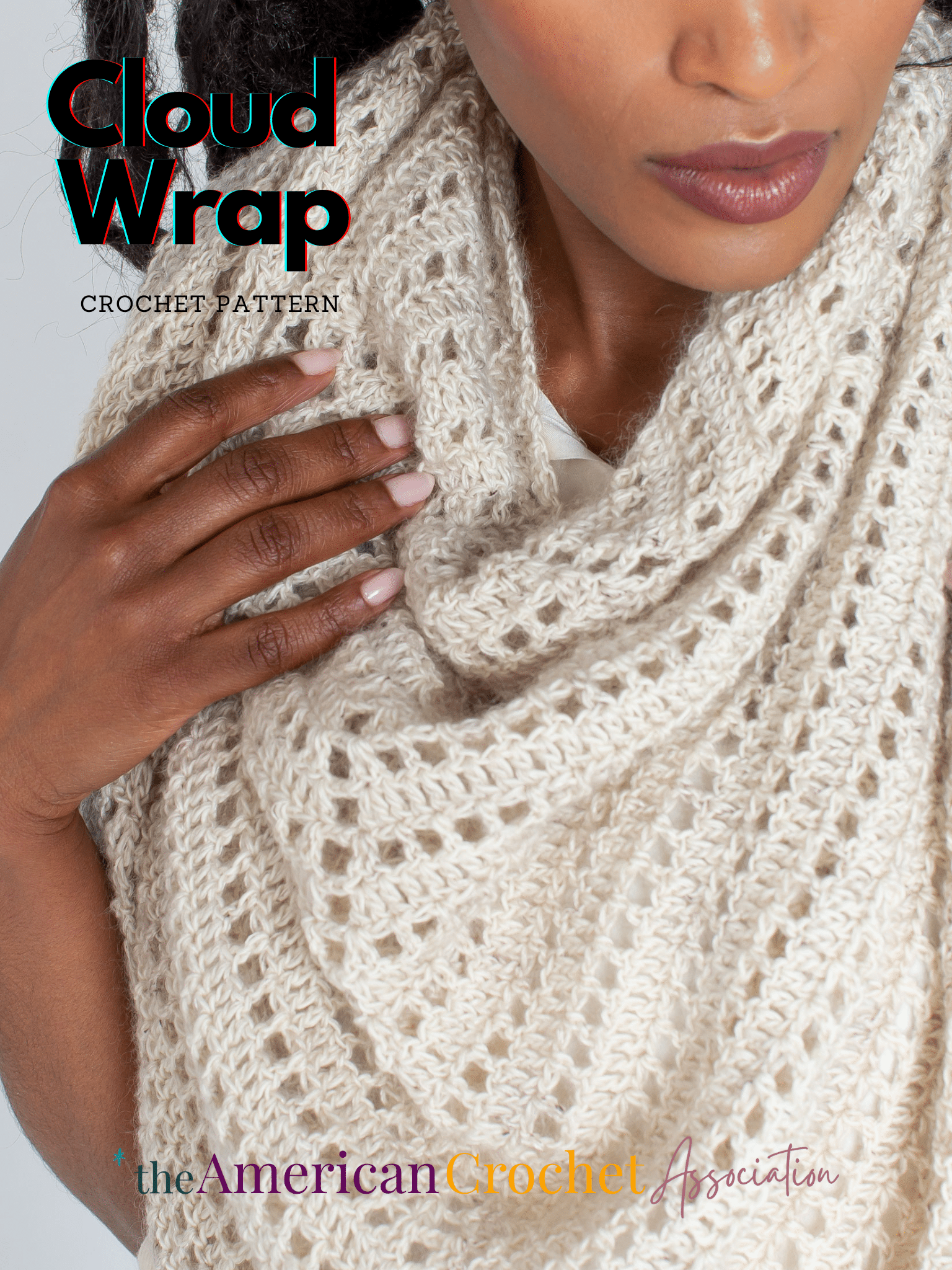 Click Here to share your finished project in our community!
Peace + Love + Crochet
Salena