If you like wearing crochet hats when the weather is cold, this crochet hood is a great alternative!
The Silver and Spice Hood begins with alternating rows of single crochet and bobbles.
Once the total depth of the Hood is reached, you'll seam the last row together to form a square pocket shape!
This pocket can be fitted or a bit oversize, making this accessory a really versatile look and fit.
A great thing about wearing a hood is that they have a really wide range in size; they can be made and worn a bit oversized (larger than actual head measurements), or fitted (actual head measurements or a tad bit smaller).
The ties on the sides of the hood are added last, which are not only decorative but can be tied together to lower the hood and lay it flat on the back when not in use (just one more great fall and winter look)! 
This is a great pattern because:
Chunky yarn helps to make quick crochet work – this hood will be ready in no time!
The easy repetition of this fabric means you can relax and enjoy working up the fabric!
Don't have any bulky weight yarn? Try holding two smaller weights together, and measure as you go, until you get the right gauge and size!
You'll get to practice a lot of crochet skills: Simple rows, stitch tension, stitch counting and recognition, Bobbles, seams, pom poms, and more!
Before you get started…
Need some inspiration?
Check out other finished projects, here: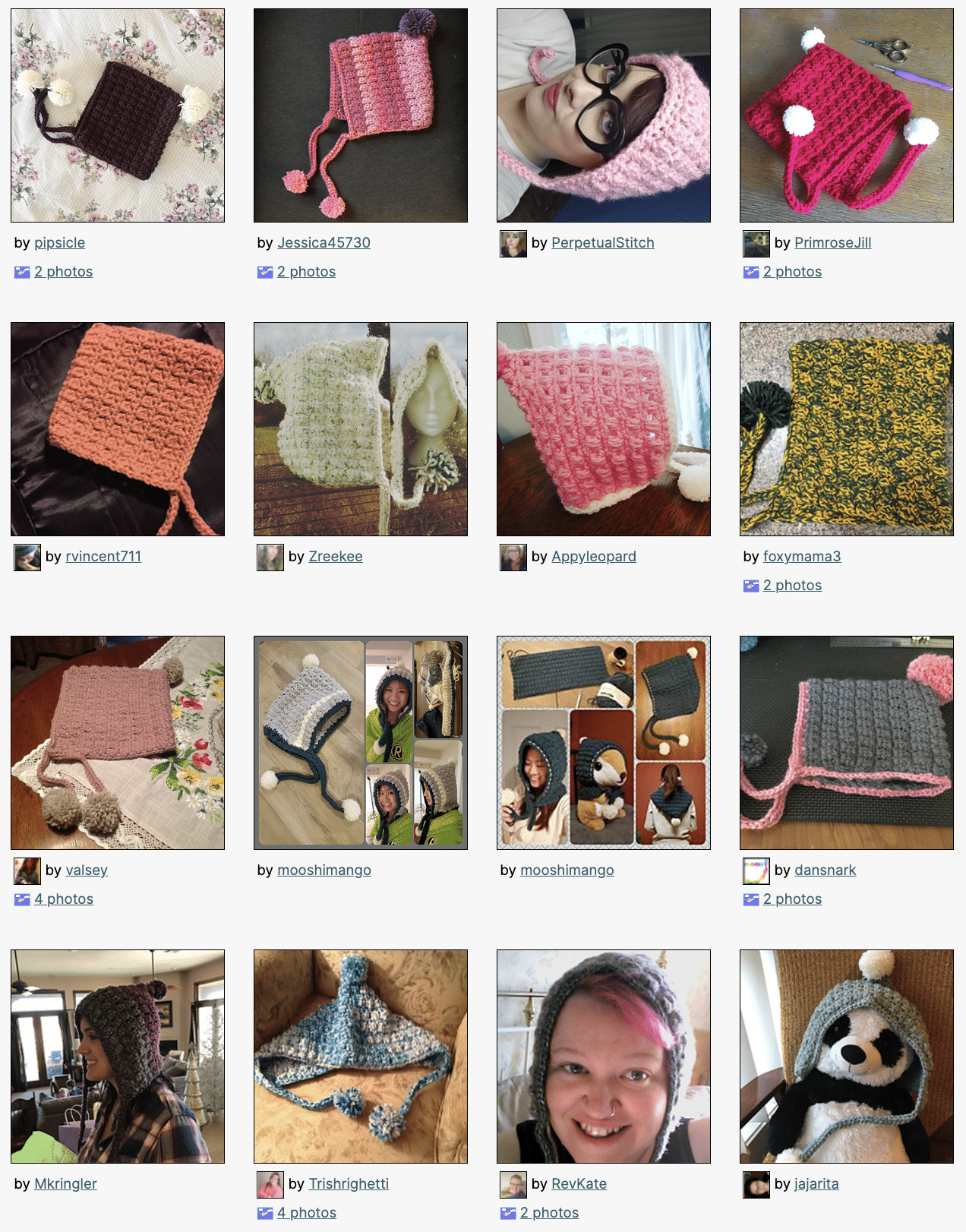 This pattern was first published in the book Crochet for Christmas: 29 Patterns for Handmade Holiday Decorations and Gifts! Thank you for using my affiliate link 🙂
CLICK HERE: to see all the patterns in this book on Ravelry!
Let's get started! 
Pattern Designed By: Salena Baca Crochet. This pattern is copyright protected; it is unlawful to distribute this pattern in any form (free, sale or trade).
Click Here to purchase a downloadable PDF version of this pattern!
Yarn: Lion Brand Yarn Wool-Ease Chunky, bulky weight #5 (153 yds / 150 m; 5 oz / 140 g per skein): 
1 (2, 2) skeins Color A (Silver)
50 yds Color B (Natural)
Materials: 
US K/10.5 (6.5mm) crochet hook
Scissors
Yarn needle
1.5" Pom-pom maker
Size (hood width x length; before seam): 
17"x 8": Toddler
20" x 9": Child
23" x 10": Adult
Gauge: 
10 pattern Sts = 4", 
7 pattern rows = 4"
Stitch Key: 
Specialty Stitches & Techniques:
Bobble (3 Dc): [yarn over, insert hook into St, yarn over, pull through stitch, yarn over, pull through 2 loops on hook] 3 times into same St, yarn over, pull through 4 loops on hook.
BLO (Back Loop Only)
Notes:
Width is measured in front of head (around face = fitted, at shoulders = oversize)
Length is measured by depth of head (hairline to crown = fitted, eyebrows to crown = oversize)
Hood can be worn oversized (larger than actual measurements) or fitted (actual measurements). Size by age is suggestive.
Hood begins in rows, forming a rectangle, then the Seam will form a Hood shape.
Ties are added last, in Round 1 of Border (worked in 1 joined round).
Construction diagram available after written instructions.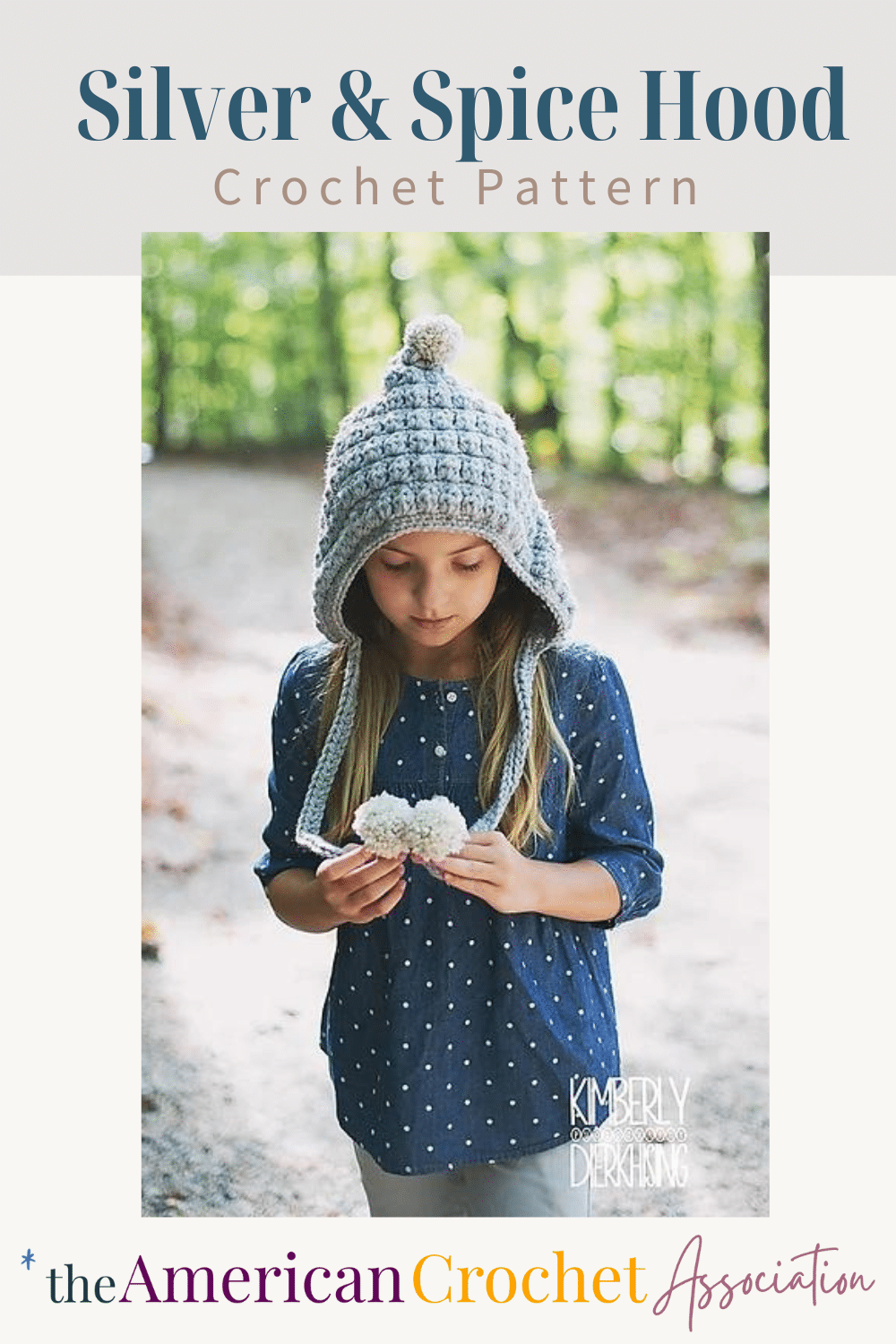 Instructions: Toddler (Child, Adult) 
Hood
With Color A, Ch 42 (50, 58)
Row 1 (Right Side): Skip 1 Ch (not a St), Sc into each Ch across – 41 (49, 57) Sc
Row 2: Ch 1 (not a st, here and throughout), turn, Bobble, [Ch 1, skip 1 St, Bobble into following St] across row – 41 (49, 57) Sts; 20 (24, 28) Ch + 21 (25, 29) Bobbles
Row 3: Ch 1, turn, work 1 Sc into each st across – 41 (49, 57) Sc
Repeat rows 2 and 3 until 15 (17, 19) rows are complete. Do not fasten off; continue to Seam.
Seam
With Right Side held together, fold Row 15 (17, 19) in half by width.
Row 1: Skip 1 St, using BLO, Sl St both thicknesses of row together, fasten off – 20 (24, 28) Sl Sts
Border
Turn fabric so that Right Side is facing outward (Sl St seam is on inside of Hood). 
Attach yarn into Seam.  
Round 1 (Right Side): Ch 1 (not a St), work 3 Sc into every Sc row end from Hood until Row 1 of hood reached. Ch 21 (25, 29; 1st tie), skip 1 Ch, Hdc into each Ch across. Work 1 Sc into each St across Row 1 of Hood. Ch 21 (25, 29; 2nd tie), skip 1 Ch, Hdc into each Ch across. Work 3 Sc into every Sc row end from Hood until Seam is reached. Sl St to join, fasten off – 64 (72, 86) Sts; 24 (27, 30) Sc + 40 (48, 56) Hdc
Finishing
With Color B, make three pom-poms.
Attach one pom-pom to the end of each tie from Round 1 of Border, and one to the first Sl St formed in Seam. 
Sew in all ends, trim excess.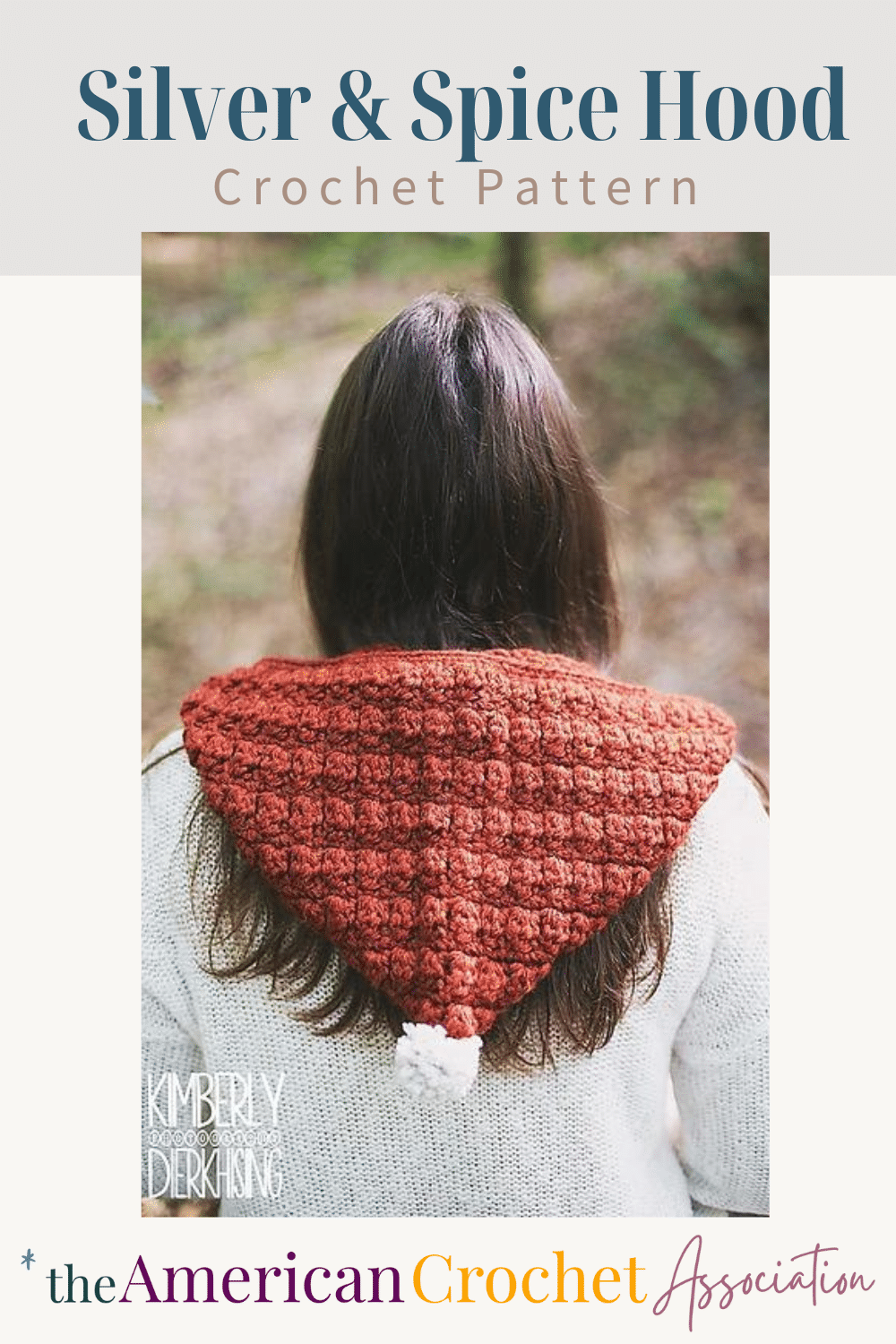 Click Here to share your finished project in our community!
Peace + Love + Crochet
Salena