If you're confused about how to crochet a swatch, you're not alone!
Crocheters typically feel like swatching is a waste of time and yarn, not something they need to do to complete their project, or are just not sure what a swatch is.
Let's start with a few basics:
Estimated reading time: 3 minutes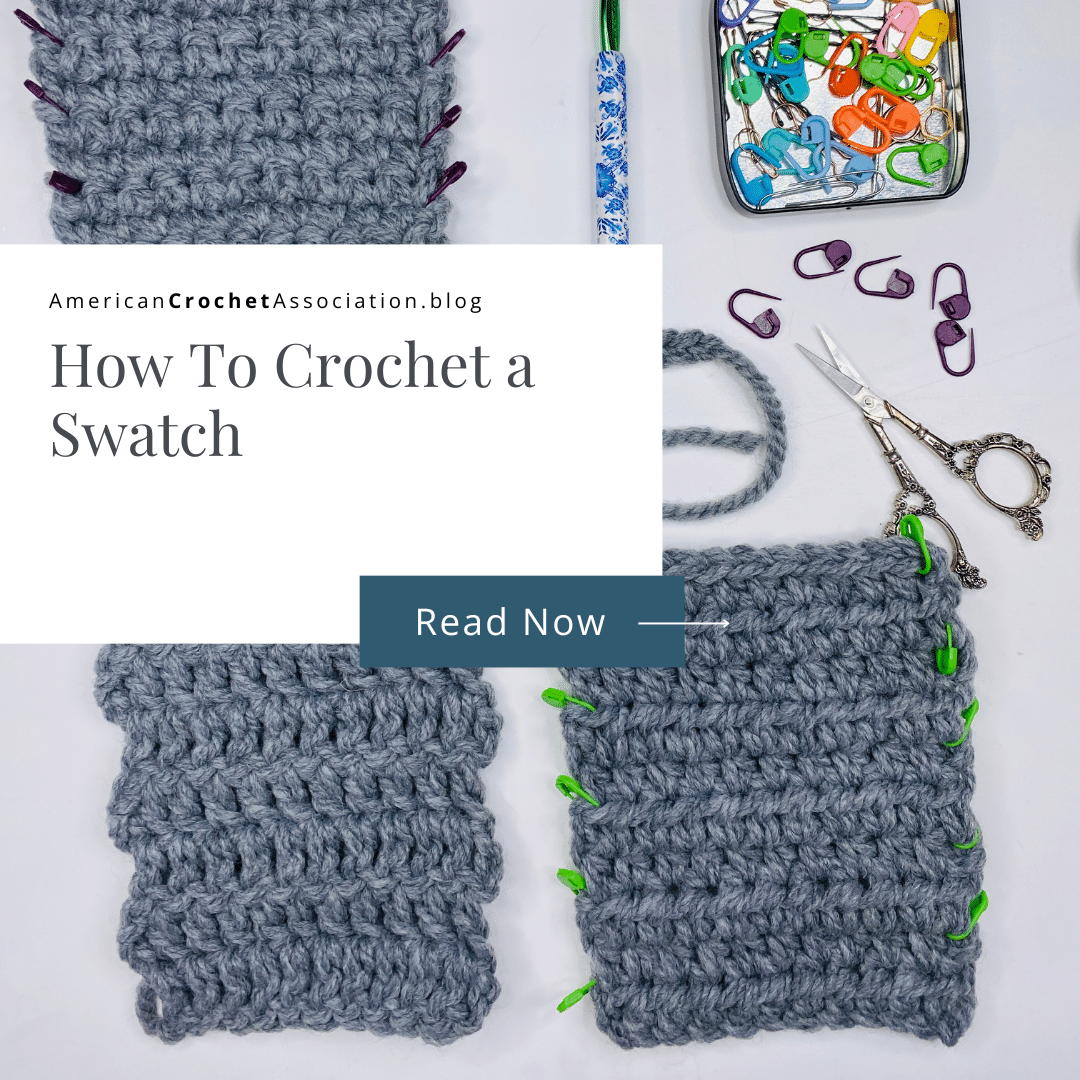 What is a crochet swatch?
A swatch is just a small sample of a stitch, fabric, or pattern.
That's it!
What stitch should I use to crochet a swatch?
Whatever stitch(es) are used in your pattern!
For example, this free Sunhat Crochet Pattern is made with alternating rounds of double and single crochet stitches.
Therefore, you'll create a small sample of that pattern sequence in rows with the suggested yarn (or a close substitute) to create a swatch for this particular pattern.
Is a crochet swatch just for gauge?
No!
There are a few reasons a swatch is a good tool in crochet, and gauge (size assessment) is just one of them.
Gauge is a measurement of the stitches (wide) and rows (tall) within a fabric, typically offered in a 4″x4″ square.
Not every crochet project is size essential, so you don't always have to swatch for gauge; it's only crucial if size is essential to your project.
Crocheting a swatch for gauge will display your stitch and row measurements, which will determine the finished size of your fabric.
Example: 16 Dc Sts = 4″, 8 Dc rows = 4″
Another way of explaining the example gauge listed is:
4 double crochet stitches measure 1″: for every 4 double crochet stitches worked, 1″ of fabric will be made.
1 row of double crochet stitches measures .5″: for every 1 row of double crochet rows worked, .5″ of fabric will be made.
What can I learn from a crochet swatch?
Here are some of my favorite reasons to crochet a swatch:
Swatch to practice:
Just like any other subject in life, if you want to really master a skill you've got to practice! In crochet, creating a swatch can help to practice in advance, before you start your project.
A practice swatch can help to:
even your tension,
perfect the stitch and row repetitions, and
learn new and special techniques.
Swatch for color:
Will color enhance or hide your fabric?
Color combinations can make or break a project, so creating a swatch will help you to choose the best colors for it.
Seeing how colors look together with a swatch of your project will help to decide the order, placement and total number of colors you'll use.
Swatch for yarn and fabric:
Before you spends lots of time and money on yarn for a big, expensive or time consuming crochet project, wouldn't you like to know if the yarn you'll use is nice to work with, will work with your pattern, and wash and wear well over time?
Working up a small crochet swatch can help you decide all those things!
How to crochet a swatch?
Before you dive into your next crochet project with all the tips shared today, you can test your new skill by working up new crochet stitches with a small swatch of fabric:
Click Here for over 30 free crochet stitch video tutorials to try today!
Video Chat
For even more details on this topic, watch my video chat right here:
Now that we've outlined a few reasons to swatch when you crochet, do you feel more confident about how to crochet a swatch?
Click Here to start a conversation in our community!
Peace + Love + Crochet
Salena