If you feel confused and overwhelmed by all of the different yarn numbers, yarn names, yarn weights and yarn sizes that yarn is made in, then the following will definitely help to explain the US yarn weight classification system!
Yarn is a gorgeous and dynamic fiber, and probably one of the main reasons you love crochet so much! 
But, it's complicated…
Let's cover the basics of yarn, so you can learn more about how to choose the best yarns for all your crochet projects.
Estimated reading time: 4 minutes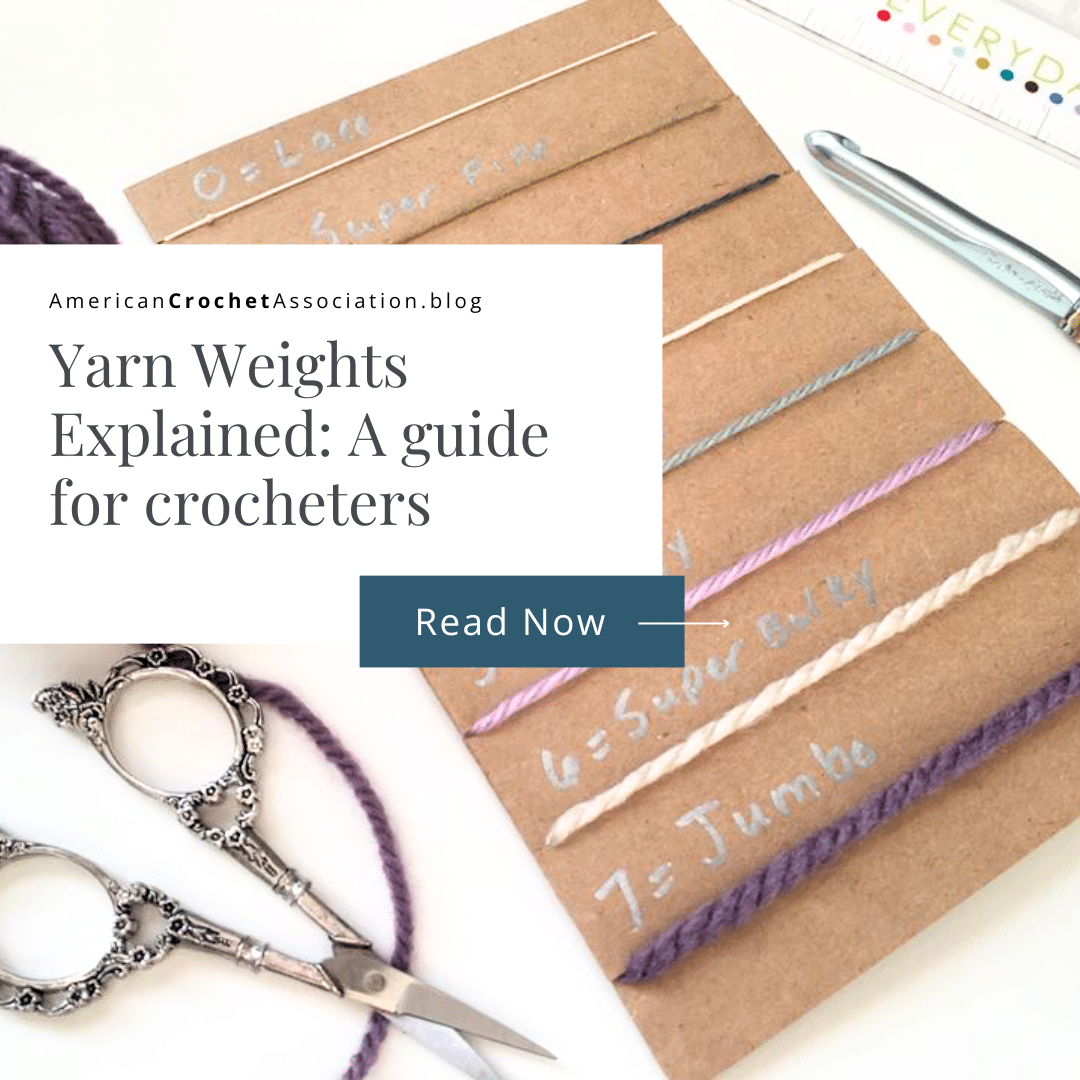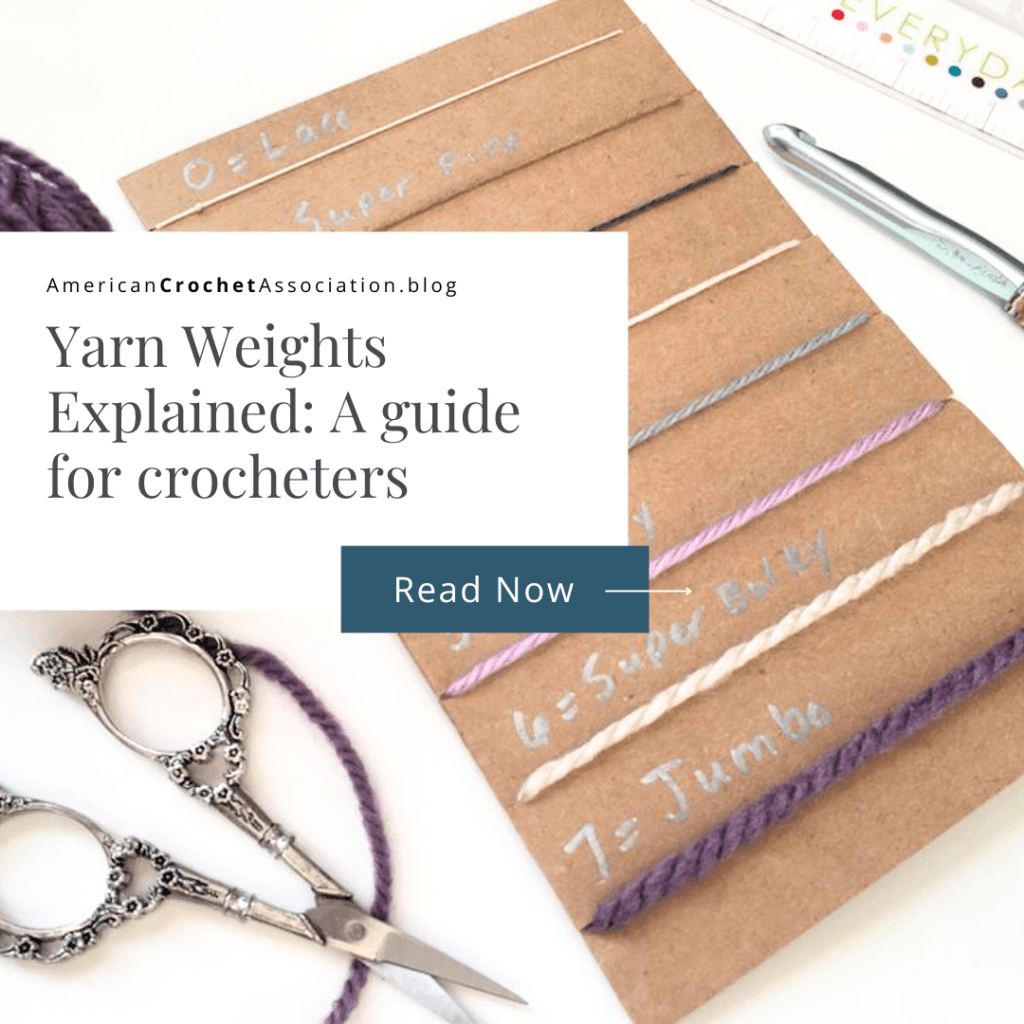 What are yarn weights?
This has nothing to do with the heaviness of a yarn unit (in ounces, grams or pounds).
In the yarn world, weight is in reference to the thickness, or gauge, of the strand.
Yarn weight is in reference to individual yarn sizes.
How many yarn weights are there?
In the US, yarn is manufactured and classified into 8 main categories (from 0 to 7).
Weight 0 is the smallest yarn size, and includes crochet thread.
Weight 7 is the largest of the yarn sizes on the yarn weight classification chart.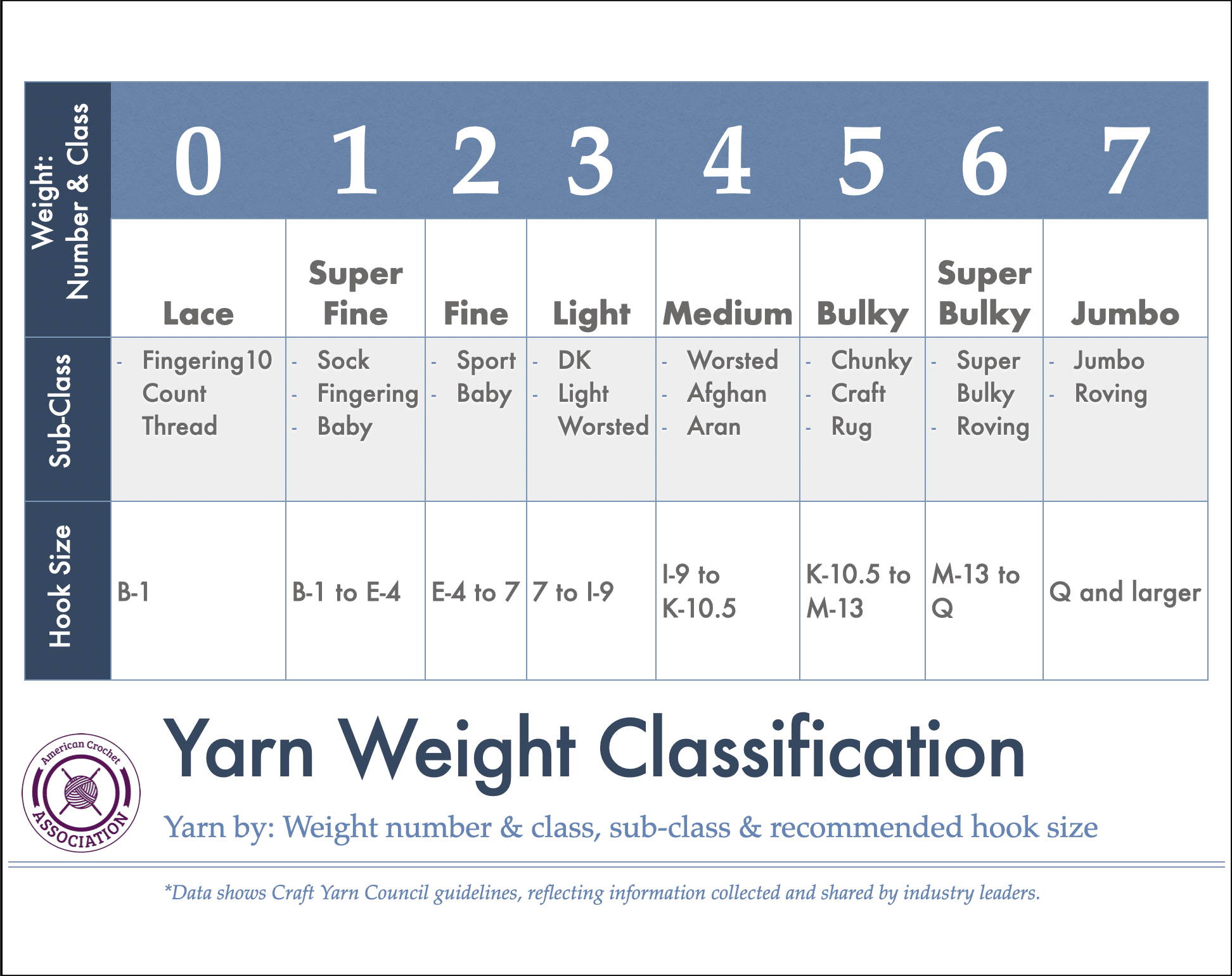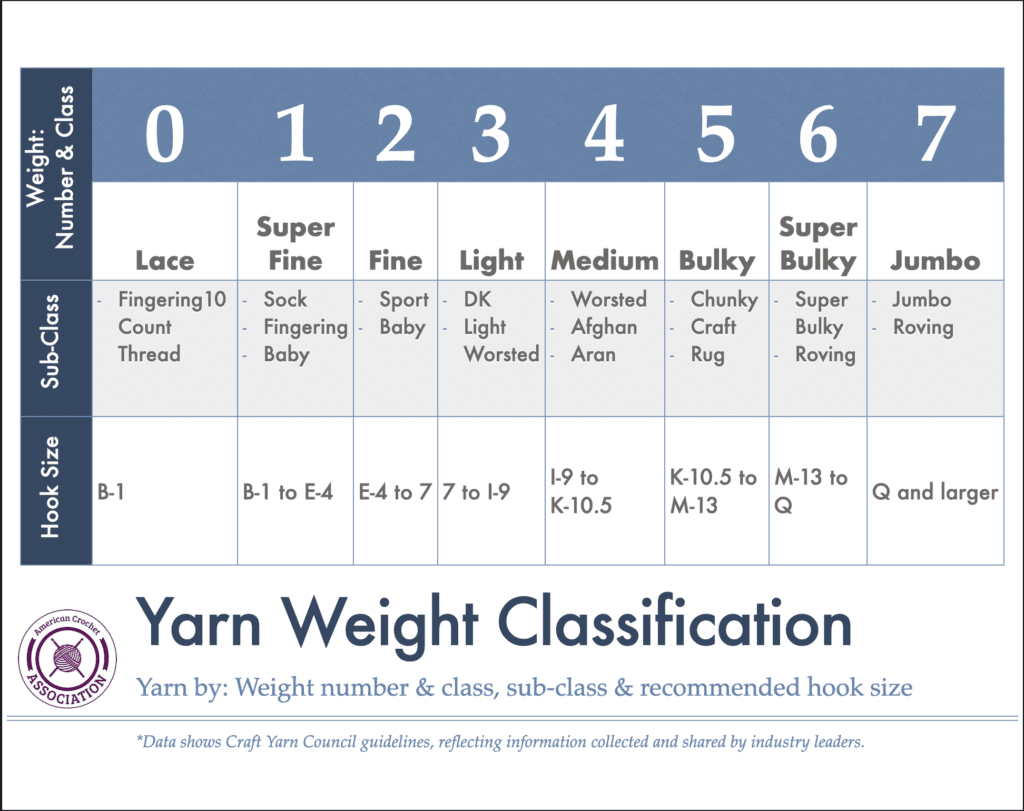 How is yarn weight classified?
Yarn is classified into a weight category based on how many single crochet stitches can be crocheted into a four inch space of fabric.
These categories are guidelines that have been outlined by the Craft Yarn Council, reflecting information collected and shared by industry leaders like yarn manufacturers.
Wraps per inch (WPI) is another popular method of classifying yarn by weight.
The number of times a strand of yarn can be wrapped into a one inch space is a quick way to determine the weight classification, and type.
What are yarn weight types?
For each of the 8 weight categories, there are also sub-categories (types) that help to further define the thickness (weight) of a yarn.
Weight 0 = Lace: 30-40 Sts per 4"

Fingering 10 Count Thread

Weight 1 = Super Fine: 21-32 Sts per 4"
Weight 2 = Fine: 16-20 Sts per 4"
Weight 3 = Light: 12-17 Sts per 4"
Weight 4 = Medium: 11-14 Sts per 4"
Weight 5 = Bulky: 8-11 Sts per 4"
Weight 6 = Super Bulky: 7-9 Sts per 4"
Weight 7 = Jumbo: 6 or less Sts per 4"
How can I tell what weight my yarn is?
Yarn labels should include a weight category by number (0-7) and name (Lace, Super Fine, Fine…).
They may also include the type (sub-category) too (Sock, Baby, DK…).
The below example shows Weight 4 Medium yarn.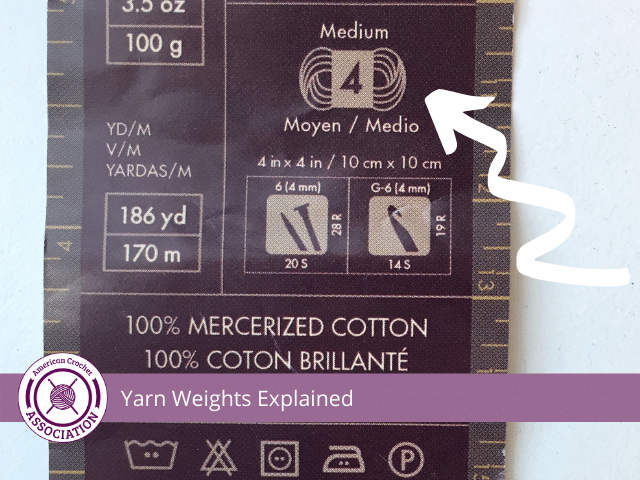 Does yarn weight matter?
If the size of your project matters, the weight of your yarn should too!
The weight, or size, of a yarn will determine the size of the stitches you crochet and the fabric you make.
As you can see from the Yarn Weight Classification chart, there are 3 types of Weight 4 Medium yarn: Worsted, Afghan, Aran.
Each one of those types will create a slightly different single crochet stitch count over a four inch span.
This means that each type of Weight 4 Medium yarn will work up to be a slightly different size.
If you're following a pattern that lists a specific yarn category and type, then use that yarn to create the same size project.
Or, if you're substituting yarn, be sure to use the same yarn category and type for the closest match.
For more about substituting yarn, here are some helpful tips:
Test out your new skills!
Review your yarn stash and choose at least 3 yarns in the same weight category (0 to 7).
Using single crochet stitches, work up 10 stitches by 10 rows in each yarn.
You can use our quick and easy video to crochet a single crochet for help to work up a 10 stitch by 10 row swatch.
Then, measure each one to see how they differ.
Did you learn anything new about yarn?
Click Here to start a conversation in our community!
Peace, Love & Crochet
Salena