If you like crochet accessories to keep you warm when the weather is cold, this pair of crochet boot cuffs are exactly what you need!
The Snowdrop Boot Cuffs begin with simple rows of single crochet worked into the back loops only, creating a fabric that shows lots of texture.
Once the total circumference of the cuff is reached (the part that will fit around your leg), you'll seam the last row together to form a tube shape!
This tube will be a bit stretchy, helping you to comfortably slide your cuffs on and off all winter long.
After the tube is formed, you'll work alternating rounds of bobble and single crochet stitches.
If you've never worked a bobble before don't worry, we have a video tutorial you can watch to learn how!
A great thing about wearing boot cuffs is that they can be styled so many different ways: 
Around the ankles, or anywhere along the leg or calf.
Over tights, leggings, pants, or socks.
These are easy to adjust in length and width, for the perfect style and fit.
These are a great pattern because:
Chunky yarn helps to make quick crochet work – these boot cuffs will be ready in no time!
The easy repetition of this fabric means you can relax and enjoy working up the fabric!
Don't have any bulky weight yarn? Try holding two smaller weights together, and measure as you go, until you get the right gauge and size!
You'll get to practice a lot of crochet skills: Simple rows, stitch tension, stitch counting and recognition, Bobbles, seams, joins, and more!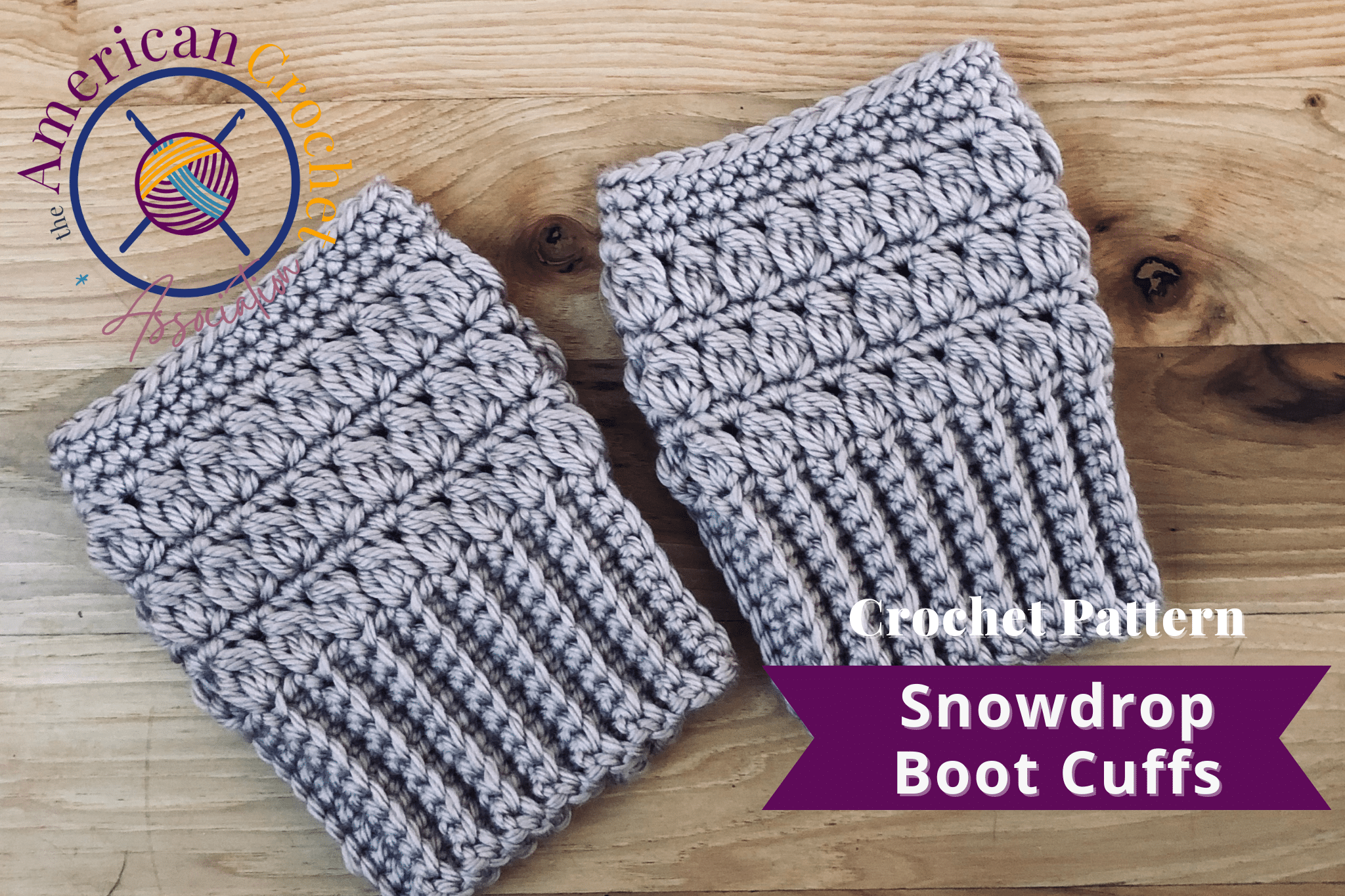 Before you get started…
Need some inspiration?
Check out other finished projects, here: 
Want to learn how to crochet the bobble stitch?
Watch this quick video tutorial:
If you love quick crochet projects that make great gifts and accessories, check out Crochet in a Day: 42 Fast & Fun Projects:
CLICK HERE: to see all the patterns in this book on Ravelry!
Let's get started! 
Pattern Designed By: Salena Baca Crochet. This pattern is copyright protected; it is unlawful to distribute this pattern in any form (free, sale or trade).
Click Here to purchase a downloadable PDF version of this pattern!
YARN
Red Heart Yarn Soft Essentials #5 Bulky Weight (100% Acrylic; 131 yds / 120 m, 5 oz / 141 g per skein)
MATERIALS
US I9 / 5.50 mm Crochet Hook
Measuring Tape
GAUGE
10 Sc Sts = 3"
13.5 pattern rows = 4"
SIZES/FINISHED MEASUREMENTS
9.5" around x 6.5" tall
10.5" around x 6.5" tall
11.5" around x 6.5" tall
12.5" around x 6.5" tall
13.5" around x 6.5" tall
STITCH KEY
SPECIALTY STITCHES & TECHNIQUES
BLO: Back Loops Only
Bobble = [yarn over, insert hook, yarn over, pull up a loop, yarn over, pull through 2 loops on hook] 3 times into same stitch, yarn over, pull through all 4 loops on hook
NOTES:
Pattern written in two sections: Cuff (rows), Body (rounds).
For the best fit, measure around the part of leg where boot cuffs will be worn, then follow a size that is the same or up to 1" less than the actual body measurement.
Complete instructions twice in desired size to make 1 pair of boot cuffs.
Change colors where desired, using your favorite method.
Boot Cuff should comfortably stretch up to 2" from finished measurement; assuring design stays in place and does not slip while in use.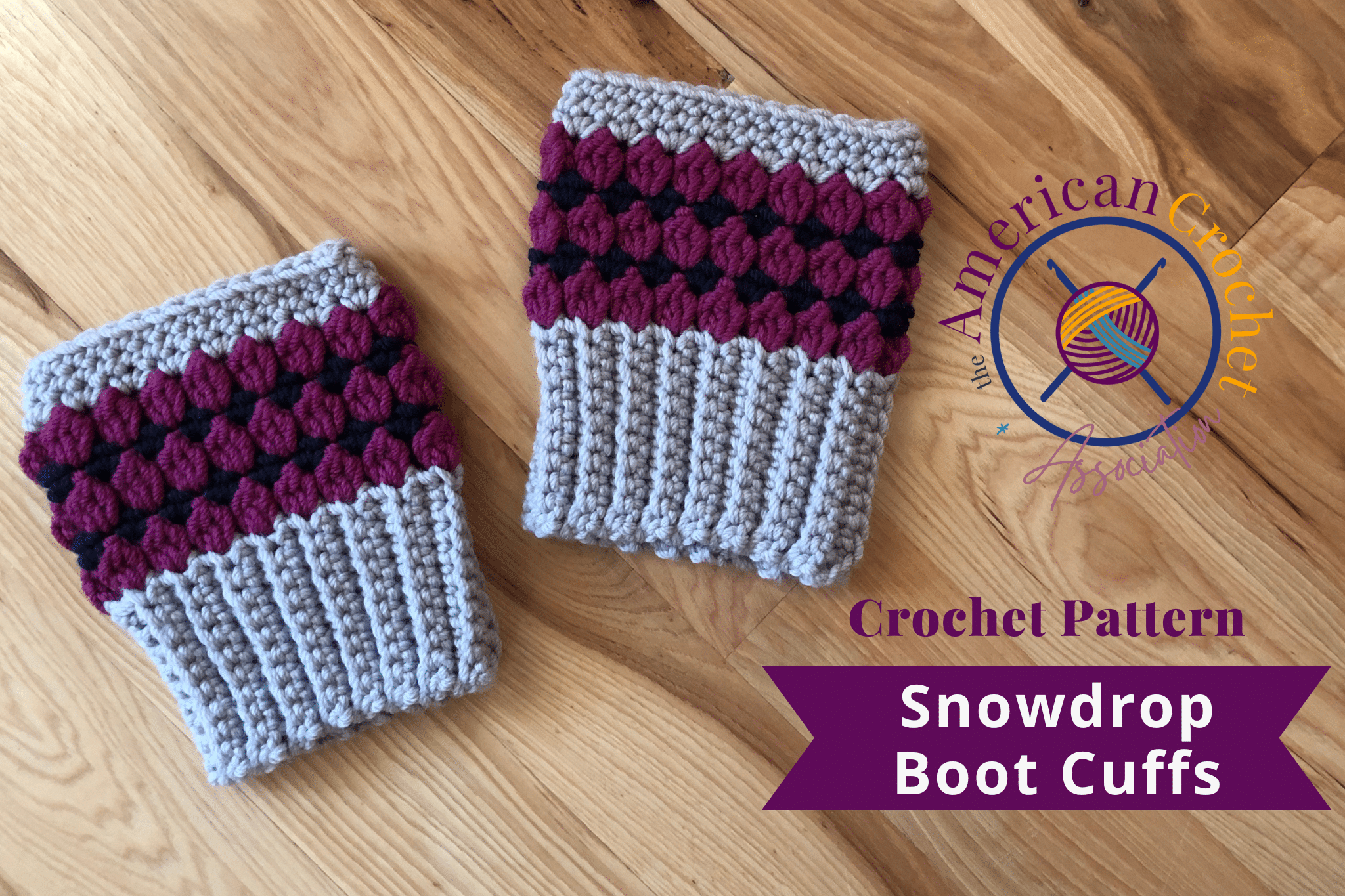 INSTRUCTIONS: 9.5 (10.5, 11.5, 12.5, 13.5)"
Cuff
Row 1: Ch 11, Sc into second Ch from hook (1 skipped Ch does not count as a St), Sc into each St across – 10 Sc
Row 2: Ch 1 (not a St, here and throughout), turn, Sc into BLO of each St across – 10 Sc
Repeat row 2 until 32 (36, 40, 44, 48) rows complete. Hold row 1 together with last row worked, using BLO Sl St both thicknesses together to join, turn Cuff so that Sl St seam is on inside.
Body
Ch 2 (not a St, here and throughout), work into Sc end rows from Cuff.
Round 1: [Bobble, Ch 1, Sk 1 Sc end row] 16 (18, 20, 22, 24) times, Sl St to join – 32 (36, 40, 44, 48) Sts; 16 (18, 20, 22, 24) Bobbles + 16 (18, 20, 22, 24) Chs
Round 2: Ch 1 (not a St, here and throughout), work 2 Sc into each Ch-1 space around, Sl St to join – 32 (36, 40, 44, 48) Sc
Repeat round 1 and 2 until 6 rounds complete.
Round 7: Ch 1, work 2 Sc into each Ch-1 space around, Sl St to join – 32 (36, 40, 44, 48) Sc
Round 8: Repeat round 7, fasten off.
Finishing
Sew in ends, trim excess.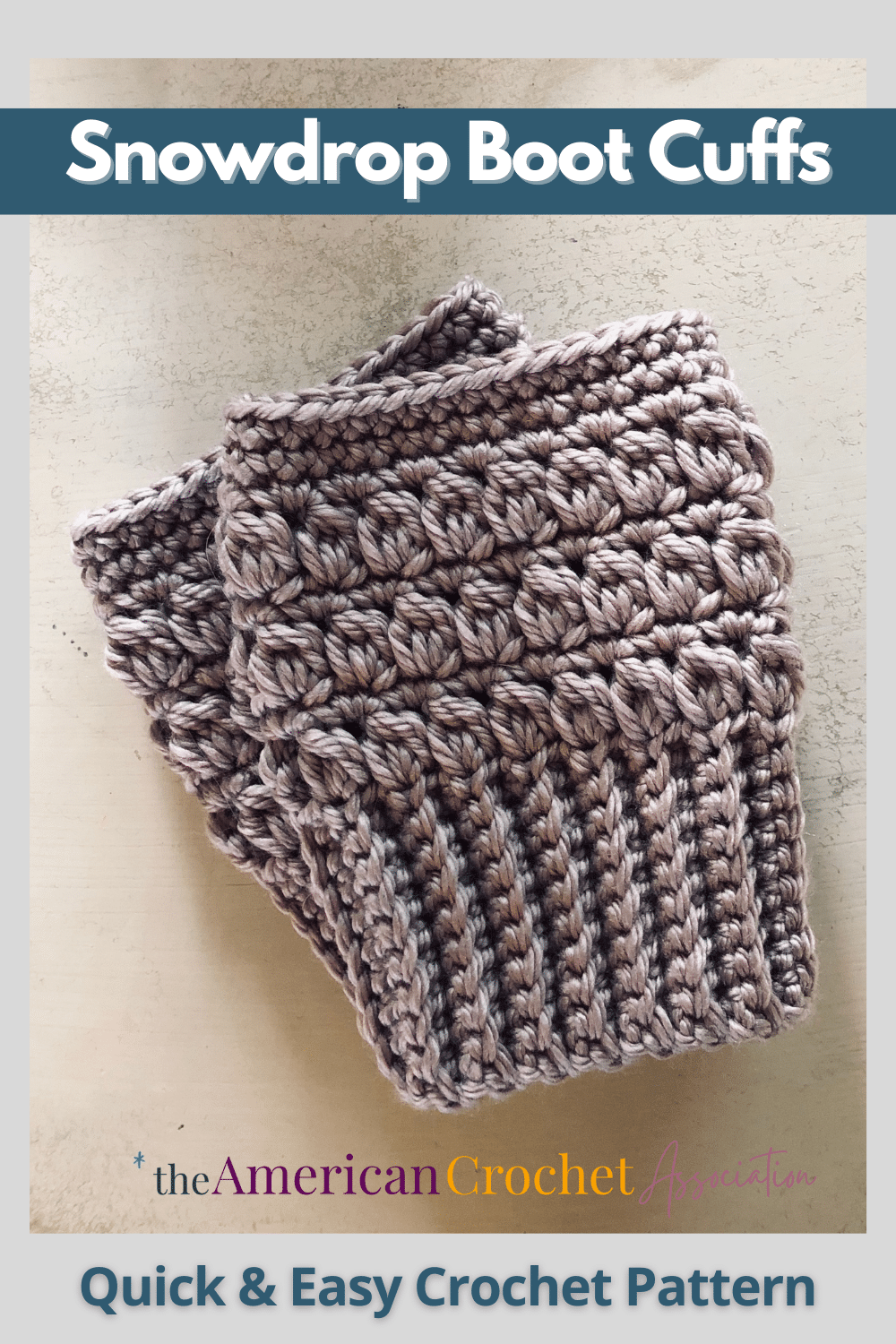 Click Here to share your finished project in our community!
Peace + Love + Crochet
Salena