Want to learn how to connect shapes and join crochet pieces together?
Edie Eckman is a prolific crochet designer and author, and she's got a crochet book that will help!
Of course, there are quite a few crochet designers who have published a large number of books.
However, oftentimes those are short books with about ten patterns each.
Although the patterns are new and there isn't anything wrong with those books, they aren't truly innovative.
Edie, on the other hand, always does innovative work.
From the sheer number of patterns in each title to the new techniques she introduces, she really takes things to the next level.
It's no different with Connect the Shape Crochet Motifs: Creative Techniques for Joining Motifs of All Shapes.
This crochet book has 101 crochet motif patterns, which alone makes it an intriguing book.
You could make one motif per day and it would take you an entire season of the year to complete the book.
More than that, though, the book teaches you how to join those motifs in a variety of different ways.
While some of those are traditional joins, some are totally original.
If you're interested in learning how to put motifs together in unique ways that will allow you to create projects that differ from anything you've ever created, then this book can put you on that path.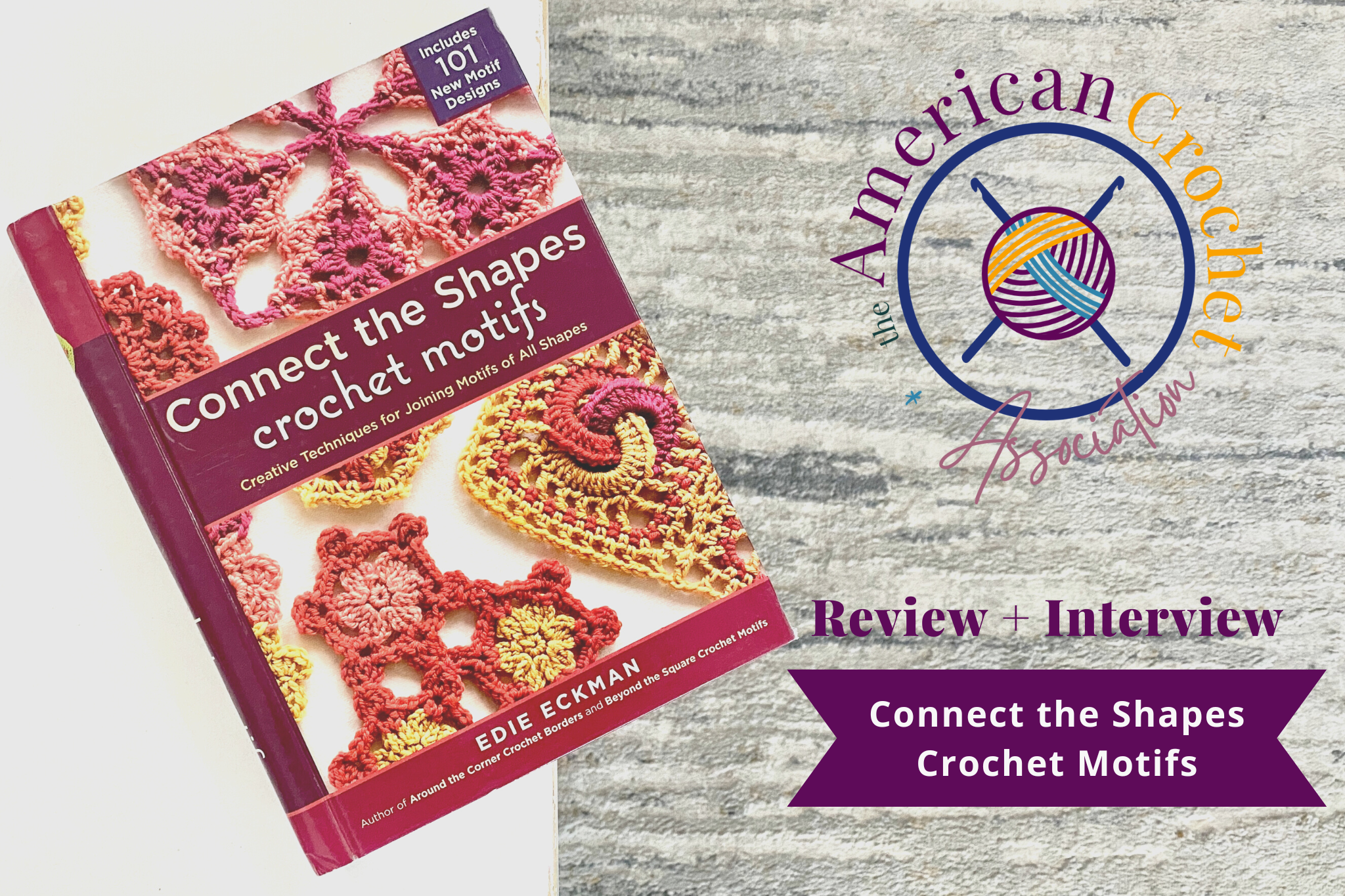 What Is a Crochet Motif?
Just to be clear about what we're talking about, a crochet motif is a small shape.
As Edie points out in the introduction, the classic granny square is the quintessential crochet motif, but a motif can be any shape.
It's usually (but not always) worked in the round.
You can use a single motif as though it were an applique, but typically motifs are repeated and joined together to create larger projects.
For example, when you crochet a bunch of small squares and join them to make a blanket, you've crocheted a motif-based blanket.
This book shows us how to crochet a variety of motifs in different shapes, ranging from variations on the classic granny (such as the granny-style hexagon) to entirely original multi-round motifs that Edie has designed herself for this collection.
Learn the Basics
This book isn't designed to teach you how to crochet.
(The ACA has a whole video series you can learn from, RIGHT HERE).
However, it does have ample information for the beginner to figure out how to crochet and join motifs.
The entire first section, appropriately titled "Get Started" provides helpful basic information including:
How to read crochet symbol charts (even if you're left-handed)
Methods of starting a project in the round (including how to make a sliding loop, which is a variation on the magic circle)
How to begin a new round using either a chain or a standing crochet stitch, and doing the latter with or without a slip knot
Different options for ending a round and weaving in ends
Tips for choosing yarn and colors
Troubleshooting problems with working in the round (such as how to fix waviness or curling edges on a motif)
Additionally, Edie shares how to properly increase the side of motif (adding the right number of stitches per round depending on the stitch height) and explains why a motif might not look right if you increase it to too large a size.
In other words, she not only provides patterns and basic instructions, but she also helps the reader understand what's going on behind the scenes.
This assists you to extrapolate what you learn in this book to working with other crochet designs.
And all of that is before she even gets into tips about arranging motifs then joining them!
She shows how you can either sew together or crochet together your motifs.
If you want to crochet, then join, you have so many options available to you.
(The ACA has a video series with 9 popular crochet joins, RIGHT HERE).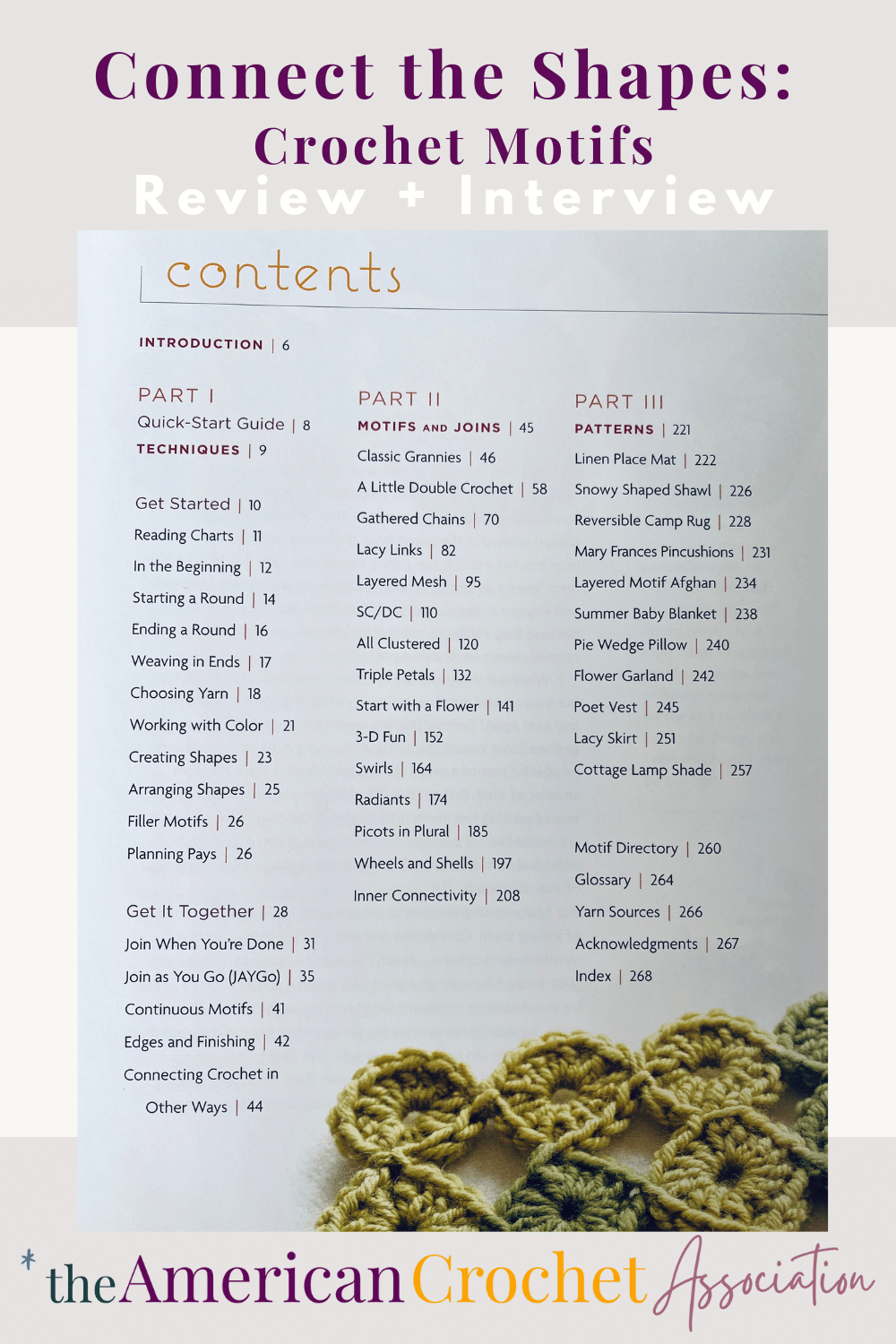 Join After the Project Is Complete
If you want to crochet together two separate motifs, she shows you how to:
Single crochet them
Slip stitch them together
Combine sc/ sl join
Combine sc/ ch join
Double crochet two together
Join with an openwork zigzag chain
Join As You Go (JAYGo)
You don't have to crochet all of your motifs first then join them at the end, though.
Some people like to "join as you go." Edie shows lots of different options for that as well including:
Sl st JAYGo
Flat join
Sc JAYGo
JAYGo continuous rounds
Plus, she provides tips for joining motifs when they each have final rounds in differing colors.
If you aren't sure what the best way is to get a cohesive look for that, then this is the kind of book that you need to learn all about it.
Continuous Motifs
Another type of JAYGo crochet is called seamless crochet or "continuous motifs."
In the other types of JAYGo crochet, you essentially create entirely separate motifs that are joined together as you work so that you don't have to weave in a bunch of ends when the project is complete.
In seamless crochet, you actually begin one motif before completing the next, so that the two motifs are not actually entirely separate.
Edie says it's basically taking the concept of JAYGo a step further.
She explains in detail how it is done and offers tips along the way to make it easy. 
Internal Joins
One of the most interesting, innovative techniques that Edie teaches in this book is the internal join.
She explains, "individual motifs are joined at some point before the final round; the join is an inherent part of the motif."
This is a variation on a JAYGo technique since, technically, you're joining as you go.
However, the join happens in the center of one or more parts of the motif, rather than around the edge.
For example, in Motif #94, we see four different-colored crochet flowers each set into the corner of a square motif.
They are joined in the center.
The entire motif is the square, but it consists of "separate motifs with the larger motif, creating a Siamese-twin effect."
Other motifs in this book that feature internal joining have their own features including:
Interlocking layers (Motif #35)
Three-dimensional effects (Motif #36) showing how a very simple motif, such as a square made of alternating rounds of sc/dc, can become completely different with a unique join
Overlapping rings in the center of a triangle (Motif #99)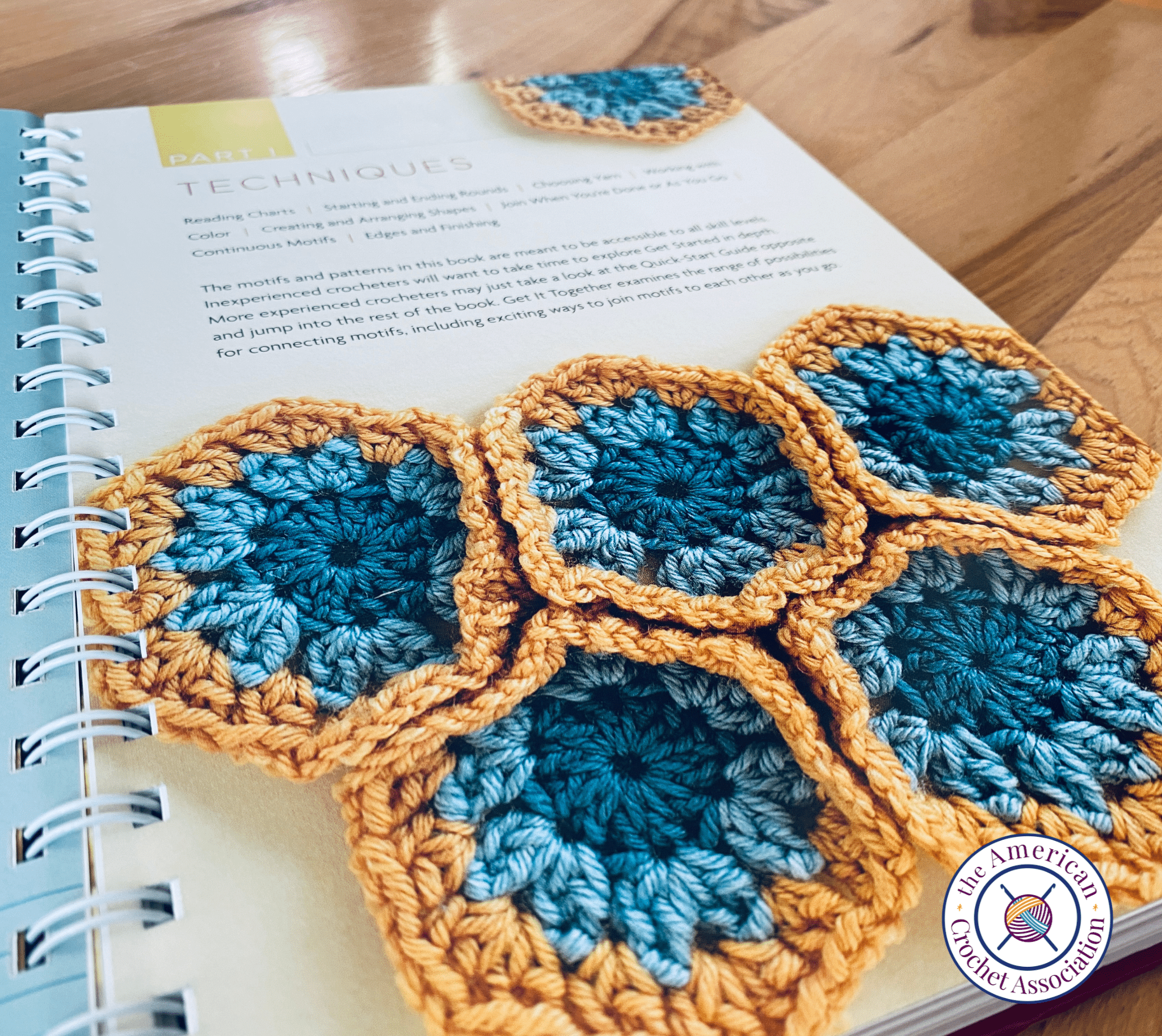 Motifs and Joins
All of the information described above is in Part 1 of the book; the motif and join instructions make up Part 2.
In this section, you get detailed instructions for a set of motifs, then a second set of instructions to join them.
For example, the project begins with instructions to crochet a granny square.
Each individual instruction set includes:
Color-coded photo
Row-by-row written instructions
Symbol chart to accompany written instructions
Extra tips or notes to help you better understand the project
Then there's a section called "connect" which shows you an option to join your granny squares.
This page includes:
Overview of joining methods that work well for this motif including page references in case you prefer a join different than the one showcased on the page
A list of features describing the chosen join. For example, the list for the granny square includes that it's a JAYGo continuous final round flat join with an inconspicuous seam.
A color-coded photo showing multiple joined motifs
Instructions for motif layout and completing the join
Symbol chart reflecting those written instructions
Crochet Patterns
You could use Part 2 of this crochet book to make just about any project that you'd ever want to.
Some people need more inspiration or instruction than that, though.
Edie has added a selection of crochet patterns to this book that really showcase exactly how to make and join motifs to create a variety of different crochet projects.
There are 11 crochet patterns in this book including home décor projects and clothing:
Afghan
Baby Blanket
Garland
Lamp Shade
Pillow
Pincushions
Place mat
Rug
Shawl
Skirt
Vest
Each pattern utilizes one or more of the motifs from Part 2.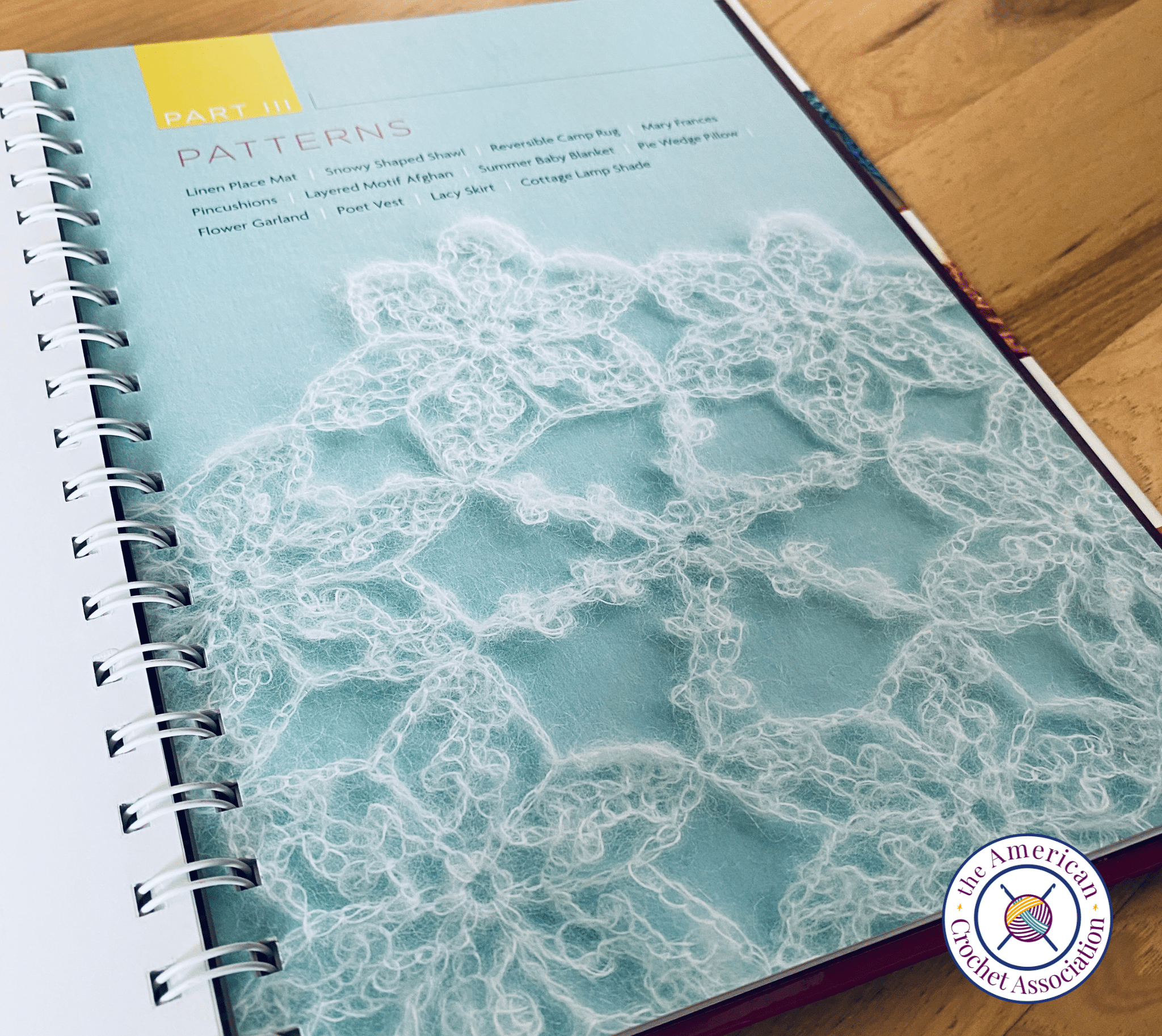 The pattern includes:
Project photo and description
How to crochet any special stitches, such as the Triple Picot-3 stitch used in the Snowy Shaped Shawl
Row-by-row written instructions for each motif
Detailed diagrams showing the layout and instructions for joining the motifs
Written instructions for joining the motifs
Additional notes and symbol charts where necessary
Everything is really easy to follow.
Edie is a teacher, and this comes through clearly in her books, where she makes sure to provide the reader with enough description that they don't have any questions leftover as they work.
Summary 
All-in-all this is a very comprehensive crochet book that's useful for anyone who wants to learn how to crochet motif-based projects.
There is a wealth of motif patterns here that you could mix-and-match in almost endless ways to come up with your own projects.
Plus, you'll learn so many different joining options for putting those motifs together that you could easily design your own crochet patterns using this book as inspiration.
But, if you don't want to start there, you can start with the detailed crochet patterns that show you step-by-step how to complete a finished item using various motifs and joins.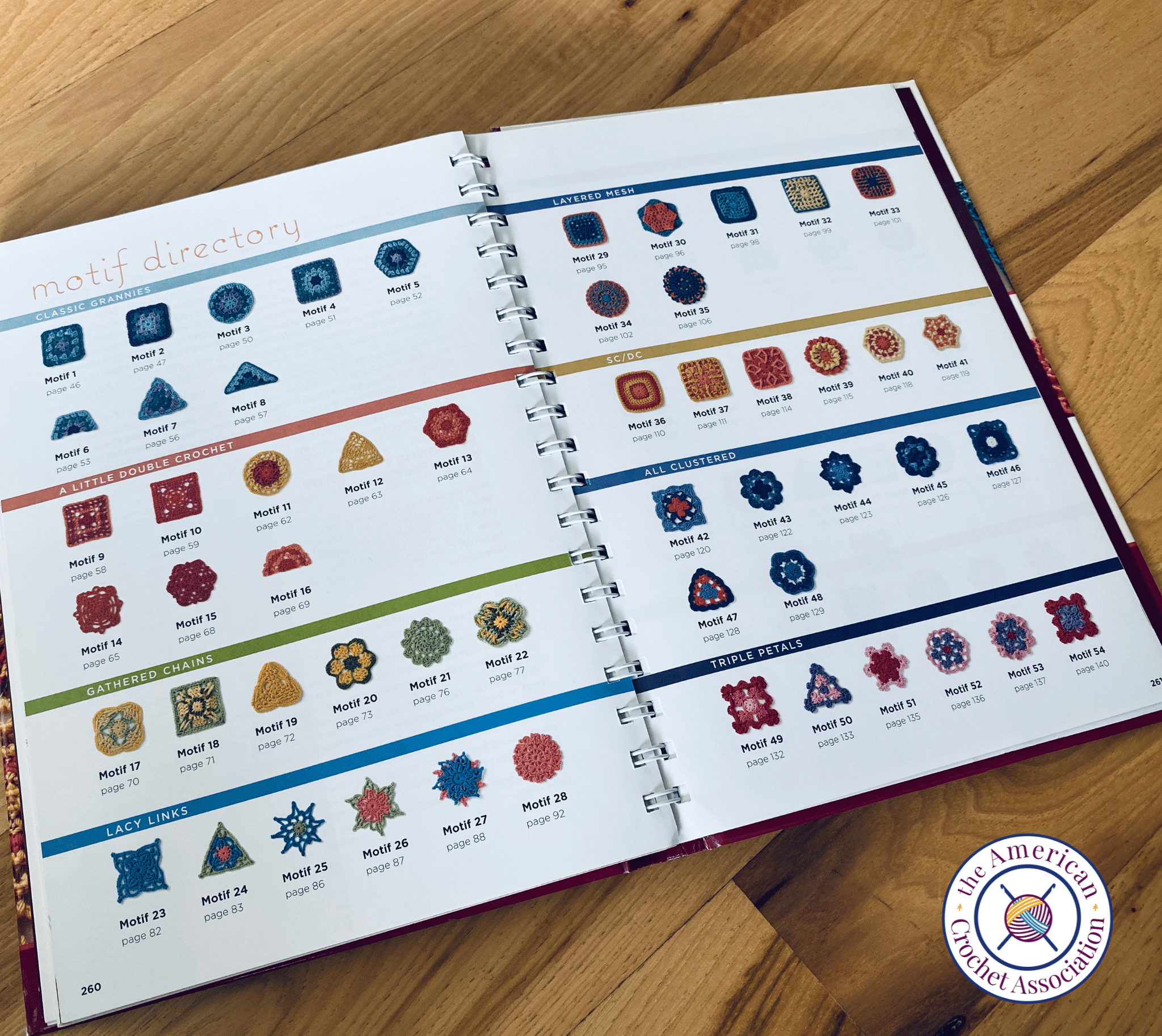 Author Interview with Edie Eckman
Teacher, crochet designer, and author Edie Eckman joined us to share more about her book Connect the Shapes Crochet Motifs.
How did this book idea come about?
I had written Beyond the Square Crochet Motifs, which featured many individual motifs in different shapes.
The response to that was great, but people kept asking me how to put them together, so writing Connect the Shapes Crochet Motifs was the obvious next step.
What was the process like of bringing it from an idea into a finished project?
It was so much fun!
I enjoyed coming up with new motifs as well as thinking of creative ways to put them together.
It's been a few years since this book came out, but I have really fond memories of how fun it was to create. (That could be faulty memory, just like when we forget how painful childbirth is, but I do remember this one fondly.)
The internal joining ideas are something I'd never seen before – did you come up with those on your own?
Yes, although I'm probably not the first person to do it.
I don't recall seeing it elsewhere, however.
Many of your books, including this one, include over 100 designs, which is fairly rare in the marketplace. What's it like to work on a collection of so many different designs? 
Usually the first 80 or so are really easy.
Once I turn on my creative brain (which it feels like I keep locked up most of the time) the ideas just flow.
It's the last 20 or so designs that are hard.
That's where I really have to push to get new ideas.
It's also important to point out that not all of the designs are unique to me.
There are plenty of classics or riffs on classics throughout all of my books. 
You demonstrate both the chain ring and the sliding loop for starting in the round. Do you have a personal preference for how to start a motif in the round?
If the piece is going to get a lot of handling, like an afghan or a sweater, I'll use a chain ring because I think it's the sturdier choice.
But I really like the adjustability and look of the sliding loop, which I think is a nicer option than the Magic Loop, even though people tend to use the latter more often these days.
What about a preference for join when you're done vs. join as you go? When might you use one method over the other?
In a few instances I'll use join when you're done.
For example, when I want the look of sewn pieces vs. joined pieces, joining at the end is the best way to achieve that.
However, I will almost always opt for one of the join-as-you-go (JAYGo) methods.
Continuous join works when the final round of each motif is the same color, so that's a deciding factor as to which type of JAYGo I'll use.
If I want to keep the pieces portable, I'll figure out a way to do JAYGo as a last step.
It all depends on how much I know about where I'm going with the design ("design as you go" vs. "I know what I'm going to do") as well as the constraints of the design with regard to motif placement and color.
I know it's hard to choose but do you have any favorites from this book?
I adore the layered mesh chapter because it adds another layer of "connection" to the motifs.
I also love the 3-D Fun chapter.
I just think they look cute!
Of course, everyone will like something different.
The Snowy Shaped Shawl, in particular, is one that gets rave comments every time I wear it.
This, as well as some of your other books, are spiral-bound. Why is that important for crafters?
Spiral-bound books allow the pages to lie flat.
That's so important when you are reading instructions and both hands are busy.
These are covered spiral bindings, which keeps the wires from catching on things.
The book's dedication is "To Ann With Love." Who is Ann?
Ann was my late mother-in-law.
What else should we be sure to know about this book?
Although it has very pretty pictures and fun motifs, the value of the book is in the many different ways that you can put individual motifs together to form a whole fabric.
I don't know of another book that covers so many techniques on this topic.
It has a visual index to help you search for motifs, and a chapter that includes patterns for finished projects that help you practice the joining techniques in the book. 
Edie loves connecting with the people who use her books.
Feel free to share your post with her on Facebook, Instagram, and Ravelry. Visit her website and make sure to check out her YouTube channel for more crochet.
*This article contains some affiliate links.