Every crochet project looks more complete when you've added the perfect edging to it.
The right edging can make a crochet pattern more sophisticated or funkier.
It might provide a chic complement of color or just the right bit of texture.
An edging can be narrow or wide, simple or complex, and the littlest decision that you make can completely alter the finished product.
Edie Eckman's Every Which Way Crochet Borders: 139 Patterns for Customized Edgings provides you with all of the different options that you might need for any type of project.
Author Interview
We've also published a detailed interview with author Edie Eckman as we reviewed this book, and you can read it RIGHT HERE:
What is this book about?
This crochet book is essentially a stitch dictionary for crochet edgings.
A regular stitch dictionary shows you how to create fabrics using different stitches.
For example, it gives you the instructions to make chevron crochet or mesh crochet or a fabric consisting of repeating crochet shells.
Every Which Way takes that same concept and applies it to crochet borders.
Each crochet pattern uses basic stitches in unique combinations to create a "fabric" that goes perfectly as the edging for certain projects.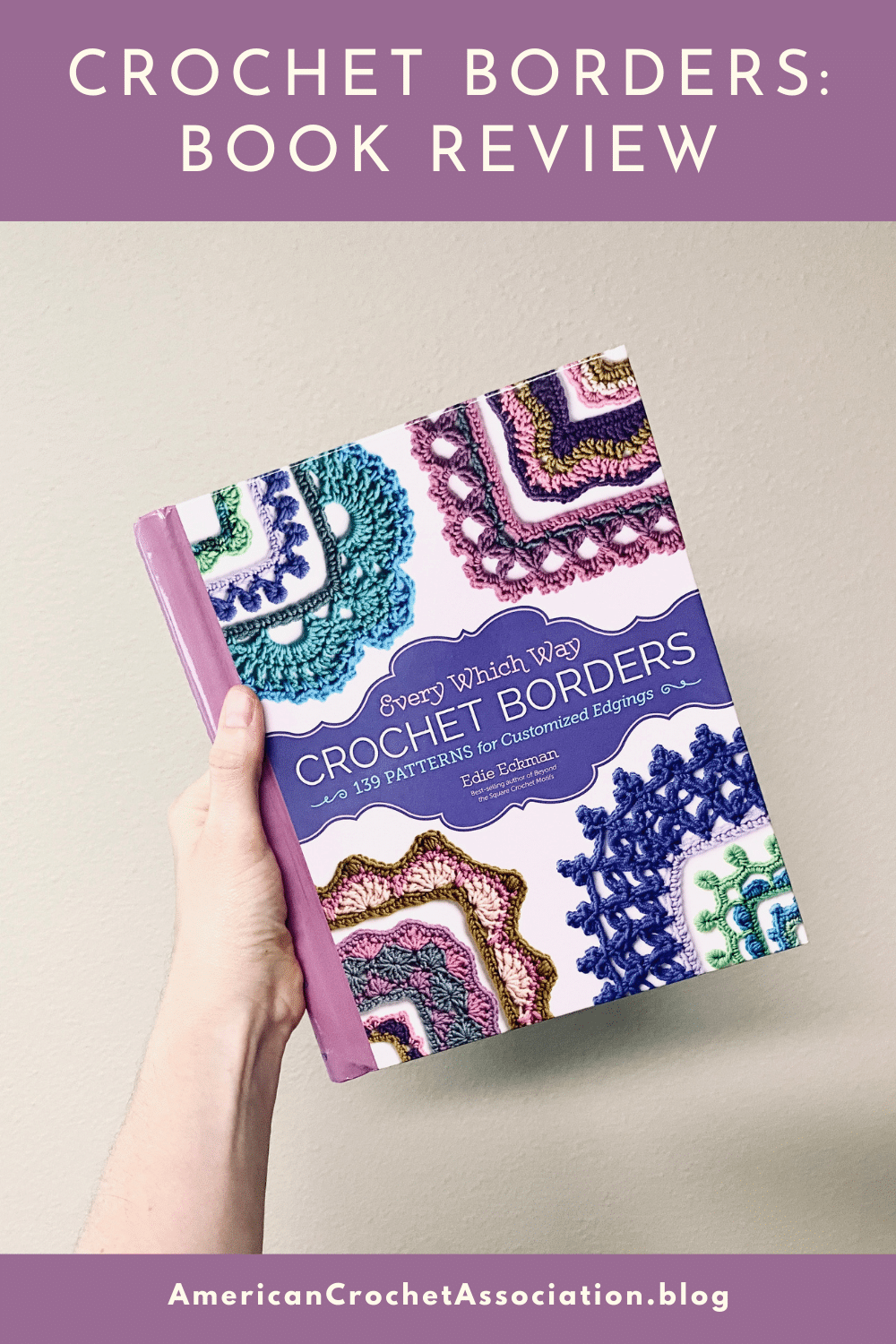 5 Things to Know About This Book
We'll dig into the details of this crochet book in a moment, and after that we'll learn even more with an author interview.
Before we do, though, here are five important things that you should know:
#1 – This book follows another book of crochet borders.
Edie Eckman authored a terrific book called Around the Corner Crochet Borders which is a collection of 150 crochet edgings patterns.
This book was authored subsequent to that one.
Why does that matter?
It points to the fact that this title is filled with truly innovative designs.
Edie had already covered the basics in that first book, so she really had to dig deep to come up with 139 more completely different crochet border patterns.
You'll find designs in this book that are truly creative one-of-a-kind ideas for your project edgings.
#2 – These edging patterns are designed to work around 90-degree corners.
These crochet border patterns are designed to create edging all the way around square and rectangular crochet projects.
Each crochet pattern includes the instructions for working around the corners.
Use these instructions to add a border to washcloths, scarves, rectangular shawls, blankets, blanket squares, etc.
You can't easily adapt them to crocheting in circles unless you're particularly advanced with the math of crochet or at least understand how to square a circle before you begin.
#3 – These crochet border patterns are offered up in random order.
There is no particular theme that connects these crochet patterns together.
You won't find a section of "shell-inspired borders," for example.
Each crochet edging just is what it is, standing on its own. You can get a lot of inspiration from just browsing through the different options.
However, Edie did anticipate that some people might want more organization than that.
There's a striking visual index at the back of the book where you can easily see thumbnails of all of the crochet patterns in one place.
Furthermore, there is a two-page Table of Attributes at the back of the book.
It lists eleven attributes, indicating which ones each project contains.
Those attributes are:
Fringy
Layered
Medium
Motifs
Narrow
Open/Lacy
Reversible
Straight
Textured
Undulating
Wide
So, for example, you'll see that Pattern #35 is a wide, reversible, straight crochet border with fringe.
Pattern #89 is also wide and reversible, but it is undulating and open/lacy.
#4 – These patterns are numbered but not named.
As you might have noticed in the description of attributes above, these patterns are identified by number only.
Most crochet patterns, even in stitch dictionaries, have names.
Those names usually give us a sense of what the pattern is all about.
For example, a pattern whose name includes words like "rose" or "daisy" or "garden" will probably have a floral-inspired design.
At first, you might find the lack of names in this book a little bit off-putting.
However, have an open mind. Pattern names can be highly suggestible.
If the floral-inspired pattern didn't have that name, then you might not see the flowers; you might see something differently entirely.
Without a descriptive name, you get to use your imagination.
This might actually help you when figuring out which crochet edging pattern looks best on a particular project.
#5 – The book's introduction provides a lot of helpful information.
You will get and use this book because of the 139 crochet edging patterns.
However, don't ignore the pages in the Design Concepts chapter of the book that precedes the patterns.
There is a lot of really rich information there that can help you figure out how to choose the right crochet pattern and how to adapt it to suit your own design.
From this section, you can learn:
What makes a narrow border functional (for example, to serve as a buttonhole band)
Whether a border should complement or contrast with the main work (which depends on your desired outcome)
How color choice on the border impacts the final design including how you see the structure
The importance of yarn choice for a border
How to add borders to non-crochet projects (for example, to edge a linen handkerchief)
How to customize a border pattern by widening it or adding your own elements
This Book Is Practical
You'll also learn a lot of practical information about how borders work in crochet, where to place your stitches, why you should swatch even for borders, how to understand and cheat stitch multiples, and more.
In other words, before you even begin looking at the crochet patterns, this book gives you a strong education in the foundations of crocheting borders onto projects.
Section 1 – Design Concepts
There are two different sections in this book; Design Concepts, Border Designs.
This section of the book covers a variety of information to make this book, and each pattern, useful:
Form Follow Function
Customizing Your Borders
The Power of Swatching
Crocheted Border Mechanics
Ending Rounds
About The Patterns
Section 2 – Border Designs
This section of the book includes 139 patterns for crochet borders.
The first fourteen patterns are called "elements."
These are very simple, narrow crochet borders, and you can use them on their own.
However, you can also use them to start a crochet border, finishing it off with one of the advanced crochet borders that make up the 100+ patterns following these first fourteen designs.
Each crochet border pattern includes:
Easily identifiable attributes (any of the 11 listed above and in the table at the back of the book)
Stitches and notes; any special stitches have very clear instructions in the sidebar where you can also find additional notes to help facilitate working on that particular edging pattern. There is also a glossary at the back of the book that provides details information about the stitches.
Photograph of two sides of the crochet border including the corner that joins them
Written instructions for how to crochet the base round that begins the pattern as well as the subsequent rounds that make up the pattern
Symbol chart for a visual representation of the written instructions
How Color Is Used
Each round of the crochet edging pattern is crocheted in a different color, which allows the stitch choices to show up very clearly in the photograph.
Moreover, the instructions are color-coded to match the rounds in the photograph, so you'll always be able to easily see what you're working on.
Creative Crochet Stitches
You will have the opportunity to work with so many different crochet stitches as you craft the borders in this collection.
Of course, you'll use many of the basic crochet stitches that you already know.
But you'll also get the opportunity to work with more creative stitches including:
6 different types of cluster stitches built using dc and tr
Bullion stitch
Crab stitch
Crossed double crochet
Dc2tog worked across 3 or even 4 stitches; Tr2tog and Tr4tog across up to 5 sts
Flat X-stitch, which looks like crossed dc/tr but is worked completely differently
Flat Y stitch, where you work into the post of a stitch in the same row
Partial stitches (which are similar to hdc but for different stitch heights like dtr)
Petal stitch
Picots including "tight picot"
Puff stitches and popcorn stitches
Post stitches including Back Post Double Treble Crochet and Front Post HDC
Sideways cluster and sideways puff stitch
Solomon's Knot
Tall stitches including triple treble
V-stitch
View All The Patterns
This book is listed on Ravelry, and all the patterns are individually listed there for you to review, under this title.
Click Here to view all 75 border patterns!
How To Follow Edie Eckman
Edie Eckman loves connecting with the people who use her books, and she encourages you to share any borders that you make from this book through posts:
Visit her website and make sure to check out her YouTube channel for more crochet.
Learn more about Edie Eckman when you read our interview with her, RIGHT HERE.
Purchase This Book
I'm including a link to find Every Which Way Crochet Borders on Amazon for ease, but you should be able to request this title anywhere books are sold.
By Kathryn Vercillo: writing at the intersection of psychology/wellness and art/craft: exploring how creativity can heal individuals and communities!
*Affiliate links are used in this article. If you make a purchase, we may earn a small percentage at no extra cost to you.