Dora Ohrenstein is a renowned crochet designer, and the author of Crochet Every Way Stitch Dictionary: 125 Essential Stitches to Crochet in Three Ways.
CLICK HERE to learn more about that title.
Once you start working in more complex stitches, the stitch count can get confusing, and it can quickly become frustrating to try to figure out how to properly shape an item without messing up the design.
This innovative new stitch dictionary solves that problem for you.
Even if you don't plan on getting into crochet design, the information in this book makes it so much easier to reshape any stitch you like.
Here, we chat with Dora a to learn a little bit more about her, and her crochet book.
Estimated reading time: 8 minutes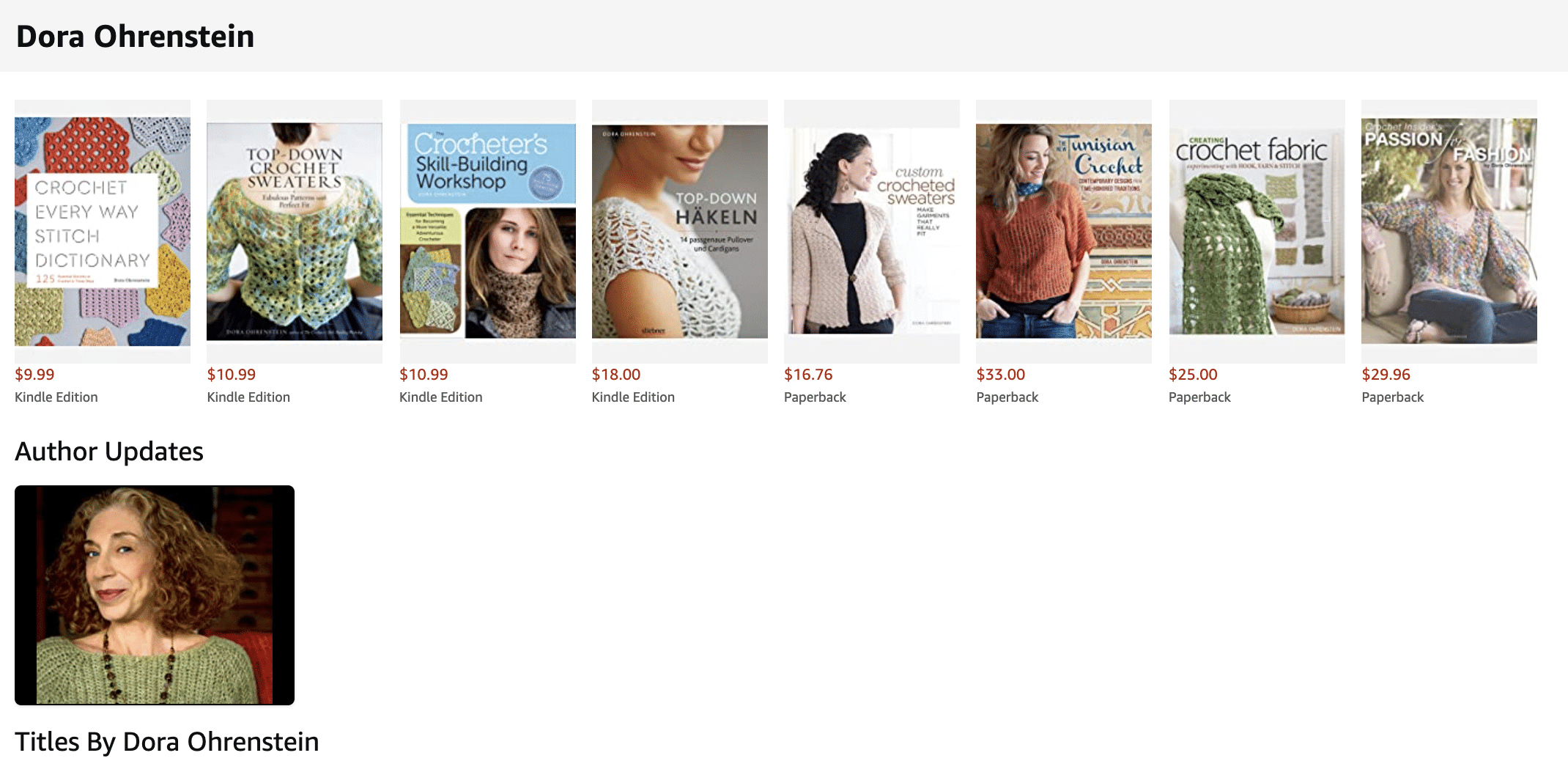 What first inspired you to try crochet back on that houseboat?
And what inspired you to get back into it again in 2003?
What did you find to be the easiest and most challenging parts of learning – and re-learning – the craft?
What inspired me to crochet on the houseboat in Amsterdam was the general craftiness of the era; it was 1971.
Also, a friend who owned a weaving shop gave me some cones of yarn in beautiful colors and I wanted to play with them.
In 2003, after a successful singing career, I was not performing as much and needed a creative outlet, so I turned to crochet again.
At the time I had no plan to become a pro nor did I know that there were any career possibilities for crocheters.
I just did it for fun.
What is the number one thing that you hope crocheters will get from this book?
I hope to enable and embolden crocheters to fearlessly experiment with stitch patterns and shaping.
I created this stitch dictionary with shaping strategies because it had not been done before.
The book really reflects my interest in stitch patterns; my love for a particular stitch pattern is often the starting point for a design.
Having been designing now for more than a dozen years, I have figured out a few things about shaping stitches that I wanted to share.
The continued popularity of top-down seamless sweaters is why I included internal shaping.
About Shaping
As you mention in the book's intro, almost every designer has to go through the process of figuring out shaping, and yet there's so little written information about this topic.
Any idea why that information wasn't out there before now?
It is difficult and time-consuming to do what I did in this book.
One large issue is how to present the information.
It was important to devise a way of showing increasing, decreasing, and internal shaping in a concise clear way, while also giving instructions for the stitch itself.
I came up with the idea of a swatch that starts even and then grows into these pointed shapes.
It's an attractive shape and makes it easy to see what's going on, both in the swatch and in the diagram.
On the little internal shaping swatches, a lovely surprise was how pretty the center increases can be.
The swatches took 2 years to make.
For most of the stitches I first drew stitch symbols on paper to develop my shaping ideas.
Then I tried out the idea with yarn and made many adjustments as I did so.
Then I redid the swatch in the yarn that suited it most, very carefully, so that the work was as even and pretty as I could make it.
I wet blocked and pinned each swatch, sometimes more than once.
That's a lot of careful work.
And 125 stitches is A LOT of stitches, but there are also certainly many more in crochet.
How did you go about deciding which stitches to include and what to leave out?
First, I thought about the categories of stitches I wanted to include and how best to organize them.
For example, I knew I wanted a chapter on shells (because there are so many and they are so pretty), one on closed stitches, and one on stitches with texture.
I considered also the kinds of stitches crocheters would find appealing, and easy to work with.
That's probably how the chapter on mesh and easy laces emerged – so many great stitches that are not hard and yet look so elegant.
I had to eliminate some stitches that did not want to be shaped.
Of course, one can find ways to shape any stitch working in a freeform manner.
But the goal in this book is to make a repeatable sequence one can use for row after row.
The number 125 was what the publisher felt would offer great value to crocheters, while keeping the book's price in an accessible range.
Where did you find all of these stitches?
I used a great variety of stitch dictionaries to find these stitches, including the Harmony Guides and several American books from the 1970s.
I did not invent any myself; there are already so many that I didn't find the need to do so, plus I really like the process of researching stitches in books.
I think the most original thing that I did in this book was elaborate on the concept of enlarging the pattern, which is an interesting solution for certain stitches that don't lend themselves to other shaping strategies.
What makes some stitches unsuitable for edge shaping and therefore better suited to internal shaping?
There are several reasons why some stitches might work better for shaping than others.
For example, crochet ripples are very hard to shape because increasing and decreasing within a row is what creates the ripple.
Changing the stitch count disrupts the ripple pattern.
Most stitch patterns where stitches line up vertically row after row can easily be shaped.
Stitches that have angles, like shells, can be shaped if that angle is fairly steady on each row, but it also limits one's choices as to rate of increase.
This is hard to explain just in words, which is why a book like mine has photos, diagrams and other illustrative tools that make the concepts clearer.
Shaping all the varieties of crochet stitches is really quite a large and detailed topic that is best understood by reading the book and trying the swatches.
How did you choose the yarn to swatch with?
I chose the yarns in the book for their color possibilities, since beautiful and varied colors was part of the aesthetic concept for the book.
Where possible I used single ply yarn as it creates clean and clear stitch definition (meaning each strand of yarn is very clear in a photograph).
I also wanted to use a variety of yarn weights, although I did not use yarns heavier than DK.
I feel heavier yarns are less elegant-looking in crochet and want to fight any stereotypes people have about crochet being unrefined.
In my design work, when making garments, I use mostly sport and and fingering weight yarns for that reason.
I did swatch some of the stitches with different yarns before finding the ideal one.
How has your experience as a teacher informed your work as a crochet author?
My being a singing teacher is reflected in many other things I do.
That role requires breaking down a complex task into simpler steps.
In this book's introductory pages, I aimed to help crocheters understand stitch patterns and how to shape them in a broad and general sense.
In other words, to reveal some of the underlying principles that make stitches behave in certain ways.
This will, hopefully, give more depth to the reader's experience as she studies the many stitches and will enable readers to use the concepts in the book in other areas of their crochet lives.
How to use this book
Someone wants to start a new project, but they really don't have any plan at all in mind.
How would you suggest they use the book to get inspiration?
Where should they begin?
I think a great starting point for someone who doesn't have a definite plan is to follow the advice in the book on how to make a scarf with any stitch.
For someone who has not designed and would like to learn, it's a really good lesson.
Another alternative is to grab yarn from your stash and try 3 or 4 stitches with it and see what looks best with that yarn, then analyze why.
Try going up and down in hook size before deciding though, as looser or tighter stitches can make a big difference in how the stitch looks.
Once you find a good match, think about what kind of item would look good with that stitch and yarn.
This can help crocheters understand the relationship between yarns and stitches and why some yarns work with a particular stitch and some don't.
From there you will have much better experiences when subbing yarns for projects and can also explore making your own designs.
CLICK HERE to read our book review: Crochet Every Way Stitch Dictionary.
You can find Dora on Facebook and Ravelry.