Hooks, check.
Yarn, check.
What other crochet tools could you be missing?
I'm not one who gathers crochet tools just to have them, and I don't use a lot of gadgets.
In fact, there are some crochet tools I was totally resistant to using (yes, my yarn winder is one of them) because I was getting by just fine on my own without them… for years!
I don't like to collect things that I may not use.
And, if I've never used something, why would I need it?
Yes, there are many, many different tools you could have to maximize your crochet time and projects, but, after crocheting for a few decades, there are three that I think could make a huge difference in your crochet life.
These tools make so much sense that I just can't work without them.
And so (after hooks and yarn), here are the three tools I highly recommend to anyone who crochets – they really can help to make the job of crocheting so much easier!
I am sharing Amazon affiliate links for some items in this article, but please feel free to find similar products wherever you're most comfortable.
Estimated reading time: 6 minutes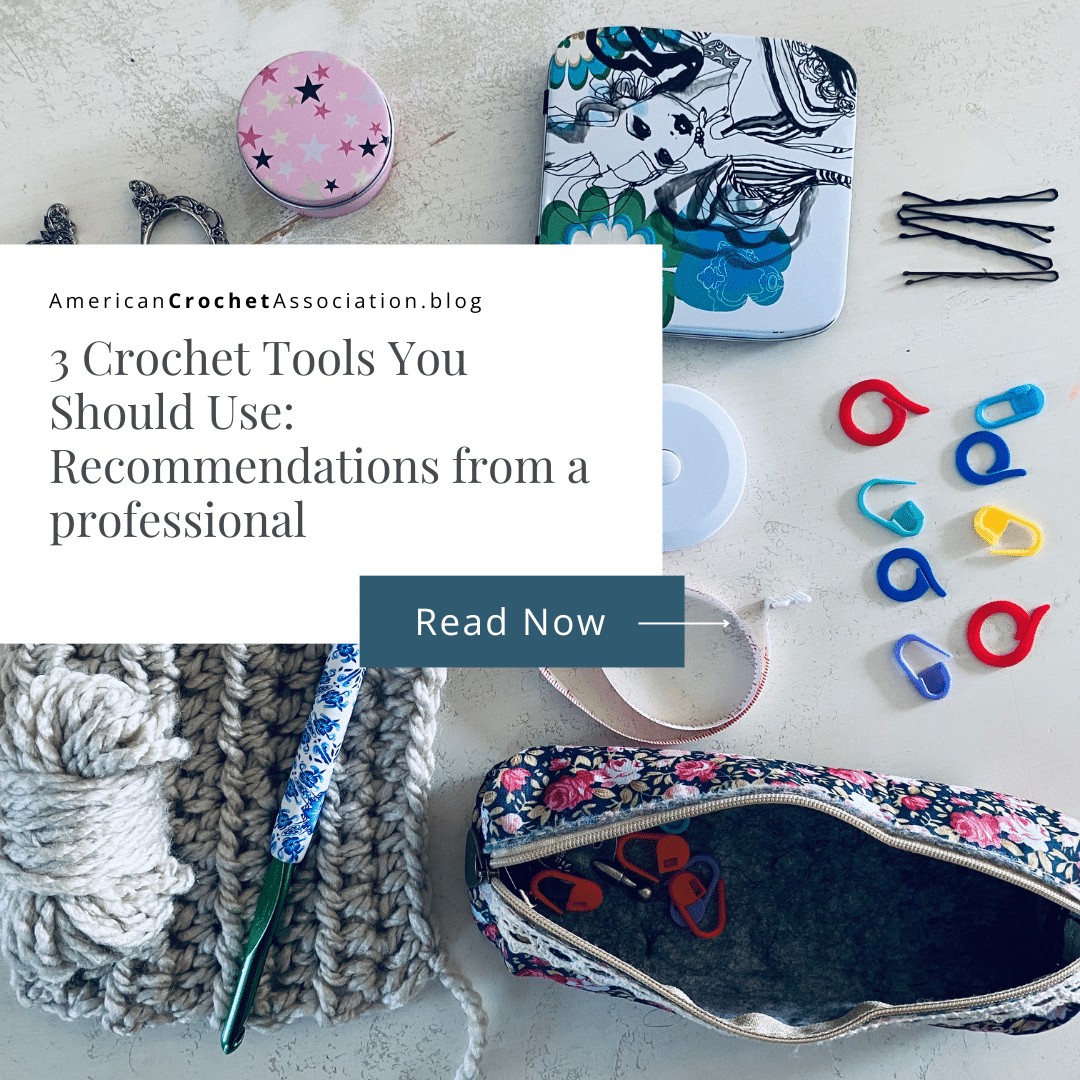 Crochet Stitch Markers
If you're not using stitch markers, stop everything and get some right now!
Don't crochet another stitch without them, seriously!
Stitch markers come in a variety of designs, and can help you with many aspects of your project. In fact, a lot of crochet problems (like having too few or too many stitches) can be resolved if you just mark the top of your first stitch when working in rows or rounds.
Click Here to learn more about where to place stitch markers.
From clasp and locking styles to spirals (and even bobby pins) stitch markers are perfect tools to:
mark a stitch, like the beginning or ending of a row / round.
use as a placeholder in a WIP, instead of your crochet hook.
count rows and rounds of work, especially if you'll have dozens of rows, or a complex set of repeats to track!
There are lots of fancy stitch markers made specifically for crocheters, but I really like using bobby pins (yes, meant for hair), and this set comes with a magnetic case:
If you're looking for classic crochet stitch markers, I recommend these colorful ones that lock into place (they also come with a case): 
Yarn Winder
Raise your hand if you have partial skeins of yarn in your stash right now.
Not every crochet project uses all the yarn in a single unit, so what's left over is typically a sloppy, messy, tangled mass of yarn.
Remember, I don't like to own a lot of tools or gadgets, so if I can do something with my bare hands I will.
For years I thought these masses of yarn tangles could just be wound up into balls, but that doesn't always work out well. For example, if quite a lot of yarn was left over (like, larger than a fist), these leftover yarn balls were hard to store or to work from.
My first yarn winder was a gift and I wasn't even sure how to use it at first. I was totally resistant. But, after winding up a few partial skeins I was absolutely obsessed and have never looked back.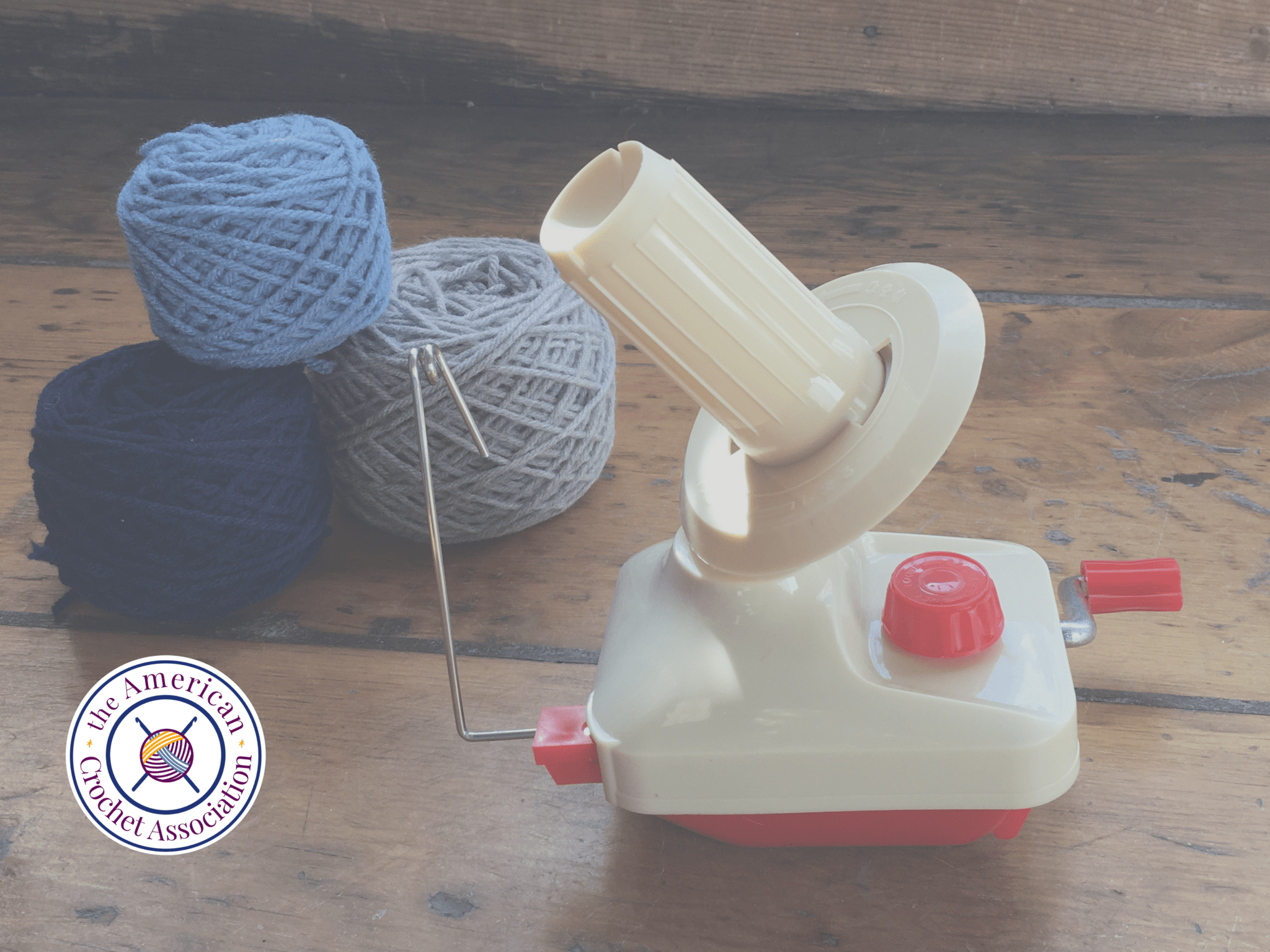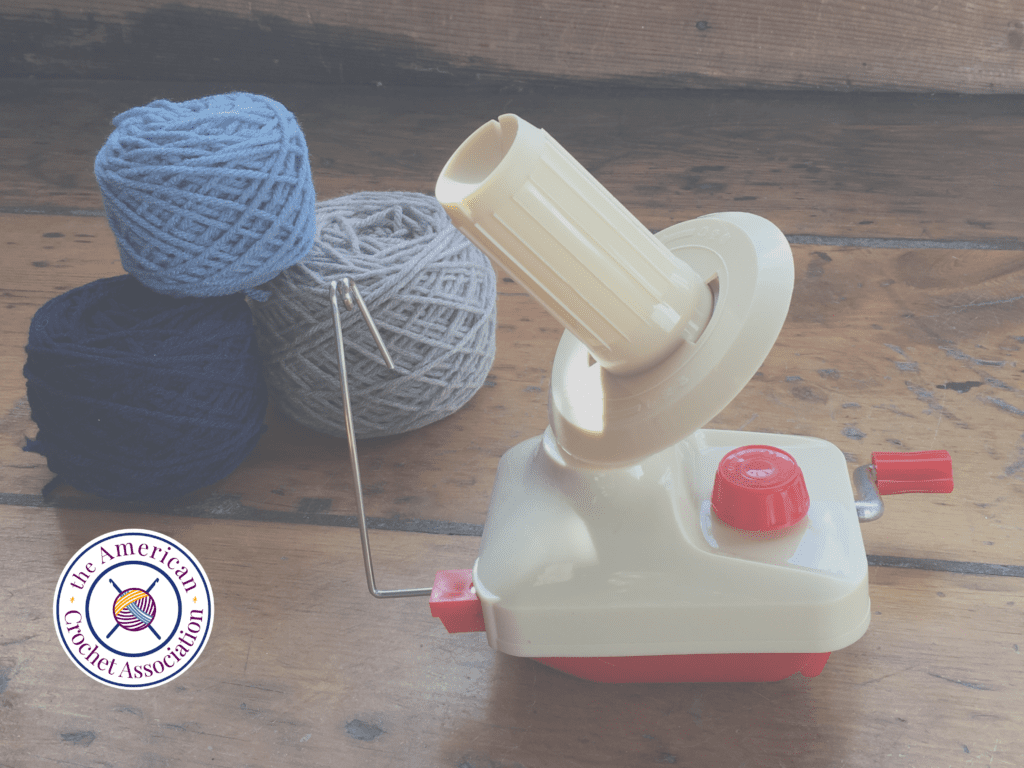 Yarn winders help transform yarn into workable units.
While most skeins, balls & cakes of yarn are ready to use, some will need extra help before they are workable:
Hank of yarn: Must be a cake or ball before you can use them!
Partial skeins: Yarn can get messy!
Bulk units: For smaller projects or for ease of transportation.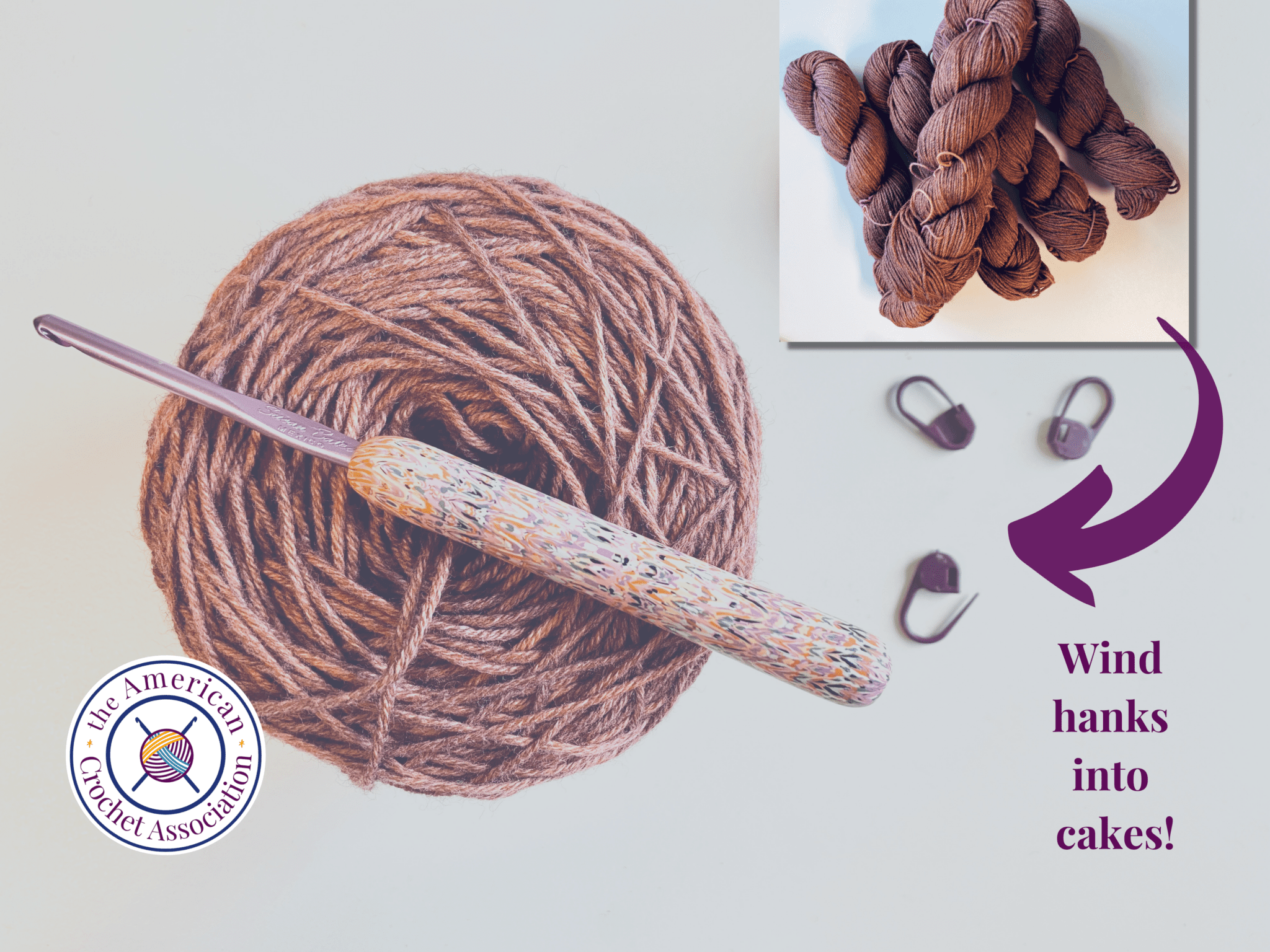 This is not the exact model I have, but it's currently the #1 best seller on Amazon (and for good reason). I really trust the Knit Picks brand, the price here is great, and the reviews are very convincing:

Not sure how to use a yarn winder? Watch this video tutorial for tips on how to get started, right here:
Work In Progress (WIP) Notecard
Whether you're free-form crocheting from your own brain and imagination or following instructions, you're probably making a few notes about your project along the way.
You may want to track important details like: what yarn you're using, hook size, pattern size, pattern notes…
And while notebooks are great, you may have a lot of unfinished projects (WIP = work in progress) that you need to keep organized. Enter the WIP notecard.
Even if you use a single sheet of paper, you should take notes about your WIP, then keep it with the WIP until it is finished.
A few years ago I realized some of my favorite crochet hooks were missing, and I couldn't figure out what was happening to them. I was cleaning out my yarn stash one day and came across a few WIPs that I was storing, and realized that each one of them still had the hook attached!
I was leaving the hook with the project, then completely forgetting about them! When I picked up these projects, I couldn't remember a lot about what I was even doing so I had to frog (disassemble) them.
This is a lesson I didn't learn easily.
Whether you only have one WIP (or over a hundred), using a notecard with every WIP will save you time, energy, and yarn. Some things you should include are:
Pattern Name
Pattern Location (where can it be found)
Yarn Brand
Color
Hook Size
Pattern Size, Dimensions
Date Started
Additional Notes
When you've finished a WIP, you can add it to a project notebook for future reference!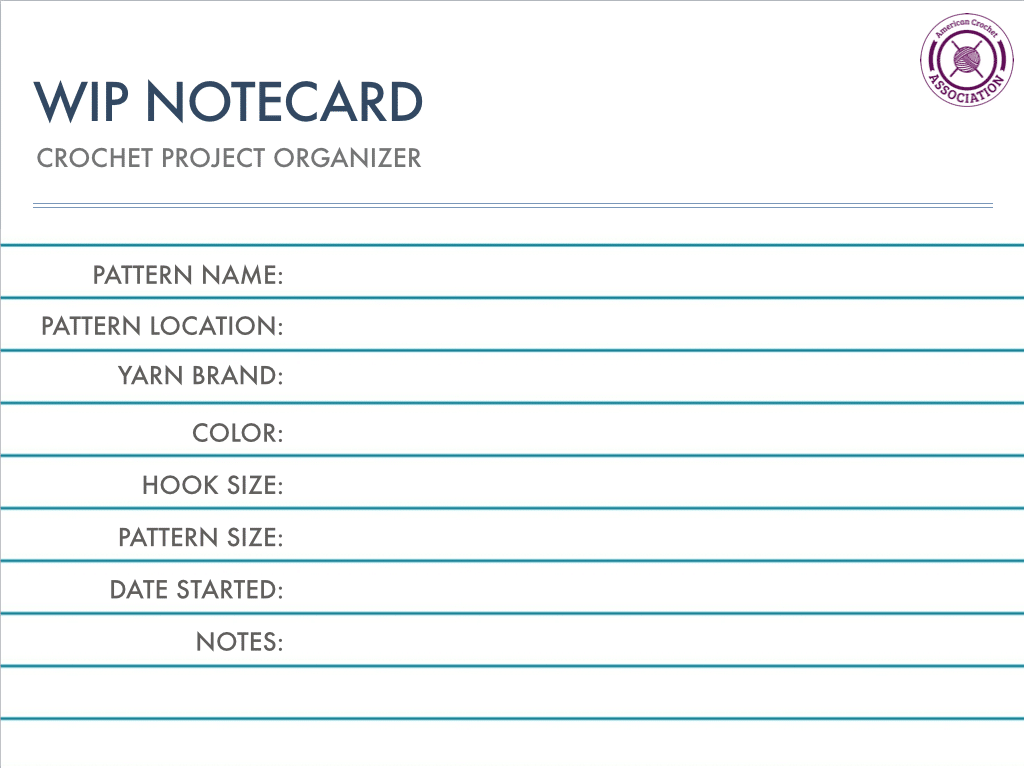 Video Chat
For more details on this topic, watch my video chat right here:
Click Here to share your favorite crochet tools in our community!
Peace + Love + Crochet
Salena