As a crochet author, educator, and enthusiast, I have a lot of crochet books in my library (over 50, at least).
I'm often asked to recommend crochet books, so I've looked through my collection to share a few that I think most crocheters will find helpful, learn from, and be inspired to use.
Each title includes a blurb from me, a real customer review, and a link to save the book for later or make a purchase (if you use my amazon links, I may receive a small commission).
Enjoy!
Estimated reading time: 4 minutes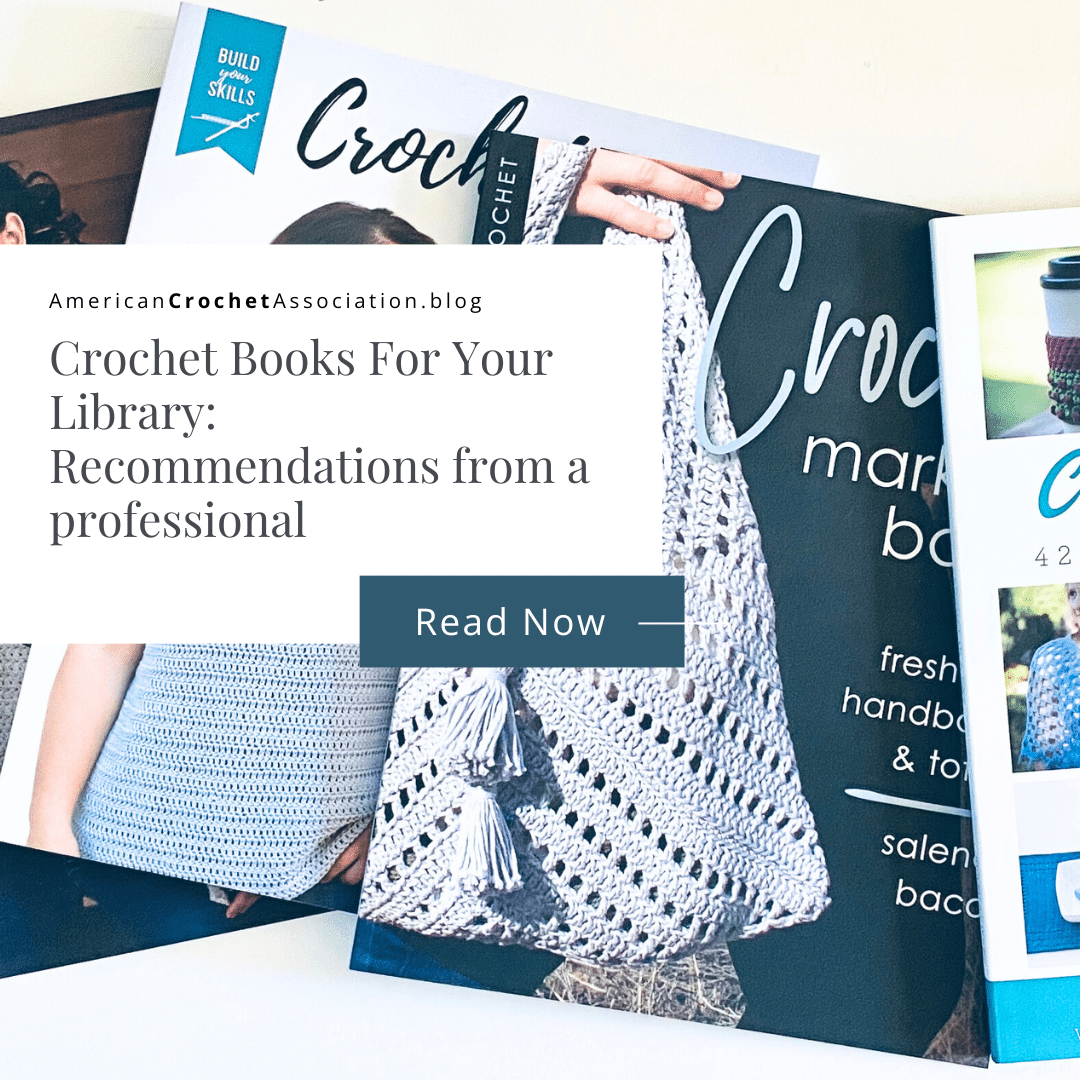 The Ultimate Granny Square Sourcebook: 100 Contemporary Motifs to Mix and Match
I preordered this one months in advance because I love square motifs and granny squares!
There are 100 clever and beautiful designs, and each one has a picture, diagram and written pattern.
Wow!
I just received this book and was so impressed. Some times I order craft books only to be disappointed but this one was really great. There were pictures, written instructions and visual instructions for each pattern. I highly recommend it for anyone interested in crocheting.

Cynthia Ann Smith, amazon Review
Stitch 'N Bitch Crochet: The Happy Hooker
This was my very first crochet book, and I learned a lot about my craft by reading it.
Before you even get to the patterns (which are fantastic), there are a lot of great tips, tricks, and lingo that are fun to read and really informative.
I really like this book. It has a good variety of patterns, has easy CLEAR instructions and helpful hints along the way. It's written in a fun way so it's not boring and I felt almost like she was there helping me along with my project.

Patia, Amazon Review
The Complete Book of Crochet Border Designs: Hundreds of Classics & Original Patterns
Crochet border patterns can be just as complex as the projects we make, and with this book as a guide you don't have to struggle!
This collection includes a picture, diagram, and written instructions for every pattern.
I first saw this book at my local library. I liked sooo many patterns in the book that I bought it.

Jennifer, Amazon Review
Crochet Market Bags: 10 Fresh Fun Handbags & Totes
Yes, this is my book.
I designed each pattern in this title, and I'm really proud of it!
Tote bags are some of my favorite things to crochet and this collection includes a variety of different styles to work up that are unique, functional, and a lot of fun to make.
Salena's crochet designs are always stylish and the patterns well-written. This book is a great addition to a crocheter's library, no matter what the skill level!

Irish Hooks, Amazon Review
The Complete Book of Crochet Stitch Designs: 500 Classic & Original Patterns
I love learning new crochet stitches, so reference books like this one always grab my attention.
This particular book has been in my collection for years.
I review it frequently because the layout is simple and each pattern is complete with a finished swatch, diagram, and written instructions!
This book is well laid out and easy to understand for beginners through to advance crochet users. Each stitch has a picture, diagram and a pattern that are all easy to follow.

Elizabeth P. Whyte, Amazon Review
The New Crochet Stitch Dictionary: 440 Patterns for Textures, Shells, Bobbles, Lace, Cables, Chevrons, Edgings, Granny Squares, and More
A lot of crochet stitch books use the same patterns, and it can be hard to find new designs to try.
The first time I flipped through the pages I marked quite a few new-to-me stitches and variations that were unique!
Plus, the stitches and diagrams are shown in color (wow!), with a sample swatch and detailed instructions.
Excellent stitch dictionary with so many beautiful stitches to choose from and try for your creativity

Amazon Customer
The Crochet Stitch Bible: The Essential Illustrated Reference Over 200 Traditional and Contemporary Stitches
This is a great no-nonsense crochet book! It begins with some crochet essentials that are great for beginners, and those looking to refresh their knowledge.
Then, the book is sectioned into fabric types like fans, filet, cluster, spike, relief, tunisian, multi-color patterns, motifs and more.
The best part?
This book is spiral bound with a hard cover!
Very comprehensive guide for any level crocheter. The book was written some time ago and the colors are a little dated but the content is tried and true. I found this to be a very helpful resource.

Amazon Review
The Tunisian Crochet Handbook: A Beginner's Guide
This is a new release from one of my crochet idols, and it is stunning.
Toni Lipsey has been perfecting Tunisian crochet for a while, and this collection is a great guide, resource and collection of fantastic projects to try.
If you're looking to try this method, this is your book!
Impressive! Toni Lipsey provides answers to questions that I have not seen anywhere else. She also shows the back side of the work which is extremely helpful. Her explanations are detailed and easy to understand. I look forward to more of her designs!

Amazon Review
Crochet Cute Critters: 26 Easy Amigurumi Patterns
Confession: This title is not currently in my library because Amigurumi (cute crochet toys) is not my jam.
But, this title has been on my radar since it was released in 2019 for two reasons: it's been a number one best seller since it was released, and, with a 4.7 out of 5 star rating of 6,830 reviews (and counting), it has got to be a great resource.
If you're into Ami, don't skip this one!
I bought this for my daughter who usually crochets from YouTube video patterns. She has made several items and loves it. Great price, too.

Stasi, Amazon Review
Herrschners® The Knitter's Book of Yarn Knit Book
Do you want to KNOW yarn?
Like, where it comes from, how it's made, colors, fibers, protein, cellulose, synthetic, textured, cabled, ply…
This book is easy to read and follow along, and is totally the ultimate reference to understanding yarn on deep level.
Don't let the title fool you, crocheters can learn a lot from this too.
Have you ever wondered exactly how yarn is made? What a ply is? Why wool shrinks? This fascinating book will tell you.

Susannah Reads, Amazon Review
CLICK HERE to read a review of this book, including an interview with the author!
Click Here to share your favorite crochet books in our community!
Peace + Love + Crochet
Salena