Justine Tiu wanted to learn how to crochet an amigurumi-style plushie, so she turned to the resources that were out there to figure it out.
She did figure it out, but the process was hard.
There was plenty of information out there, but figuring out what was good and helpful and useful and right to work with was hard.
So, she made a lot of mistakes, and she learned a lot along the way, and it sparked in her a desire to help other beginner crocheters learn the ropes in a much simpler fashion.
That's how The Woobles, a company that offers learn-to-crochet kits, was born.
In this interview with Justine Tiu, we learn even more about the The Woobles.
Estimated reading time: 9 minutes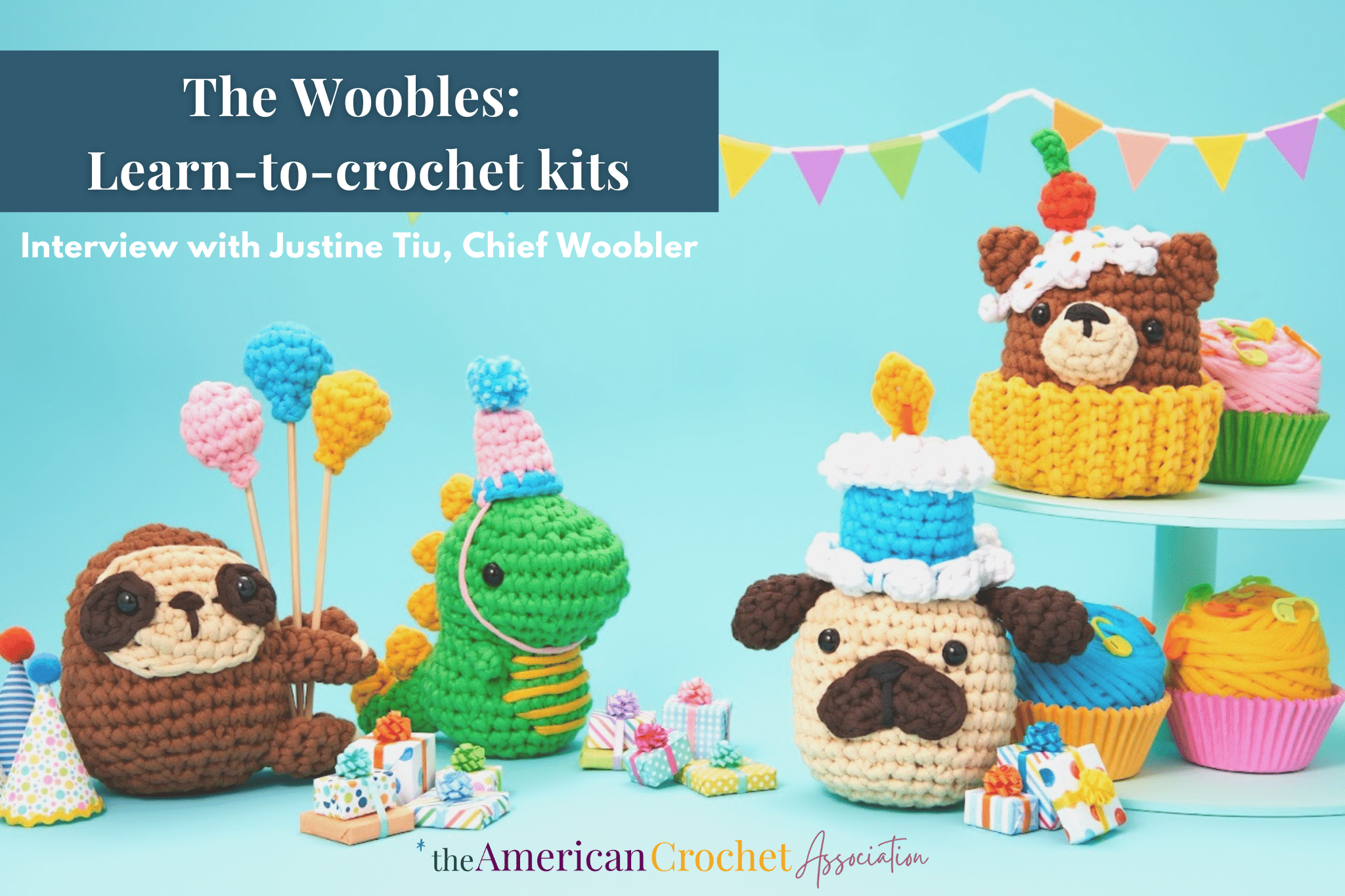 The Woobles offers crochet kits, tutorials, and now a new book to help crocheters learn how to craft amigurumi from start to finish, beginner to advanced, in a step-by-step process that makes learning easy to achieve.
CLICK HERE to read more about the Woobles book: Crochet Amigurumi for Every Occasion!
They have a two-fold purpose: first, teaching crochet in an easy-to-learn manner and second, helping people build confidence and see their own potential to grow, not just in crochet but in life.
As you prove to yourself that you can learn this new thing with a crochet kit, you see that you can learn and do other things, too!
In this interview, Justine shares more with us about The Woobles and the new book: "Crochet Amigurumi for Every Occasion: 21 Easy Projects to Help Celebrate Life's Happy Moments."
What is a Wooble
What "Woobles" is such a fun name. How did the term Woobles come about and what does it mean to you?
My sister came up with the name "The Woobles."
My original Woobles designs are our current intermediate designs – two-legged animals with big bellies, stumpy legs, and one continuous head, neck, and body.
She took one look at them and said they were "woobly" and that word stuck!
What is a Woobler?
A "Woobler" is what we call our customers.
I would characterize them as curious people who are excited to try new things, always down to have a good time, and eager to help others on their journey to grow.
What were your biggest frustrations when first trying to learn amigurumi?
Everything 🙂
I didn't know what I needed to know, I wasn't sure if I was buying the right materials and how it would affect my final plushie, and there were just so many terms and techniques to learn.
It was a challenge to understand what the pattern was telling me to do, so that I could then look up how to do it!
And to make things even more challenging, amigurumi usually starts with a technique called the magic ring, which is one of the trickiest techniques in crochet.
Even some experienced crocheters avoid it like the plague.
So, all in all, it was a very rocky experience.
In what ways do you feel you've solved those problems for beginners?
With our Woobles learn-to-crochet kits, we've solved all of these pain points.
Your kit comes with exactly what you need, in exactly the right amounts, too.
It pairs with step-by-step videos that are designed in a way to avoid information overload – we show you only what you need to know when you need to know it.
The kit comes pre-started to get the hardest part out of the way so that you can focus on learning the basics.
We made enhancements to the pre-started piece so that it shows you exactly where to put your hook for those first few stitches, since a common problem for beginners is that they don't know what a stitch looks like, and made it in a way that you can always easily restart if you mess up.
The icing on the cake?
We offer unlimited help over email and text, plus we have an amazing Facebook community of fellow beginners, so that if you need some extra help, there's always someone you can reach out to.
That all sounds so great. Getting those first hard parts of the way so that you can first start learning the fun and easy parts definitely sounds like it would help a lot of people get going with crochet!
I love that your goal is also to help people understand that they can keep learning and doing new things. Why is it that important?
Something magical happens when someone remembers that they still have it in them to learn new things.
They become more confident, more open-minded, and more resilient.
And that self-confidence spreads to other parts of their lives.
On a personal level, learning to crochet helped rebuild my self-confidence when it was at an all-time low because of a change in my role in my previous job.
But besides me, we've had customers who, after learning to crochet with a Woobles kit, have been motivated to pursue their dreams of freelancing full-time.
We've even had customers who suffered from strokes, and our kit was the first thing they could do independently, which gave them hope for the future.
So that's why we say it's not really about crochet – it's about confidence.
As someone whose niche is researching and sharing about the benefits of crochet, I absolutely understand that! What draws you most to amigurumi and have you tried other crochet projects?
In my earlier days, I created the canonical potholder and scarf.
I've crocheted baskets and chair socks as well, and I've got an aspirational sweater sitting in a drawer somewhere.
But I spend most of my time making amigurumi.
I've always loved animals, cartoons, and cute things, and amigurumi satisfies my love for all of those things.
How did this book come about and what does it add for people as compared to your website?
One of our customers is a bonafide book editor, and she pitched the idea to me!
I originally didn't want to make a book because with The Woobles being a brand that's so strongly associated with learning to crochet, I was worried people would assume they could learn to crochet from the book.
I know from user research that most people have a tough time learning from just words and pictures.
While the book does give you access to video tutorials, it doesn't hold your hand like our kits do.
So, if you're a complete beginner, get a Woobles kit with the book – it'll guide you through the basics and be a much smoother first-time experience.
I ultimately decided to write this book because I often hear feedback that Woobles patterns are the easiest to understand.
When Wooblers go off and try other patterns, they come back wanting more Woobles patterns instead, so this was a way to give the people what they want!
It also gave me a chance to push myself as a designer, explore new shapes, and make some patterns that I don't think we'd ever turn into a kit.
Plus, now I get to officially say I'm a published author 😉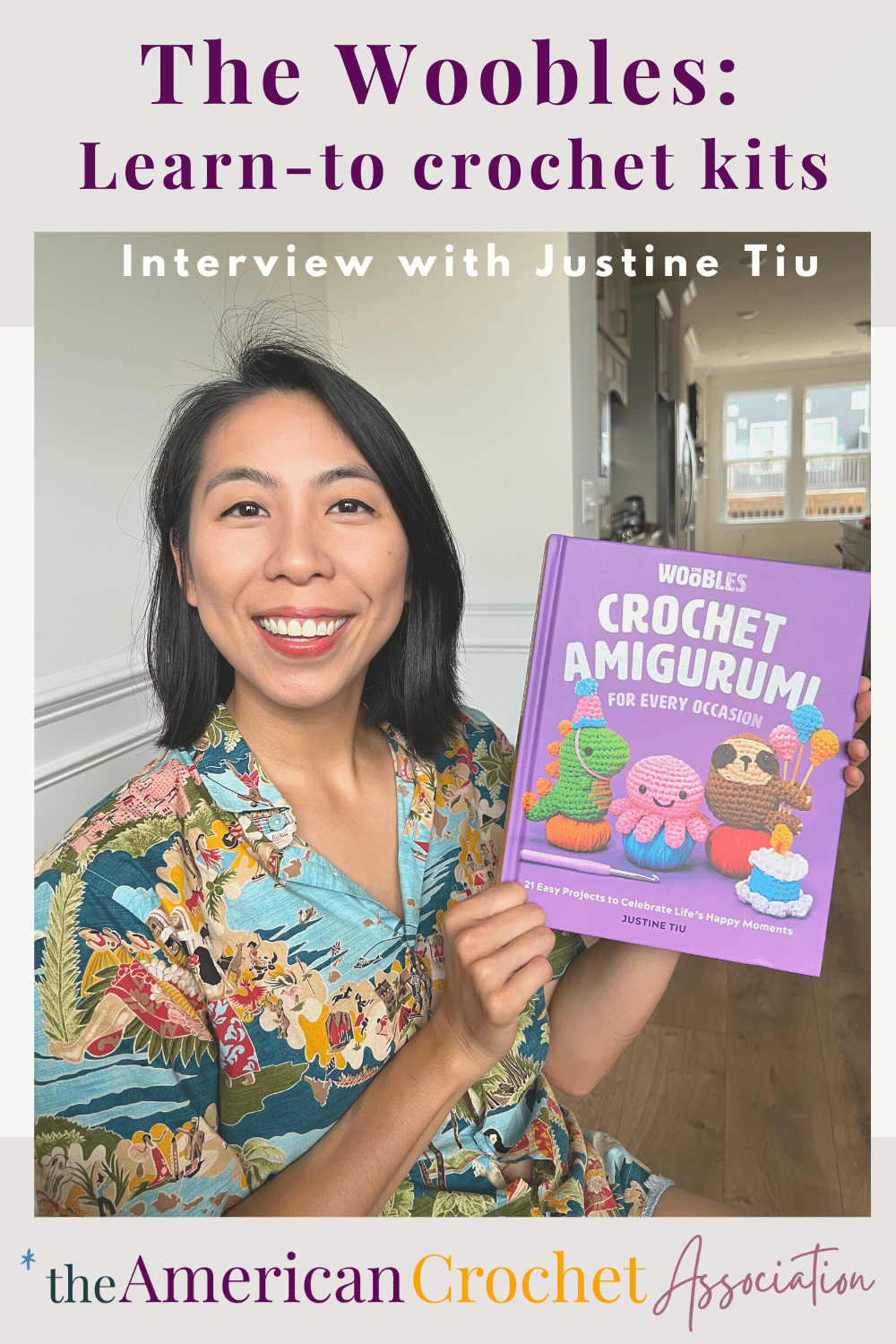 It seems like a great way to offer more patterns! Which is your favorite of the 21 creatures in the book has the most interesting story behind it?
The book is themed around celebratory life events.
Every section of the book suggests amigurumi you could gift for a different life event – the most challenging of which was housewarmings.
I kept thinking about what people typically gift for housewarmings and trying to tie that back to amigurumi in some way.
That's how I came up with Wally the Koala.
He hangs off the neck of a wine bottle so your giftee can have some koala-ty time with some wine.
I love that! It shows how you incorporated creative problem solving, which I think crochet often allows us to do.
Was there anything you initially thought might be in the book that didn't make it in?
For the Baby Shower section, I originally wanted to include a llama rattle because the shape lent itself so well to a straight rattle.
But my editor gave me feedback that it'd be hard for a baby to hold onto a llama stick, so I racked my brain for an animal that would cleverly match the shape of a ring instead.
Which animal did I come up with? You'll just have to get the book to see for yourself 😉
What's the number one thing you want a beginner to know about amigurumi crochet?
It's easier than you think!
As long as you've got someone or something (wink — a-Woobles-kit — wink) showing you the way, it's very doable.
Plus, it's a very forgiving type of crochet project.
Your stitches will probably be uneven since you're new to crochet, and that unevenness is a lot less obvious with things crocheted in the round versus rows (like a scarf).
Partly that's because it's harder for the human eye to see inconsistencies in a 3D shape, and partly it's because anyone who sees your plushie will be distracted by its cuteness.
You've received some great press … what has the career journey been like from that first plushie to today?
Thanks so much!
It's really mind-blowing to look back at how we started the business winding yarn balls on a Sharpie and two years later, we're importing kits to our warehouse by the truckload.
It's taken a lot of yarn, sweat, and tears to get to this point, and we couldn't have done it without the support of our parents.
Our parents helped us make tens of thousands of kits, let us use their garages to assemble and ship these kits every day, and as we were getting things off the ground, housed and fed us too.
Thanks parents and parents-in-law 🙂
What do you hope to share with the world next?
The Woobles, at the end of the day, is about proving to yourself that you can always learn something new.
As a former User Experience Designer who specialized in ed tech, I care a lot about helping people do things they once thought was impossible.
That value doesn't have to contain itself to crochet, and what comes next ultimately depends on user research.
Anything else you especially want us to know?
With the launch of the book, we'll also finally be selling our Easy Peasy yarn!
This is the custom-made no-fray yarn in our beginner kits, which Wooblers have been asking us to sell separately for months.
We started making Easy Peasy yarn after watching lots of people learn to crochet with our kits.
We realized they'd get frustrated because their hooks would get snagged in the yarn, or they'd get confused about where to put their hook next.
The Woobles Easy Peasy yarn is perfect for beginners because it can't split and can't fray. Rather than being made of lots of strands twisted together, it's more like a drawstring – one continuous tube of fabric, so your hook will never get snagged and your stitches are super clear.
You'll notice all the photos in the book look super clean and poppin' because they use our custom-made Easy Peasy yarn. So, we're excited to be able to offer that now, too!
Visit The Woobles website for patterns and kits. And follow The Woobles on Instagram.
*This article contains some affiliate links.