Since 2009 I've written hundreds of crochet patterns that I've self-published, contributed to books, magazines, yarn companies, and even websites.
Writing patterns is one of my favorite jobs in the crochet world, so I've gained a lot of experience working directly with yarn companies and magazines through the years.
Some of my work can even be found on yarn labels (check out Red Heart Yarn Unforgettable to see my Easy Tropical Cowl)!
After a search through my crochet history for this article, I found that to date I have:
published 350+ individual patterns
written 100+ patterns for Red Heart Yarn / Yarnspirations
been included in 65+ books and magazines
My writing experience has also helped me to:
Launch the Design Wars Challenge
Become the Content Coordinator for Happily Happily Hooked Magazine
Launch The Pattern Pack Digital Magazine
Teach crochet workshops at Interweave Yarn Fest
Create two crochet classes with Craftsy
Launch the American Crochet Association
And, after years of publishing, all of this caught the attention of Brittany with BHOOKED Crochet & Knitting for an in-depth chat about how to submit crochet patterns to magazines!
Because my goal is to assure that crochet is passed through the generations in better hands than we found it, I was thrilled to sit down with Brittany to share what I've learned, and what has worked well for me.
Estimated reading time: 9 minutes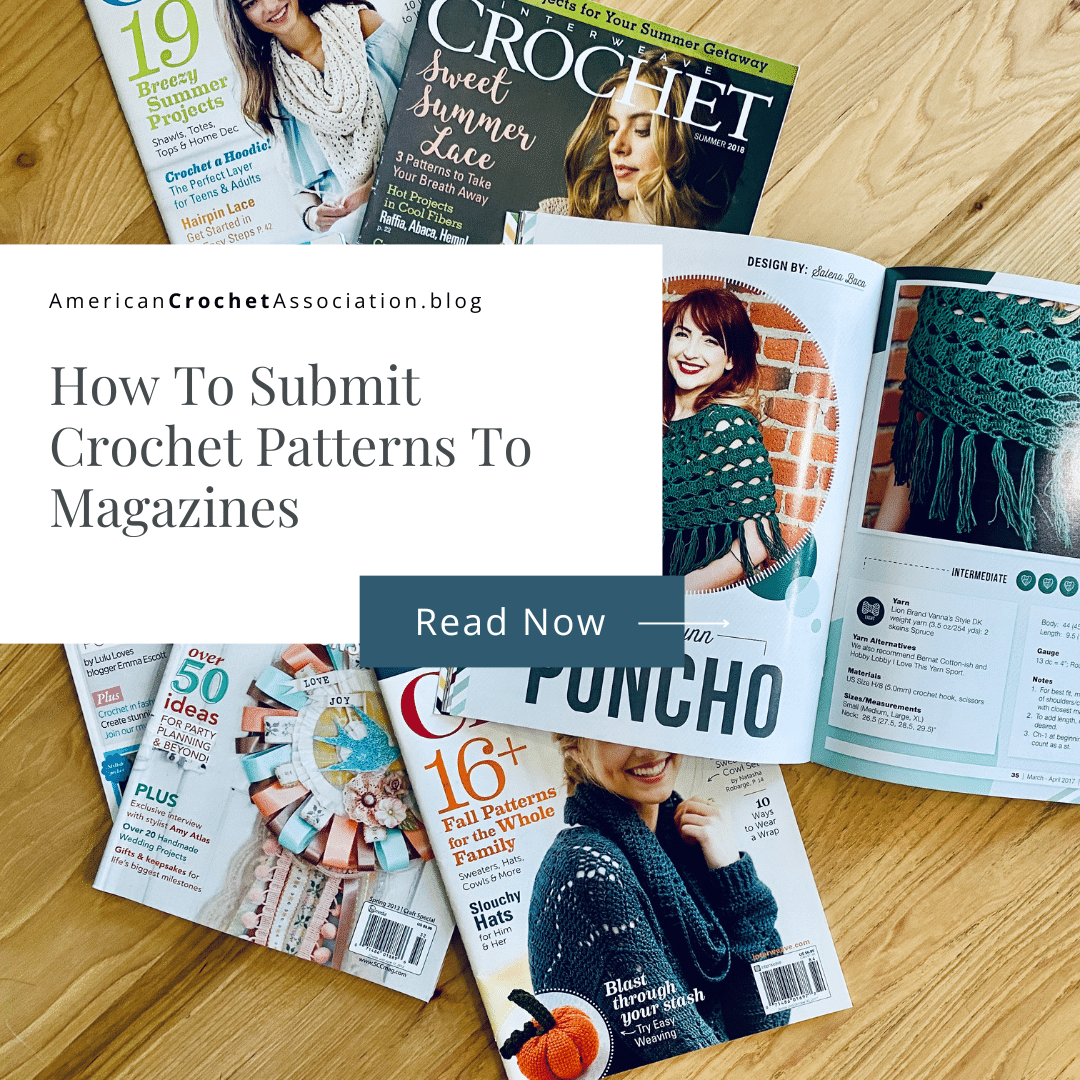 Watch my interview
You can watch my full interview with Brittany on the BHOOKED podcast right here, and read the highlights outlined next. Enjoy!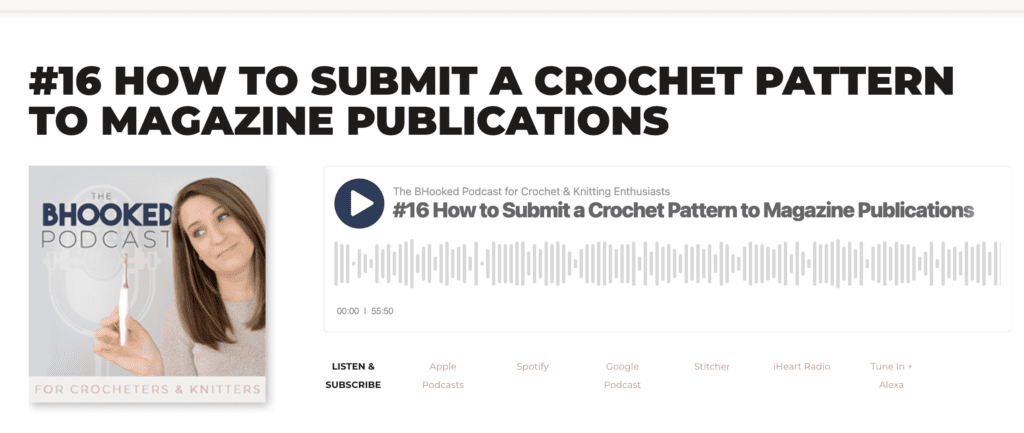 Getting Started
You might feel that having a design published in a magazine is one of the most prestigious things you can put on your crochet resume.
And it can be!
Submitting a design to a magazine, and having it accepted and shared within the crochet world, feels like validation that your skill and ability is worthy of being in print.
Brittany said it's like the holy grail of crochet.
Sharing a crochet design with a magazine can be a long and complex process, so I hope this article will shed some light on the journey to give you a clear path into this publishing world.
My crochet background
I learned how to crochet a granny square when I was five years old.
Two decades after my first granny square, I was not really advancing much or working on anything but afghans using the same few stitch patterns.
And then, in my late twenties, I found Ravelry and learned things like increasing in rounds and a ton of new stitch patterns, so I'd practice different techniques until I understood them.
Because I was essentially free-form crocheting my entire life, coming up with new pattern ideas once I learned the basics of reading, writing, and formatting came to me naturally.
I was hooked, and pattern writing has been a strong part of my crochet career even since.
Preparing for your first submission
After self-publishing a few dozen patterns, I felt really confident in my writing abilities and decided that my next goal would be to have a design published in a magazine.
After quite a few failed attempts, here is my best advice for success:
Do your homework, and thoroughly research all crochet publications to find ones that fit your own style, skill and abilities. If you would make things within the publication, it could be a good fit for you to contribute.
Magazines typically have a theme for each issue, and they look for very specific types of projects outlined in a Submission Call. They know their general audience, and work hard to delight them with each issue. If they don't choose your design, it's not personal; they aren't saying no to you, just your submission.
Like an interview process, magazine editors look through lots of submissions to find the best fit for each issue. Your submission has to give them exactly what they're looking for, and when it does, it will clearly stand out!
Being selected is like winning the lottery?
I don't think that having a design selected for publication is like winning the lottery.
This analogy makes the goal feel unobtainable, or only available to a very few, and I don't think that's true.
Remember, you must have something valuable to contribute, and it has to be aligned with the needs of the publisher.
A magazine might publish 10 new patterns every month, so they are always looking for new designs and contributors.
Publications are clear about what they're looking for, and will create a schedule months (even a year or more) in advance.
Do your research, understand the needs of the publisher and their audience, and make sure your submission clearly fits what they are looking for.
When you do, I think your odds of being published in a magazine can be greater than winning the lottery.
How to handle rejection
No matter who you are, or how long you've been in this business, you are going to get rejected multiple times.
Don't take it personally.
If your design is not accepted, it can be for any number of reasons:
They had too many awesome submissions to choose from
They already made their choice before your submission was received
The design wasn't a perfect fit for their issue, or their audience
If your design is not accepted, take the news as an opportunity to reassess and get back on track.
And, it's okay to ask for feedback so that your future submissions will be formed with more clarity!
What is involved in the submission process?
Every publisher has a different process; books, magazines, self-publishing, yarn companies.
When reviewing open submission calls, you have to understand what the publisher is looking for.
And then, your submission should paint a picture of the design as a whole (style, fit, sizes), so that you can express how your design fits the needs of the publisher.
When I create a submission, I will try to create exactly what a publisher is looking for, using their submission call like a checklist:
Here is an example submission of a pillow with the granny stitch using JAYGO and multiple colors. I like to compile my submissions in one graphic, and canva.com makes this really easy!
A publisher will tell you if they expect to see a finished sample, or just an example (swatch of your concept and stitch, or sketch of your idea).
Be sure to use yarn that will fit with the submission outline or theme, featuring brands and types that the publisher supports.
For example, a US magazine may only use yarn that can be easily found in a US store. Make sure the yarn is not discontinued in brand, style or color.
Finally, don't pester. If a submission call is unclear about dates, you may follow-up to confirm the receipt of your submission and to ask when a decision will be made.
What if your submission is accepted?
Hooray, your design was accepted for publication, and it will be in a magazine!
You should receive a written form of rights, responsibilities and compensation to outline the terms of your agreement.
Every publisher is different, so the contract may differ in length or format.
Essentially, when considering your publication agreement, you're looking to confirm a few key things:
Rights: Are you selling ownership of your design, or leasing it for a period of time?
Sample: Do you have to make a sample, if so, what yarn should you use, colors and size? Will your finished sample be returned?
Yarn: Will you obtain yarn at your own expense, or will some be provided?
Format: What are the formatting guidelines, and should a specific template be used?
Photography: If the design is being leased, and professional photography is available, can you use the images too?
Fee: How much financial compensation are they offering?
Understanding contracts
I'm not a contract litigator, and cannot give legal advice.
Contracts and offers are typically in clear language, that are easy to understand, and clearly state who is responsible for what, when, why and how.
However, it's never a bad idea to seek legal advice, or to ask as many questions as possible so that you understand a contract before signing it.
Potential earnings, Payments, compensation
I've been paid as little as $30 to lease a design, and as much as a few hundred to sell the rights to a design.
Payment varies based on the design size and complexity, and the rights (leasing typically pays less, selling outright should pay more).
While the skill and time that goes into your design is quite valuable, your submission is one part of a product as a whole, and each part of that product requires skill, expertise, and compensation.
Publishers pay for more than just patterns: other expenses they consider pay for marketing, advertising, tech editing, account management, photography, customer service, and in some cases the cost to print physical issues.
Is publishing individual patterns with magazines a strategy that brings in the most amount of revenue for me as a crochet business owner?
No.
Publishing with magazines is just one strategy that helps to build my overall brand so that more people in the crochet world might know, like and trust me.
And, I consider more than just money in terms of compensation.
It is important to note that most crochet careers are typically multifaceted, with more than one revenue stream.
For other ways to earn money in the crochet world, here are the top three crochet careers, and how you can start one today.
And finally, don't sell yourself short.
This is hard work, and the benefits should be worth your effort!
Tips for success
Crochet is already a hobby that you love, and writing patterns for publication does not have to ruin that.
Be clear about what success looks like for you, and what you should do to be successful.
Do your own research, and make sure that your design fits within the submission call for a publisher.
Think of yourself as a contributor, building relationships with publishers – make sure that your design, and services, is a solution to their call!
How long is this process?
This entirely depends on the publisher.
The process can be as quick as a few weeks, or as long as a year.
For example, printed publications may have longer timelines than digital ones.
Who can be a published designer?
Anyone.
When you're truly passionate about crochet, you may have something really valuable to offer.
Your design should speak for itself, so be sure to put time and effort into assuring that it fits what a publisher is looking for.
Where to send submissions
Ready to research publications and draft your first submission?
Here is a list of current crochet magazines, with links for more information:
Click Here to share your submission questions in our community!
Peace + Love + Crochet
Salena