Granny squares are synonymous with crochet, and they are sometimes the very first thing we learn to make when we learn how to crochet.
While Granny squares can be quick and easy to make, they have a lot of complexities that sometimes make them tricky to work up – especially when you're new to crochet:
Granny squares are worked in joined rounds, from the center outward.
Use the adjustable loop (magic ring) to start them.
You'll get to practice a lot of crochet skills: joined rounds, increasing, shaping, complex stitch repeats & more!
Estimated reading time: 5 minutes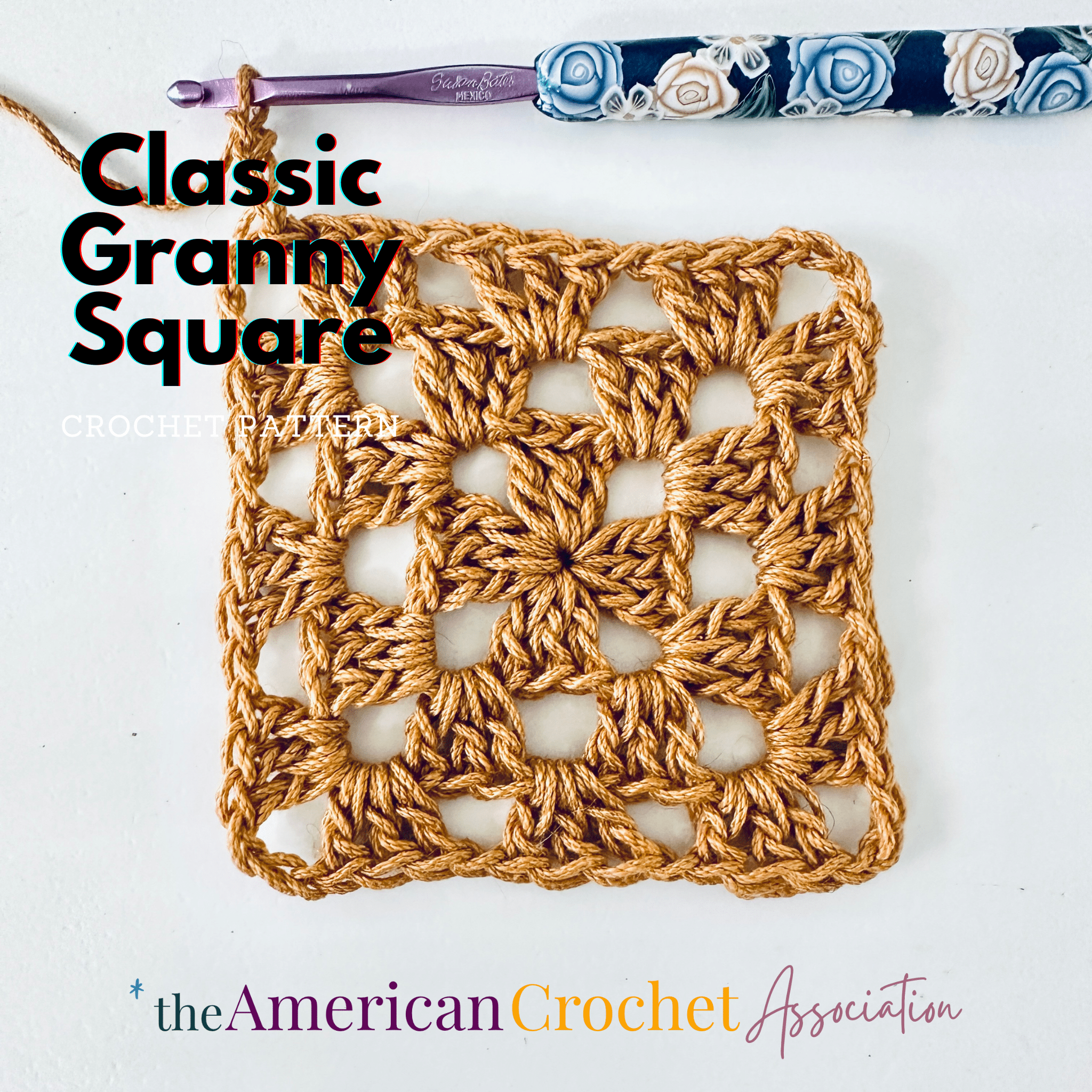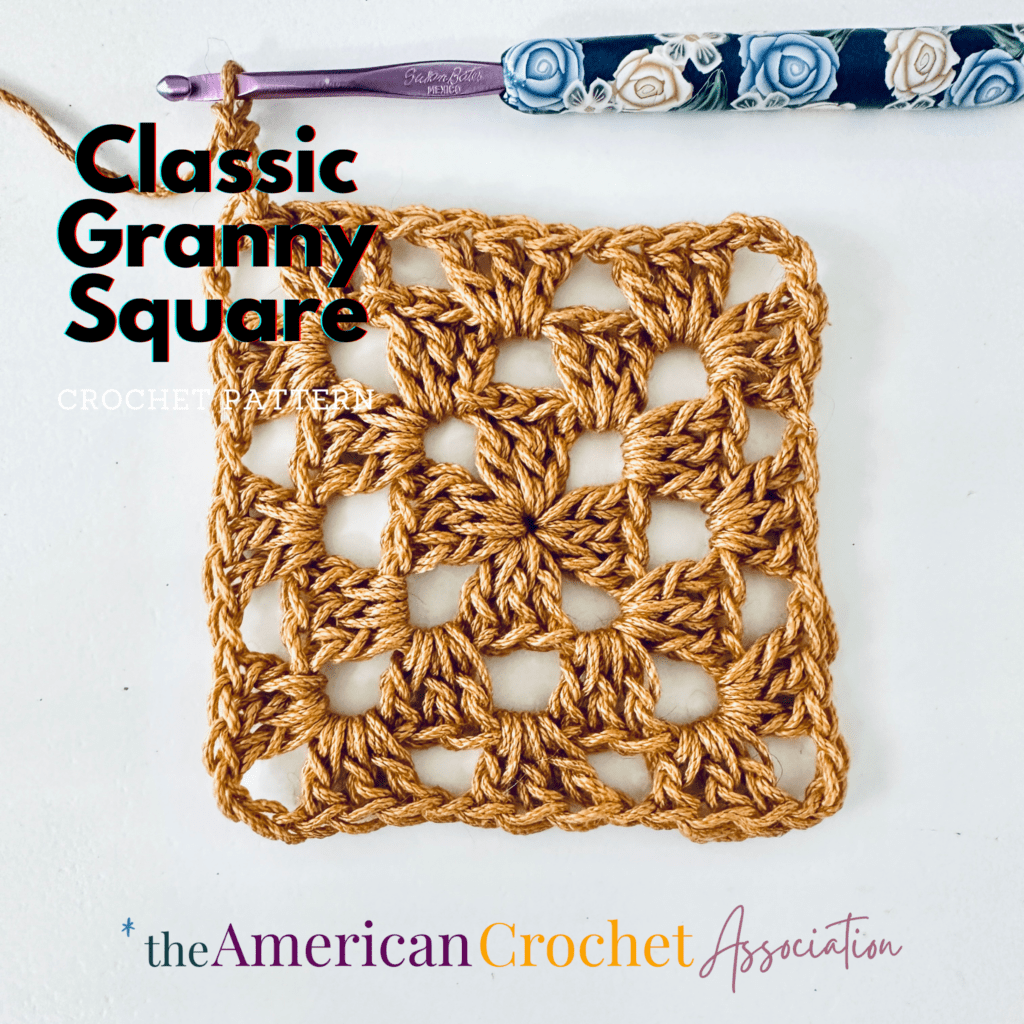 Patterns with granny squares
Not sure what do to with a Granny Square?
Granny squares can be worked as large as you want to create a blanket, but they can do so much more than that.
Once you learn how to make a granny square, here are some other patterns that use a classic granny square motif to create something completely new and different:
How to join granny squares together
One granny square can be a final design all by itself, like a granny square blanket.
However, there are lots of ways granny squares can be worked and joined together to create lots of different types of projects.
You can sew granny squares together, or crochet them together once they are all finished or while you work each one.
For detailed instructions, and a video tutorial, for 9 different ways granny squares can be joined together, click here.
Policy for Individual Use
This crochet pattern was created by Salena Baca Crochet for the American Crochet Association, and is copyright protected. These pattern instructions are protected by copyright laws. Users must acknowledge and respect the intellectual property rights of pattern creators and designers as follows:
This pattern is for personal use only. Pattern instructions may be accessed and used by individuals for personal, non-commercial purposes only. Users may create finished products based on the pattern instructions for personal use or gifting.
Users may not reproduce, distribute, modify, or create derivative works of pattern instructions without explicit permission from the copyright holder.
Selling or commercially exploiting products made from pattern instructions will require additional permissions or licensing from the copyright holder.
It is unlawful to share or distribute pattern instructions in any way, including but not limited to: print, digital, video.
It is unlawful to create derivative works based on pattern instructions, including but not limited to translations, adaptations, or variations.
Users should provide proper attribution when sharing or displaying finished products made using these pattern instructions, giving credit to the original pattern creator and source.
Users are expected to conduct themselves in an ethical and respectful manner when using pattern instructions. Users should not engage in plagiarism, claim others' work as their own, or misrepresent the origin of pattern instructions.
By accessing and using pattern instructions, individuals agree to abide by the usage policy herein. Users may be held responsible for any damages or legal liabilities resulting from their non-compliance with this policy.
Purchase A PDF File
Click Here to purchase a downloadable PDF version of this pattern!
Everything you need to make a granny square
Yarn
Any yarn of choice. Sample made with Bulky Weight 5.
Materials
US H/8 (5.0mm) Crochet Hook
Scissors
Yarn Needle
Size & Gauge
Not crucial for this project; you can measure as you work each new round to create your own desired size and dimensions.
Stitch Key
St(s) = stitch(es)
Sl St = slip stitch
Specialty Stitch & Technique Key
Notes
Additional rounds may be added by repeating round 3 as desired (adding 12 Dc and 4 Ch-1 spaces per additional round).
After you complete this granny square, be sure you add your finished project to ravelry, right here: Granny Square Projects
If you're not sure how to add finished projects to ravelry (or why it is important), click here: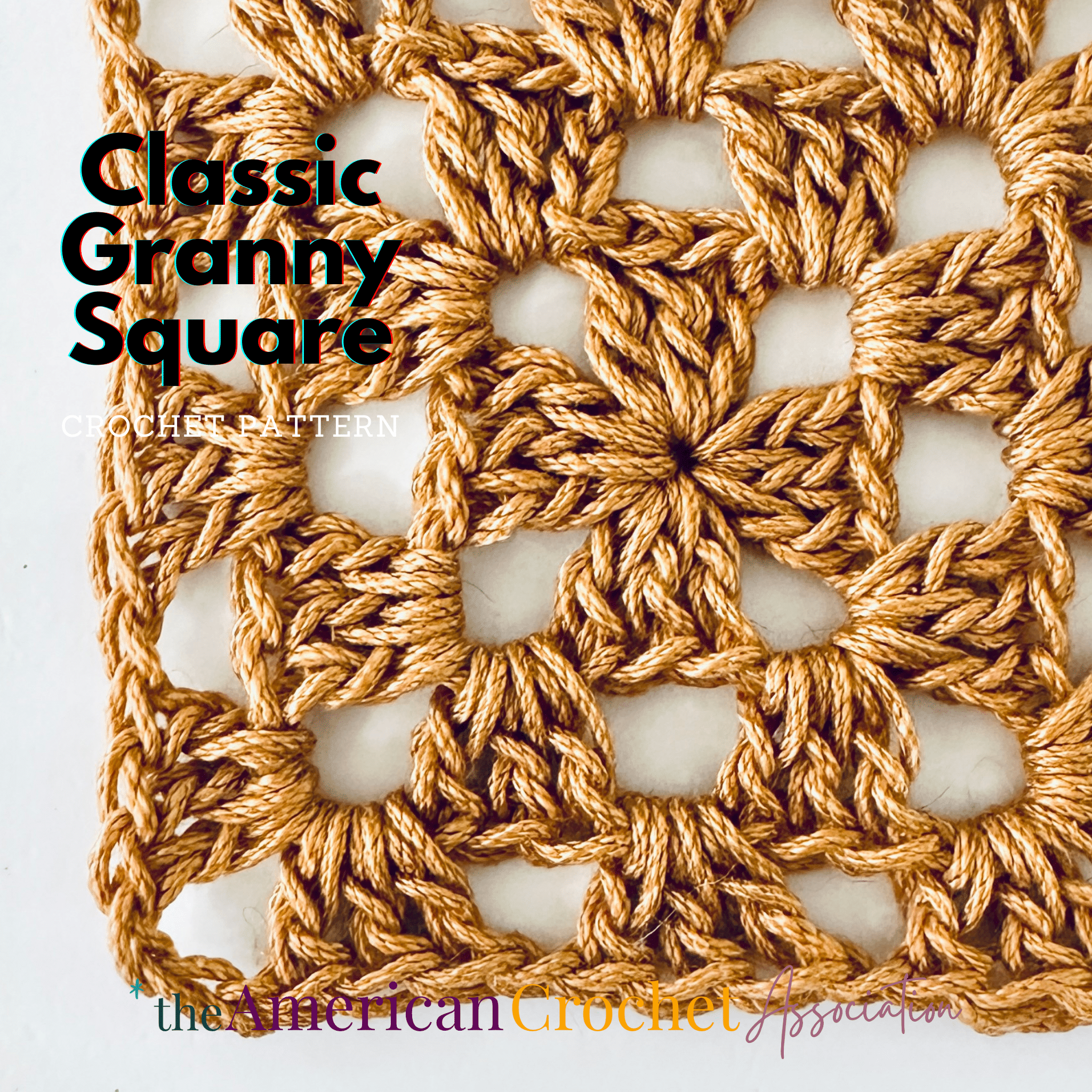 Step-by-step Instructions
Round 1 (Right Side): Form adjustable loop, Ch 3 (first Dc, here and throughout), work 2 Dc into loop, [Ch 3, 3 Dc] 3 times, Ch 3, Sl St into top of beginning Ch-3 to join – 24 Sts; 12 Dc + 4 Ch-3 spaces
Round 2: Sl St into each of next 2 Dc, Sl St into Ch-3 space, Ch 3, (2 Dc, Ch 3, 3 Dc) into same Ch-3 space, Ch 1, [(3 Dc, Ch 3, 3 Dc) into next Ch-3 space, Ch 1] 3 times, Sl St into top of beginning Ch-3 to join – 40 Sts; 24 Dc + 4 Ch-3 spaces + 4 Ch-1 spaces
Round 3: Sl St into each of next 2 Dc, Sl St into Ch-3 space, Ch 3, (2 Dc, Ch 3, 3 Dc) into same Ch-3 space, Ch 1, (3 Dc, Ch 1) into Ch-1 space, [(3 Dc, Ch 3, 3 Dc) into next Ch-3 space, Ch 1, (3 Dc, Ch 1) into Ch-1 space] 3 times, Sl St into top of beginning Ch-3 to join – 56 Sts; 36 Dc + 4 Ch-3 spaces + 8 Ch-1 spaces
Granny Stitch Chart
As you're learning how to work up a new motif like a granny square, following a stitch chart can be a helpful tool.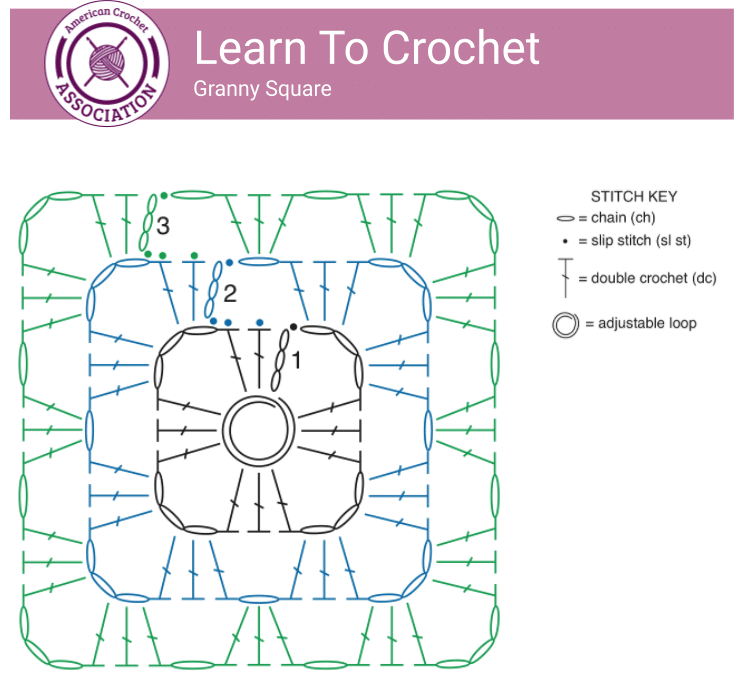 Video Tutorial
For a tutorial to help crochet your granny square, follow this video while you read over the pattern instructions in this post, right here:
Click Here to share your finished project in our community!
Peace + Love + Crochet
Salena