If you're wondering how to teach kids to crochet in a simple and easy way, I've outlined my favorite tips to help inspire and motivate kids!
If crochet is your passion, and you're wondering…
Is crochet good for kids?
When can a child learn to crochet?
How do you teach a child to crochet?
This article is for you: Teach kids to crochet, a guide to help young people learn!
Children have a lot of passion and energy, and can be great crochet students, but teaching them might be a bit tricky.
When they have a fun introduction to crochet, hopefully they'll become lifelong learners.
Estimated reading time: 4 minutes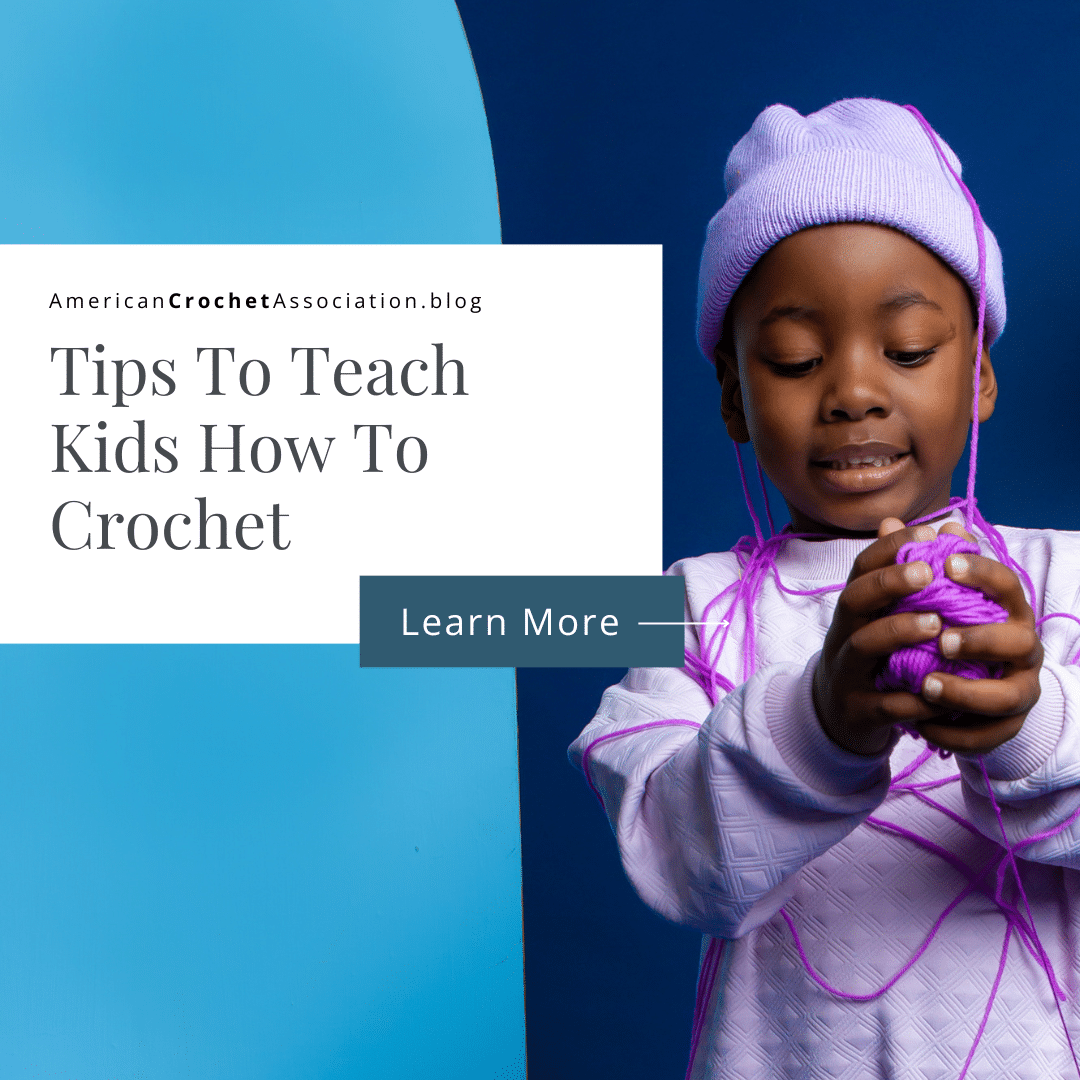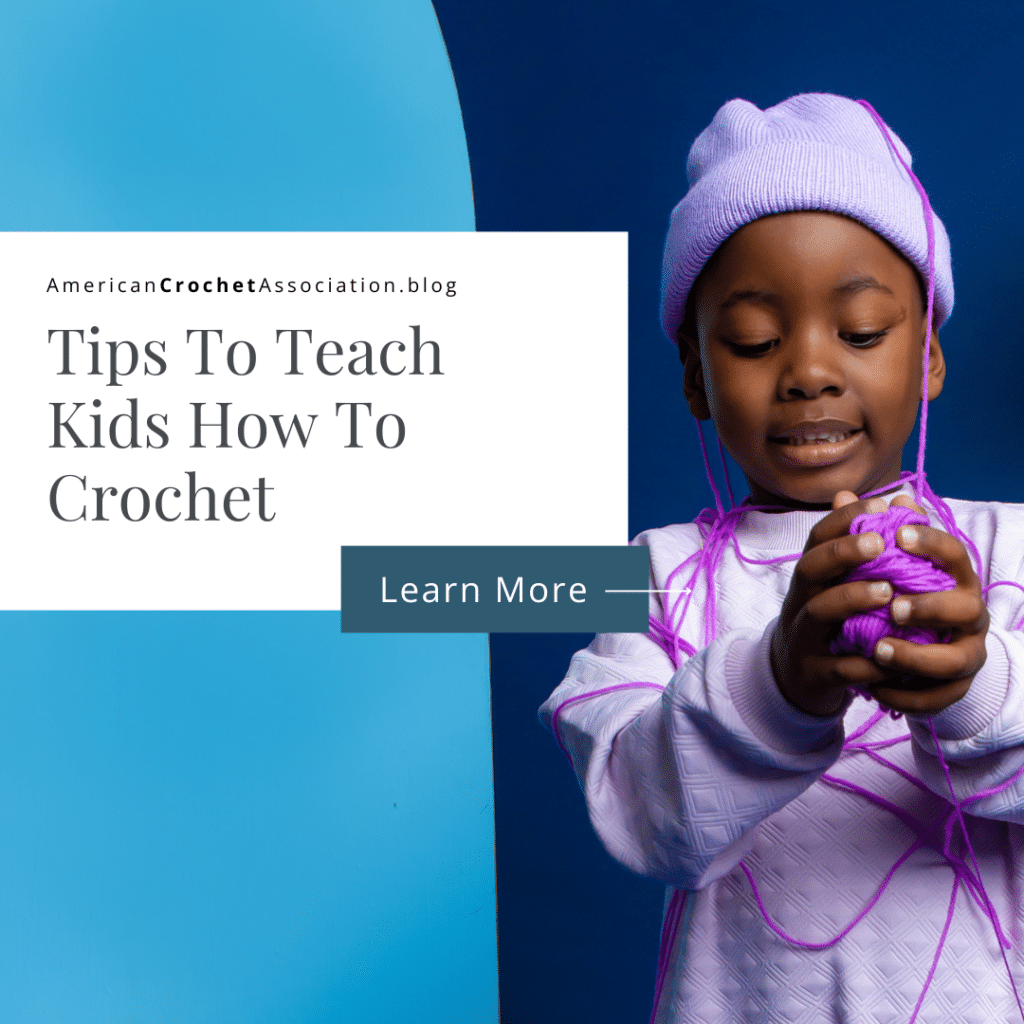 When are kids ready to learn?
There is no magic age for children to learn.
Whether you're teaching your children, grandchildren, or other children within your community, be sure to gauge their interest and patience:
are they interested in learning,
can they sit still for at least 30 minutes,
will they be able to practice what you teach?
If you've answered yes to all three above, then these 5 tips will help you to teach children to crochet with greater ease!
5 tips to help children learn crochet
Use a big yarn
Use a yarn weight that is in the 5 or 6 range; something that is big and bulky.
The large yarn will be easier for them to hold, easier for them to see, and easier for them to understand the stitches and fabric they are creating.
Use a color they will like, but show them options that are in the weight category you choose.
Finally, don't use yarn with a lot of texture / color / ply; keep it simple.
CLICK HERE to learn more about different yarn weights.
CLICK HERE for one example of yarn to try.
Use a big hook
Use 1 or 2 hook sizes larger than the yarn calls for, because their tension may be off.
Just like giving your child giant crayons when they start to draw, we can mimic that with crochet.
You might want to use a big plastic hook, too, because it weighs less and will be easier on their hands.
CLICK HERE for one example of a tool kit to try.
Start with the chain stitch
If they're struggling with the slip knot, just do it for them in the beginning.
Chaining is a great milestone, helps practice motor skills as they hold their yarn & hook, and learn the motions of crochet.
Then, don't dump too much on them; when they are ready to move on from the chain they will tell you.
Use stitch markers
Stitch markers help to count stitches, and to identify the first and last stitch of every row / round.
This will assure that stitch anatomy and recognition are learned early on; what counts as a stitch, and what does not.
You want this to be a nice, relaxing skill that you pass on.
If you don't know what counts as a stitch and what doesn't, kids won't either, and they will use you as a crutch to help them identify where to stop & start a row, where to join in the round, and more.
First project recommendation
What is a good first project for kids to learn crochet?
Try a half double crochet washcloth!
The HDC is just enough motions and height to learn crochet.
From there, the SC and Dc are easy adaptations to learn and try.
When they've learned with larger yarn, going down to weight 4 yarn and cotton will be a next great project from them in the Easy category.
A washcloth is also a great functional first project.
Click here to use our Learn How To Crochet For Absolute Beginners series when teaching anyone how to crochet, including kids:
Crochet is truly our passion, and we would love to see it passed through the generations in better hands than we found it.
And so, teaching the next generation in a way that is fun and easy to adopt is one way we can assure that crochet continues!
Video Chat
Watch my video chat on this subject for even more details, right here:
Click Here to ask questions or start a conversation in our community!
Peace + Love + Crochet
Salena