Whether you've been crocheting for a few months, or a few decades, you've probably offered to teach at least one person how to crochet.
And that's fantastic!
Crocheters not only love their craft, they love sharing it with others.
Hooray crochet people!
But, while you may already know how to crochet like a pro, passing on the art of crochet can be tough because doing and teaching are two very different things.
Have you learned this lesson the hard way yet?
I say that because in reality there's a really big difference between knowing how to crochet and being able to successfully articulate that knowledge so that someone else can learn from you.
Estimated reading time: 7 minutes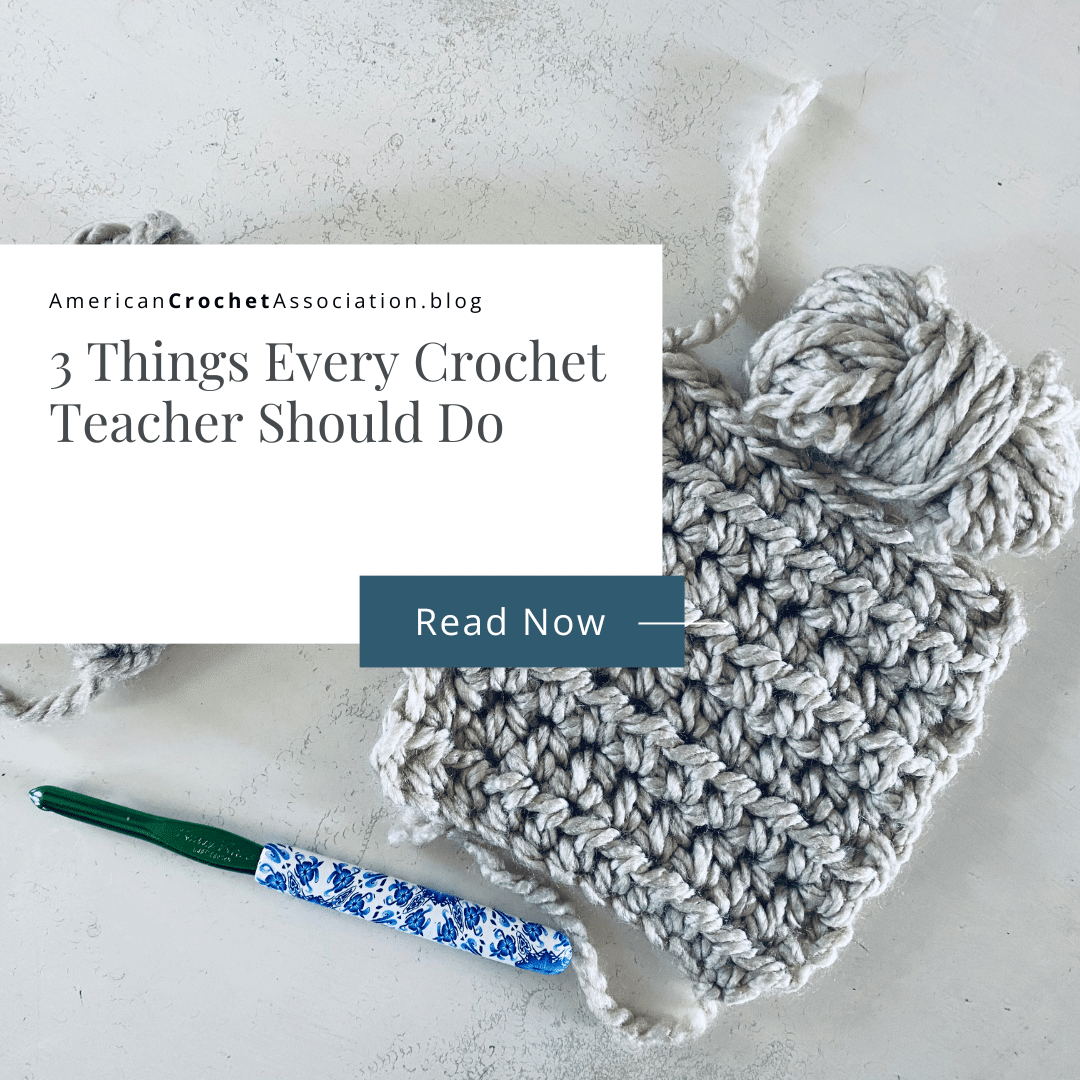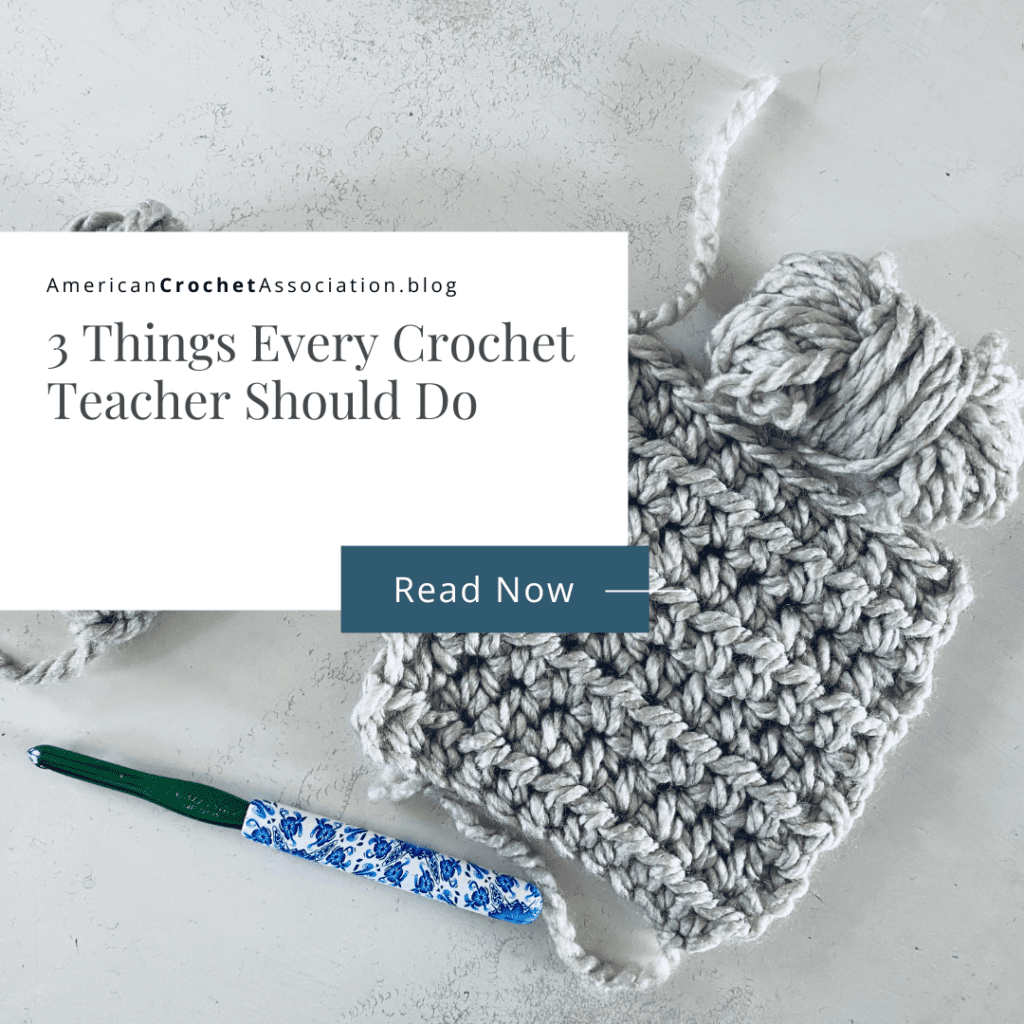 What is a crochet teacher?
You might be a crochet expert (maybe you really can crochet all the things), but are you really a crochet teacher?
That might be more tricky (even if everything you crochet is expert level).
If you look at the definition of a teacher, you'll note the qualities as…
Sharing with another person to facilitate their understanding and use of knowledge, concepts and processes within a particular subject.
In short, teachers help students become aware and involved in the knowledge and application of a subject.
So often, the reality of what a teacher is supposed to be is not fully realized until after a disastrous first "crochet lesson" or two.
Mistakes teachers make
Here's a scenario that might sound familiar to crocheters:
You love crochet, and it's something you really enjoy. You're good at it!
And then, someone wants to learn how to crochet from you – awesome!
So you invite people (one, two, three… heck, however many want to join in and learn) to meet up and crochet!
You tell everyone they can bring their own yarn and supplies – you'll handle the rest!
In fact, why not turn this into something fun; cue the wine, nibbles, music… yep, that sounds like a party!
And then, an hour into this "crochet lesson", you're walking around in circles:
giving specific guidance about the next steps in that half-finished project someone brought.
teaching someone from scratch what a slip knot is and how to work it.
looking at that long "scarf" someone learned to crochet from a friend or family member when they were a child, and they aren't quite sure why the ends aren't straight…
And, you haven't even gotten to that one person who came to learn, but are still patiently waiting for their turn with you.
In short, this might be a fun social gathering for some, and some quick crochet tips for others, but it's definitely not a crochet lesson.
While one or two from this scenario may persevere past this initial gathering to grasp some form of crochet, the majority of them will give up and assume that crochet is just too hard.
It's not for them, because they tried that one time and just couldn't get it…
This isn't fair to you as a teacher, and it's not fair to those who want to learn how to crochet.
Now, we've all been in situations like the scenario I mentioned before; either as a teacher, or as someone looking to learn.
But if you really think about everyone involved, I hope we can all finally agree that it just doesn't work as a "crochet lesson" environment. Right?
And, even if you argue that it can work for a select few (because you have that one friend who learned that one time…), maybe, just maybe, this really isn't an effective teaching strategy for everyone.
I'm not saying you should stop partying with people who want to crochet (how awesome is that!!!), but again, this really isn't an environment to effectively give crochet lessons.
Crochet is mental and physical
Crochet is a skill that requires a lot of attention from your mind and body.
You're learning to use both hands together to loop a hook around yarn and create stitches and fabric.
While it may be easy for you, crochet actually takes a lot of time, patience and practice to really grasp (pun intended).
If you aim to become a successful crochet teacher, (whether you want to teach your kids, that one friend, or start a business), you can do it!
Top 3 tips to teach crochet
I've got three super simple tips that will help you (and your student) have a successful experience.
After teaching professionally since 2009, and launching the Crochet Instructor Training Program with the American Crochet Association, I found that there are a few key things that help crocheters become successful teachers.
Learn more about that program right here:
No matter your own skill level or expertise, these tips provide a happier and far more productive experience to pass crochet on.
Tip 1: Give private lessons
Say this with me: group workshops are not settings for beginner crocheter lessons.
Crochet can be a very tricky skill to learn, and it does require a lot of personal time and attention to begin.
When teaching beginner lessons, no more than 2 students per instructor is the best approach.
There is a massive difference between beginner lessons (private instruction) and workshops (group settings).
So, be sure to give beginners personal time and attention to help them have a successful start! Once they learn the basics of crochet, group settings can be a great approach to teaching specific projects, techniques and skills.
Tip: A set of 2 friends can have a lot of fun taking crochet lessons together, especially when they practice together and keep each other accountable.
Tip 2: Provide the materials
Say this with me: they are beginners, they don't know what they need to learn!
Beginners don't typically know a lot about yarn (weight, fiber, color, feel, texture…).
They may choose yarn that's pretty, but not very functional to learn with.
As a teacher, yarn is an important subject to discuss so that your students can have confidence in the materials they are working with.
That's why the first yarn weight to work with when teaching crochet should be:
thick, like in the weight 5 category,
sturdy, like having minimal plys or strands,
easy to see, and lighter in color (like Heather Gray).
Use the suggested hook for the yarn you choose, and even try 1 size larger when they first begin.
The goal is to assure each crochet stitch your student works can be clearly seen, counted, and worked into.
Tip: provide enough yarn for your student to make a few practice swatches of basic crochet stitches, and at least 2 hook sizes (one that the yarn calls for, and another that's 1 size larger).
Tip 3: Teach them stitches
Say this with me: Don't start crochet lessons with a specific project.
People typically want to learn crochet because they saw something amazing on Pinterest. Great!
But, starting with a specific project when teaching someone to crochet is a huge mistake.
When you start with a specific project (whether it's a blanket, shawl, sweater… whatever), you're often skipping over a lot of foundational elements that make the understanding of crochet possible.
The goal of teaching is to pass crochet on so that your student has the knowledge and skill to crochet without you (eventually). And for that to happen, they need a firm understanding of the basics so they can build on that knowledge.
And so, simply teaching foundational stitches in crochet is the best beginning:
Once each of those stitches are mastered, moving on to small projects is a great next step to teach all other aspects of crochet with greater ease, and understanding.
If you're looking for learning and teaching resources, we've got an entire video seres to help:
making a slip knot,
holding yarn and hook,
stitch counting and recognition,
weaving and sewing ends,
working in tubes, and
working in rounds,
Watch our free Learn How To Crochet For Absolute Beginners series on YouTube today!
Tips…
When teaching an absolute beginner, start with the chain and then the half double stitch.
They should create least 5 practice swatches, working 10 stitches by 10 rows, to get familiar with:
starting and ending a project,
stitch counting and recognition,
tension,
row counting and recognition.
The next lesson should be Double, and save Single for last because it is the smallest and most dense of all the basic crochet stitches.
Video Chat
For even more details on this topic, watch my chat right here:
Click Here to ask questions & further this conversation in our community!
Peace, Love & Crochet
Salena