Interweave Press has published a set of knit and crochet books called The Harmony Guides that provide comprehensive instruction in the basic stitches and techniques of both crafts.
As both a knit and crochet designer, author Erika Knight has contributed extensively to that collection.
If you're a crocheter, then you'll want to start by checking out Basic Crochet Stitches: 250 Stitches to Crochet.
What is a Stitch Dictionary?
This book is a crochet stitch dictionary. That means that it tells you precisely how to work a variety of different stitches. Most of the book consists of the row-by-row instructions for those stitch patterns.
However, that's not all that you'll find here.
Let's go over what this stitch dictionary does – and does not – offer.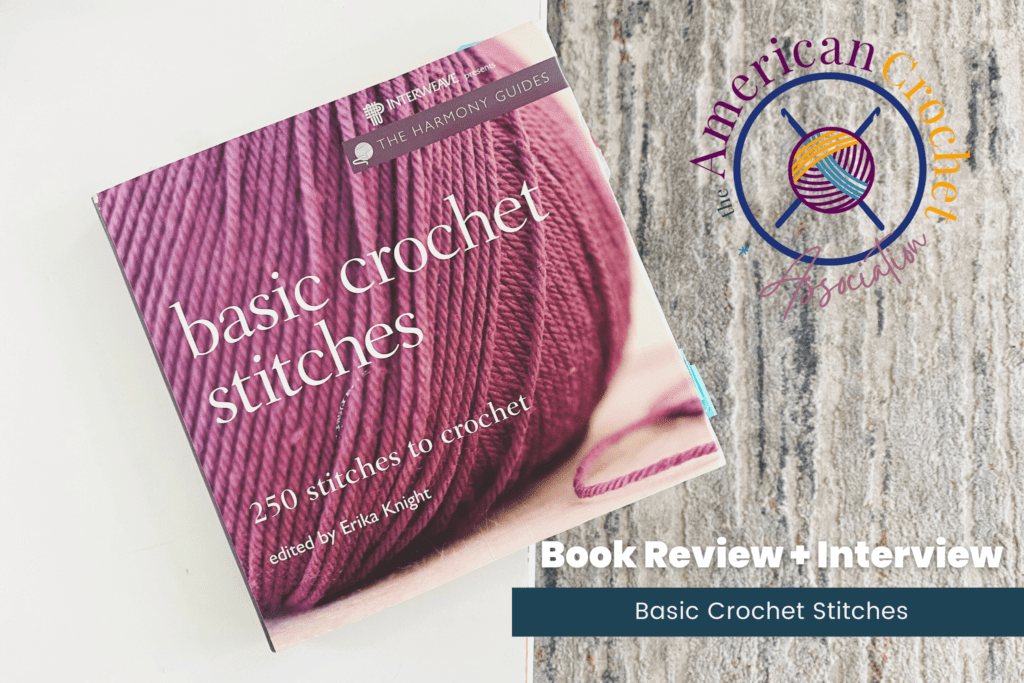 Learn the Basics of Crochet
Stitch dictionaries differ in terms of how much actual crochet instruction they offer. This one, serving as a basic guide to crochet, is perfect for the beginner.
It provides in-depth information to learn how to crochet.
Some of the things you'll be able to learn include:
Guide to different types of crochet hooks including steel and aluminum hooks ranging in size from 0.60 mm to 10 mm (for tiny thread crochet up to size US P hook)
How to hold your crochet hook and yarn
Drawing-enriched instructions for working all crochet basics including the slip knot, chain stitch, slip stitch, yarn over, single crochet, half double crochet, double crochet, and treble crochet. There are also instructions for the unique Solomon's Knot.
Information-rich section on what it means to make fabric using crochet, which includes how to start a chain, work in rows, make a turning chain, fasten off, and join a new yarn. You'll also learn about working into chain spaces, between stitches, around posts, and into one loop only.
You'll also learn how to create filet mesh, shells, clusters, bobbles, popcorns, puff stitches, crossed stitches, and picots.
How to read a crochet pattern including what multiples and pattern repeats are, how to determine when to use which color, and what gauge is.
You'll learn all of this before you even get into the instructions for the 250 stitches in this collection!
What Are Basic Stitches Anyway?
This book is called Basic Crochet Stitches. Oftentimes, crochet beginners think of some of the above stitches as advanced or at least intermediate stitches.
We tend to call the sc, hdc, and dc our basic stitches. So, what is a basic stitch as far as this book goes?
The 250 crochet stitch patterns in this book all use the information gleaned in that first section as described above. They're not advanced stitches because they don't incorporate unique techniques such as Tunisian crochet, hairpin lace, or broomstick lace.
Arguably, the Solomon's Knot (also called a Love Knot) is an advanced technique, so you'll definitely have the option to learn a few advanced things in this book.
That said, the stitches mostly incorporate various combinations of ch, sl st, sc, hdc, dc, and tr with spacing and various groupings.
It's amazing to see how many different patterns you can create by working just those stitches in different combinations, particularly when you add color changes into the mix.
Crochet Stitch Patterns
Of course, the bulk of this crochet book is the Stitch Gallery. Each page features instructions for one or two stitch patterns.
Each pattern includes:
A close-up photo of the detail of what the front of the fabric looks like when worked in this stitch
The name of the stitch
The multiple for the starting chain
Row-by-row written instructions for as many rows as necessary to achieve the stitch pattern repeat
A crochet symbol chart that offers a graphic visual of those written instructions
The book begins with learning how to create fabric in the simplest crochet stitches. Like most other stitch dictionaries, it has instructions for crocheting fabric in rows using single crochet, half double crochet, double crochet, and treble crochet.
Then you'll start learning how to crochet fabric using those same stitches worked using different placement. For example, you'll see patterns for back loop single crochet, front loop single crochet, and alternating back and front loop single crochet.
After that, you'll start learning how to combine those basic stitches in different combinations to get fabrics of different textures. For example, you'll discover that in wattle stitch you work sc, ch, dc all into the same space and skip spaces between those groupings.
In many cases, you'll work the crochet pattern using the same yarn throughout, but there are certain stitch patterns that are designed for color changes, in which case you'll get specific instructions for that. Some stitches have a number of variations.
For example, there are four different instructional patterns to create variations of the single crochet cluster stitch. These similar-but-different patterns are perfect examples of how working the same crochet stitch using different hook placement can create subtly different fabrics.
If you're a seasoned crocheter, then you'll recognize a lot of these crochet stitch patterns. For example, you might have heard of boxed shells, marguerite stitch, griddle stitch, and honeycomb trellis.
In other instances, you may not know the stitch name, but it describes itself using patterns you'll recognize: Open Shell and Picot Stitch, Dots and Diamonds, or Puffed Cables.
However, in other instances, you might not recognize the name or design of the stitch at all. For example, perhaps you've never heard of Odd-Forked Cluster Stitch, Ridged String Network, or Theater Box Stitch. You'll get the chance to try a variety of new things.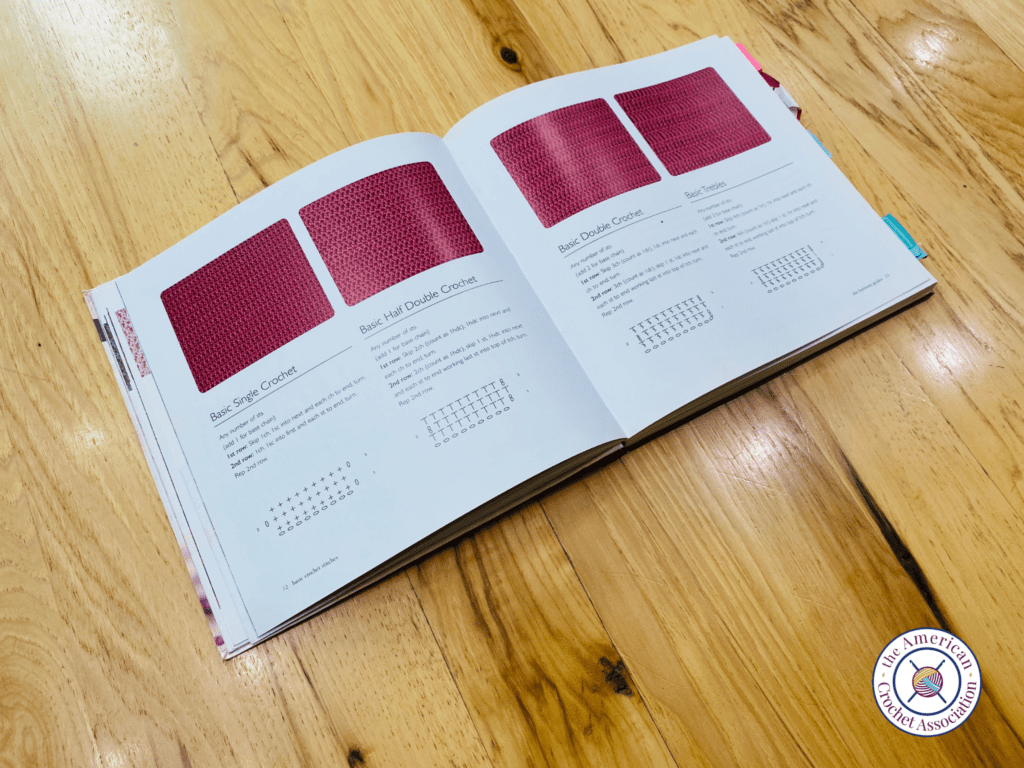 What's Not in This Book
This crochet book is not a book of crochet patterns. You won't find different projects here that you can make for yourself, your home, or to give as gifts. The "patterns" are simply row-by-row instructions for making crochet fabric.
Of course, you can use those instructions to crochet your own projects. As a beginner crocheter, you will want to make only square or rectangular crochet projects using these patterns.
For example, you could make afghan squares, large crochet blankets, scarves, or rectangular crochet wraps.
The reason that you can't make projects easily in other shapes is because this crochet stitch dictionary does not provide any information about how to increase and decrease in different stitch patterns. Unless you're advanced at the math of crochet, it'll be hard to figure some of that out.
This isn't necessarily a flaw of the book itself, because it's common among stitch dictionaries. Very few stitch dictionaries offer detailed shaping information for their patterns. In fact, we only know of one: Crochet Every Way by Dora Ohrenstein.
Notably, there's also not specific information about how to crochet these stitch patterns in the round. There's a note about working in the round at the beginning of the book, though.
As long as you understand how to crochet in the round, and you get the stitch count right on your starting chain then you should be able to adapt most of these row-based stitch patterns to working in the round.
Finally, there are a few things missing from this book that could benefit a stitch dictionary. It doesn't have a visual index or table of contents.
Therefore, you have to thumb through the book to find the patterns that you want. Moreover, the stitches don't seem to have any specific sort of organization.
Some stitch dictionaries loosely organize stitches into categories, placing all of the mesh stitches in one section, shell stitches in another, chevrons in a third, etc. While some similar stitch patterns seem grouped together, others seem random.
This isn't entirely a bad thing; the more you browse through the book, the more you'll discover on your own. 
10 Ways to Use Harmony Guides: Basic Crochet Stitches by Erika Knight
We've gone over in detail what you can expect to find in the crochet stitch dictionary Harmony Guides: Basic Crochet Stitches. But how can you actually use this book?
There are so many great ways to utilize a stitch dictionary like this one.
Here are ten ideas:
1. Learn a new stitch every day.
If you want to get better at crochet, then take just a few minutes out of each day to learn a new stitch.
Make it your year of practicing new stitches.
Even if you skip a few days here and there, you can easily learn the 250 crochet stitches in this book within the span of one year.
Document your efforts on social media so you can look back and see how far you've come.
2. Crochet stitch sampler blankets
Pick twenty-five crochet stitches from this book.
Make one 5" square in each of those stitch patterns.
Join them together in a 5×5 pattern to create a 25" square lap blanket.
If you made ten of those blankets, then you could use all 250 stitches in the book! Of course, you can adapt the size of each square to make blankets of your preferred size. 
3. Crochet one scarf per month, each in a different stitch pattern.
Open the book to a random page.
Use that stitch and whatever yarn you have in your stash to crochet a scarf.
You can make the scarf any width or length that you desire, changing it up to suit your materials and the stitch pattern.
The more scarves you create, the better you'll get at each of these stitches.
If you don't use that many scarves yourself, remember that they're a perfect item to donate to charity. 
4. Crochet one washcloth per week, each in a different stitch pattern.
Many people enjoy working on "52" projects, mean that they complete one project each week for an entire year.
It's a great goal to set and one that you'll feel proud of achieving. You can definitely start a project like that using this crochet stitch dictionary.
One idea is to make one washcloth per week.
A washcloth is small enough that completing one per week is reasonable.
It's functional so you can use it immediately or wrap up sets to give as gifts.
Work each washcloth in one stitch pattern from the book.
You'll get the chance to perfect more than one fifth of the book's patterns this way. If you love the project, do it again the next year with all new stitch patterns from this collection.
5. Get inspiration for a new crochet project or pattern.
If you're not sure what you want to crochet, then you just need a little bit of inspiration.
Crochet stitch dictionaries are great for inspiration!
Browse through until you come upon a stitch pattern that captures your attention.
Now, imagine what you want to make with it.
You could use the stitch pattern to crochet anything from a washcloth to a blanket.
Just work the rows using the instructions in the book.
Alternatively, you might want to make something that requires a bit of shaping.
If that's the case, see if you can find a crochet pattern online that utilizes that crochet stitch.
6. Refer to the book for pattern clarification.
Perhaps you already have a crochet pattern that you're using to make something, but you've run into some complications because you don't quite understand what the pattern's asking you to do.
You might be able to find the detailed row-by-row stitch instructions for that part of the pattern by referring to the stitch dictionary.
Head to the index and see if the stitch you're confused about is listed here in the book by name.
If not, flip through the pages to see if the stitch is there under another a name.
Sometimes just reading the instructions in a new way makes everything clear so that you can proceed with your pattern.
7. Learn how to read crochet symbol charts.
If you only know how to work from written crochet instructions, then you're missing out on a whole world of interesting patterns.
There are a lot of patterns online written in foreign languages that you can't read.
However, they often come with symbol charts.
If you can read that visual language of crochet, then you can work on those patterns, even if the words themselves are in Russian, Japanese, or another language that you don't know.
How does this book help with that?
The key at the back provides basic information about how to read a stitch diagram.
It includes a guide to what each symbol means.
Plus, each crochet pattern has both written instructions and stitch diagrams.
Therefore, you can read the instruction, work the pattern, and look at how the stitches you make match the visual diagram.
Once you've practiced a little bit, try covering up the written instructions, working from the diagram, then checking to see if you got it right.
There are 250 crochet stitches to practice with here so there's no excuse not to master this aspect of the craft. 
8. Choose a border for a project.
You've completed a crochet project.
Now it just needs an edging. Maybe you didn't work from a pattern, perhaps you worked from one that didn't include a border, or maybe you just want to change the border that's in the existing design.
Whatever the reason, you can easily add a border using the patterns in this book.
Find a design that would perfect complement your project.
Check the stitch multiple to see if it would work well (or if you can cheat it a little bit).
Then use the instructions to finish off your project.
9. Practice becoming a crochet designer.
Every crochet designer has to start somewhere.
One great way to learn about designing your own patterns is to start by doing a mix-and-match of existing patterns.
For example, pick five different crochet stitches in this book that all have the same stitch multiple.
Then combine those five stitch patterns in whatever combination you wish to create a scarf. 
As an example, let's just use two different patterns to start.
The Crow's Foot Lattice is a 4-row pattern repeat that has a starting chain that's a multiple of 6+1.
The Solid Shell Stitch is a 2-row pattern repeat with a multiple of 6+1.
Since they have the same multiple, it's easy to combine them. So, you might crochet:
13 rows of Crow's Foot Lattice (this includes the starting row and then three repeats)
12 rows of Solid Shell Stitch (which is 6 pattern repeats)
Alternate the above until you have the desired length for your scarf
You'll discover that when you switch between two patterns, you'll have to make some adjustments to the instructions.
For example, you'll skip the "starting row" of the Solid Shell Stitch and work the pattern repeat directly into the final row of the Crow's Foot Lattice.
It'll take some adjusting to figure out where each stitch goes. That's what makes you a budding crochet pattern designer!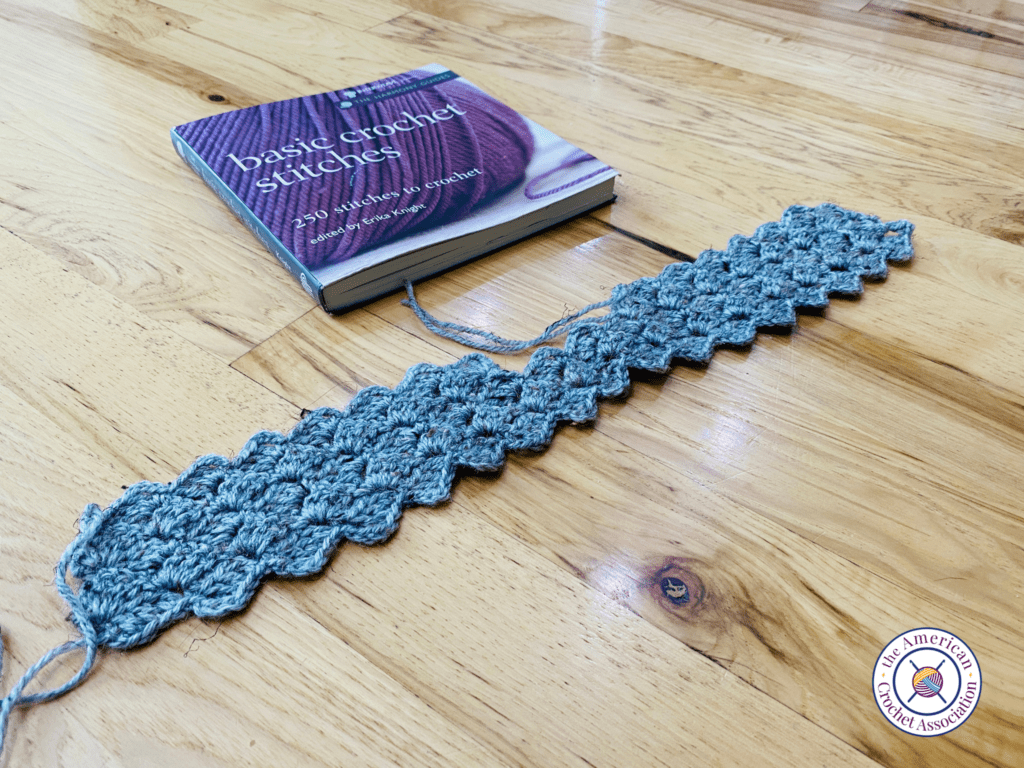 10. Just get excited about crochet again.
No matter how much you love crochet, there will come a time when you lose your crojo.
You just won't feel like picking up your hook. Sometimes, that's okay; you do other crafts and hobbies for a while and eventually come back to crochet.
However, at other times, it can feel distressing.
You want to crochet, but you just can't quite get up the motivation.
Browsing through a stitch dictionary like this can be one easy way to get that inspiration back.
As you look at all of the different things that you can do with just a hook, yarn, and a little bit of knowledge, it's hard not to feel the tug to get back into the creative action.
Plus, Some Additional Fun Facts About This Book
Now you know almost all there is to know about Erika Knight's Harmony Guides: Basic Crochet Stitches. You also know how you can use the book yourself. But here are a few extra fun facts about the book and its author:
You can hear Erika herself speak on a YouTube podcast with Vicki Howell and on The Crochet Circle Podcast as well as the Pom Pom Quarterly Podcast.
This article contains some affiliate links.