If you love the classic look of chevrons, and the granny stitch in crochet, you'll love this piece!
The Granny Chevron Table Runner is made with simple repeats of chain and double crochet stitches, using the classic look of a granny stitch to create a chevron design!
This table runner has three distinct chevron points, created by skipping over stitches (decreasing) and adding multiple stitches (increasing).
The classic granny stitch is used here to add even more depth and texture to this table runner – making this a true statement piece for the center of your dining table.
Once you get started with this piece, and memorize the one repeating row of stitches, it is very quick and easy to work up with very little focus needed! 
Because this is a piece of decoration, you can use yarn colors, fibers, and weights that you like best.
Follow the pattern exactly to make a 44" long runner, or you can easily adjust the pattern length by adding rows until you have a length you love.
While this pattern is written to create a table runner, you can use the stitch repeat multiple to work this design into other projects: washcloth, scarf, blanket, rug, and so much more!
This is a great pattern because:
Table runners are fun projects to learn new crochet stitches!
You can use these as table decoration, or any flat surface in your home (plus, they make great gifts)!
If you'll be using this in the kitchen or dining room, this project works great with cotton yarns or natural fibers.
You'll get to practice a lot of crochet skills: rows, stitch tension, stitch counting and recognition, increasing, decreasing, gauge, size & more!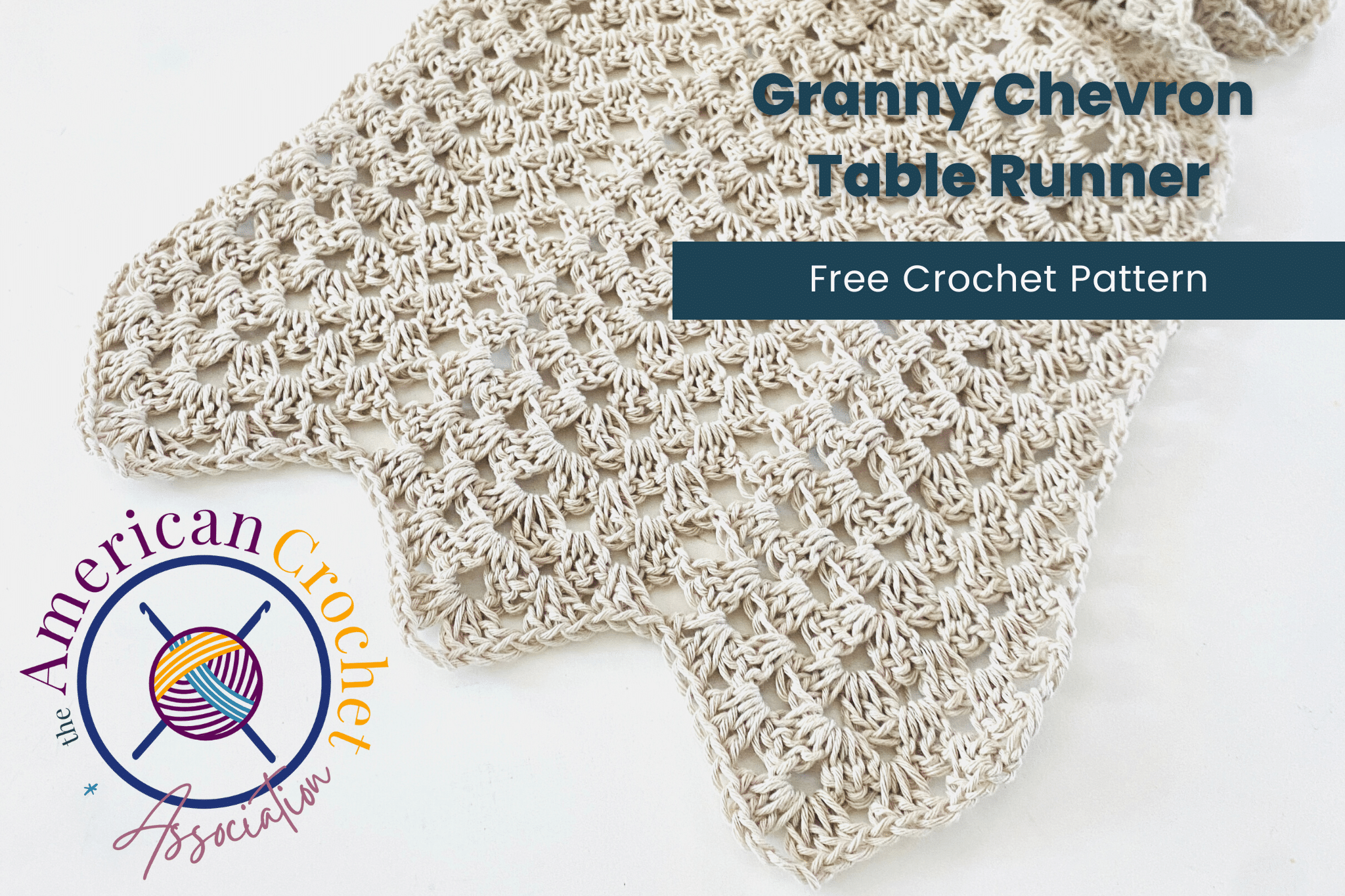 Before you get started…
Need some inspiration?
Check out other finished projects, here: 
Want to learn even more crochet stitches? 
CLICK HERE to watch 30+ crochet stitch video tutorials for free!
Let's get started!
Pattern Designed By: Salena Baca Crochet. This pattern is copyright protected; it is unlawful to distribute this pattern in any form (free, sale or trade).
Click Here to purchase a downloadable PDF version of this pattern!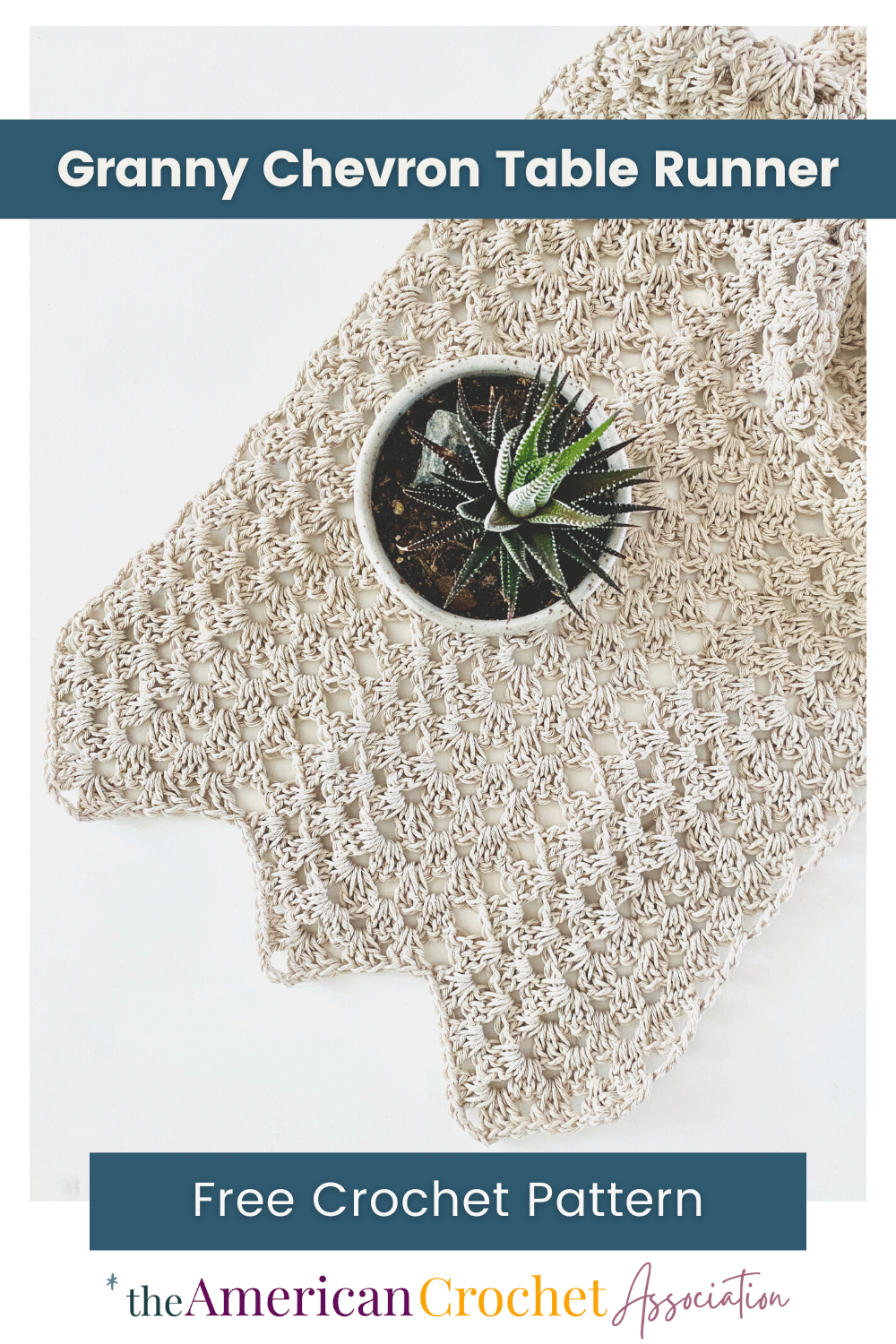 YARN
Patons Hempster, light weight #3 yarn (55% Hemp + 45% Cotton; 190 yds/174 m per 3.5 oz/100 g skein):
MATERIALS
US G/6 (4.00 mm) crochet hook
Scissors
Yarn needle
Measuring Tape
STITCH KEY
SIZE
GAUGE
8 pattern Sts = 6"
1 chevron = 3.75"
NOTES
Pattern is worked in multiples of 19, plus 3 for starting chain (counts as first Dc).
Adjust pattern length by adding or omitting repeating rows, as desired.
Row 1, beginning skip 6 Ch, counts as: 1 Dc + Ch base + skip 2 Ch
INSTRUCTIONS
Ch 60.
Row 1 (Right Side): *Skip 6 Ch, [work 3 Dc into next Ch, skip 2 Ch] twice, (3 Dc, Ch 3, 3 Dc) into next Ch, [skip 2 Ch, work 3 Dc into next Ch] twice* repeat from * to * three times, skip 2 Ch, work 1 Dc into last Ch – 65 Sts; 56 Dc + 9 Ch
Round 2: Ch 3 (first Dc), turn, *[skip 3 Dc, work 3 Dc between next Sts] twice, (3 Dc, Ch 3, 3 Dc) into Ch-3 space, [skip 3 Dc, work 3 Dc between next Sts] twice, skip 3 Dc* repeat from * to * three times, work 1 Dc into last St – 65 Sts; 56 Dc + 9 Ch
Repeat row 2 until 58 rows are complete. Fasten off.
Finishing: Sew in all ends, trim excess.
Click Here to share your finished project in our community!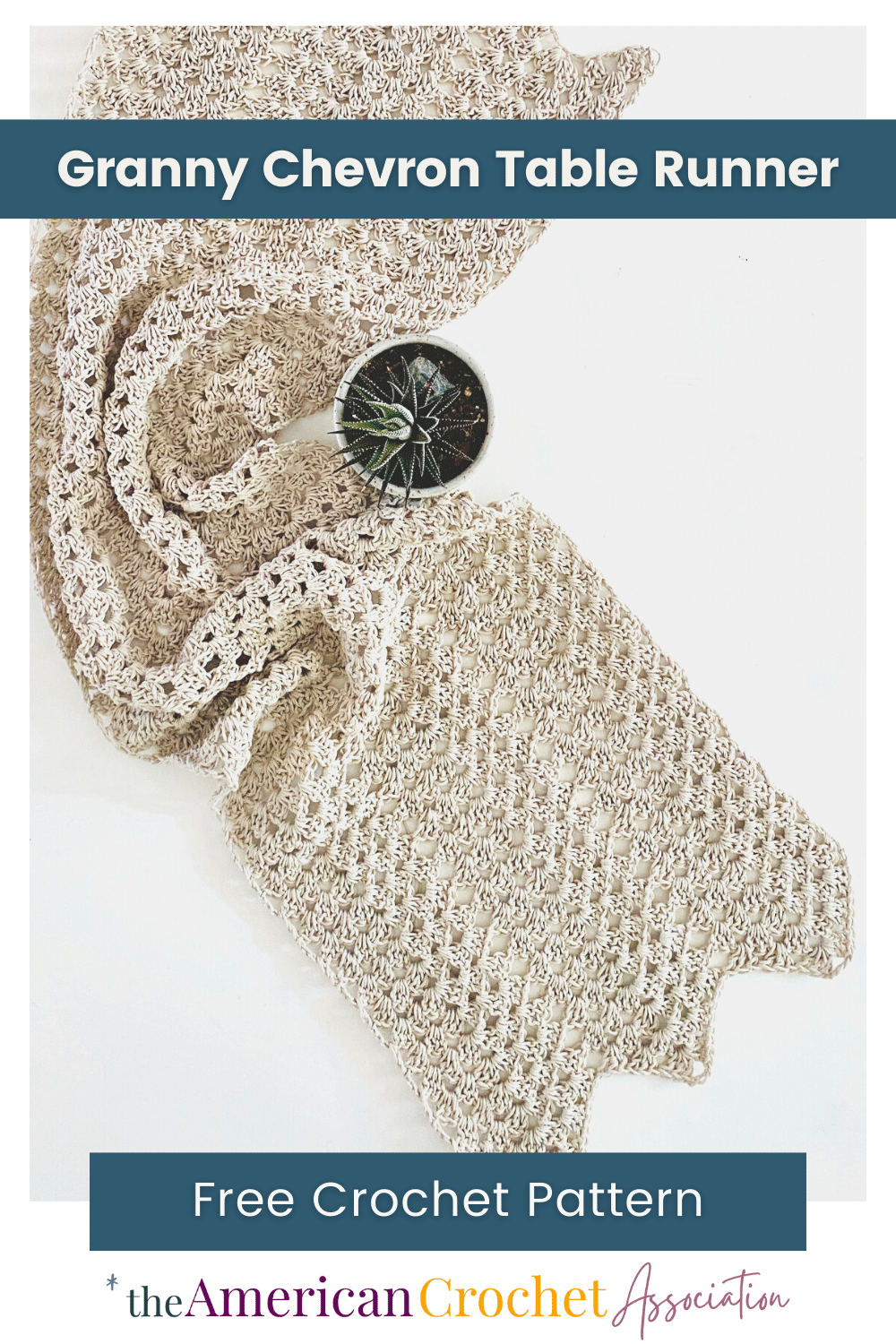 Peace + Love + Crochet
Salena