Welcome to our comprehensive guide on becoming a Certified Crochet Instructor!
Whether you're a seasoned crocheter eager to share your passion or a novice looking to embark on a rewarding teaching journey, this article has everything you need to know to kickstart your career as a crochet instructor.
From the basics of getting started to the essential skills and knowledge required, these are the steps to become a proficient and certified crochet instructor.
Let's dive into the world of teaching crochet and unleash your potential to inspire others with the art of this timeless craft!
For example, you may wonder:
What does certified mean?
What is a certified crochet instructor?
Do I need a certificate to teach crochet?
How do I become a certified crochet instructor?
These were questions I asked when I decided to teach crochet professionally, and I didn't find many good answers.
That's because good answers were few and hard to find.
Crochet is often passed down in pieces, casually between friends and family members.
We teach crochet how we were taught; usually without variation from our first lessons, whether students learn and progress or not.
That's because we only teach what we know about crochet.
And when it comes to crochet, we don't know what we don't know (I'm speaking from personal experience here).
Estimated reading time: 5 minutes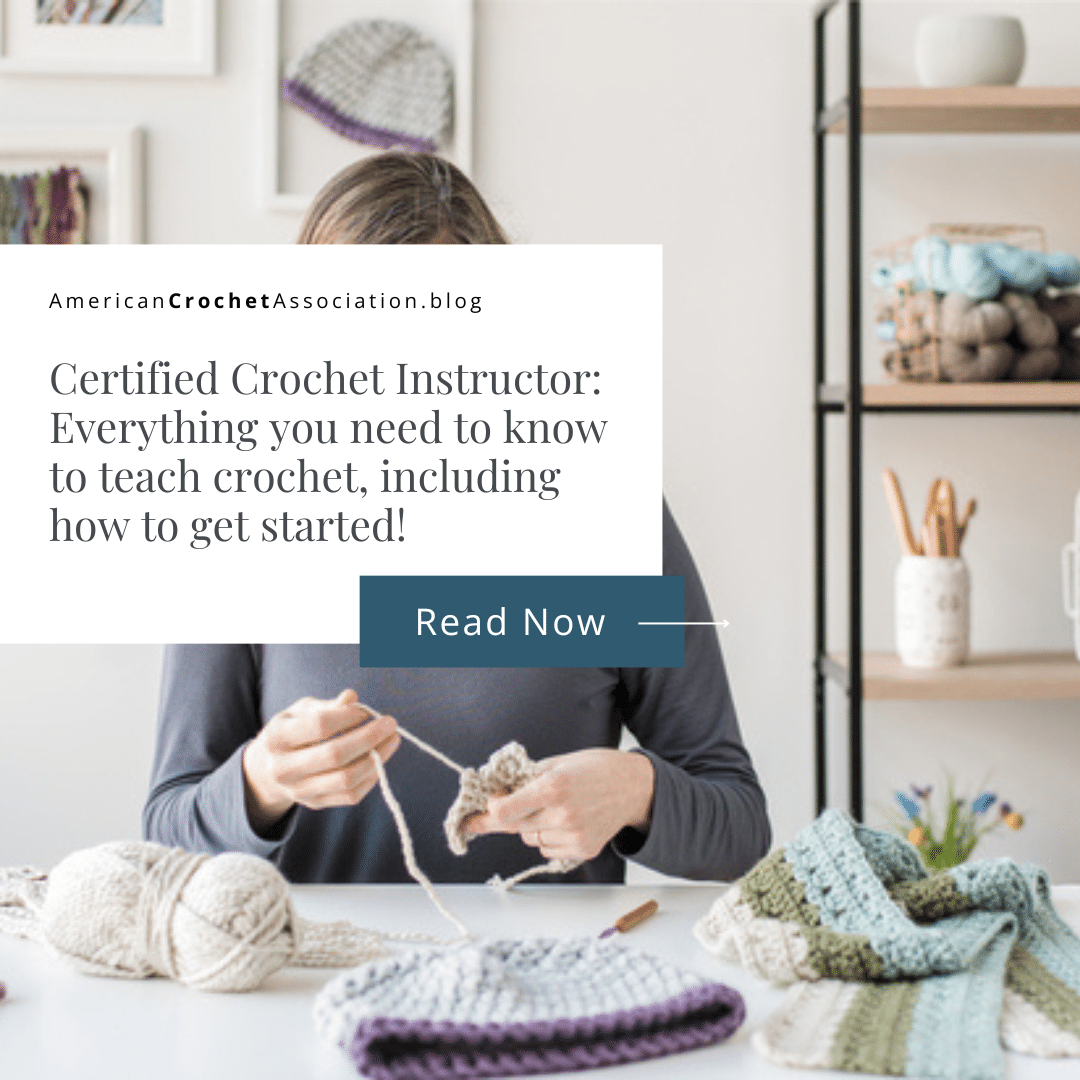 We can do better
Beginner crochet lessons often mean we teach with methods that don't work well for everyone:
A granny square (it's how most of us learned, right?)
A blanket (because your student saw one on Pinterest)
Chains (long ones, that never end)
Dozens of rows of half double and double crochet (look, it's a scarf!)
We can do better.
I learned how to crochet at the age of five (over 35 years crochet experience to date), and have taught professionally since 2009 (including two courses with Craftsy).
Crochet is my lifestyle.
I see myself as a lifelong learner, working to assure crochet is passed through the generations in better hands than we found it.
When I decided to start teaching professionally, I wanted to learn all I could and I didn't just want an attendance certificate to show off.
I wanted to earn credentials.
Just saying that I was a teacher wasn't enough; I wanted to become a professional because I earned the skill and ability to be one.
After many years of learning and teaching, I found practices and strategies that helped me to become a successful crochet teacher and professional, and I want to share what I learned.
CLICK HERE to learn more about how I teach beginners crochet (including resources you can use).
Here's everything you need to know about certified crochet instruction, including how to get started.
What does certified mean?
According to most dictionaries, certified means that a person is officially recognized for the completion of a training program, or for showing competency in a subject.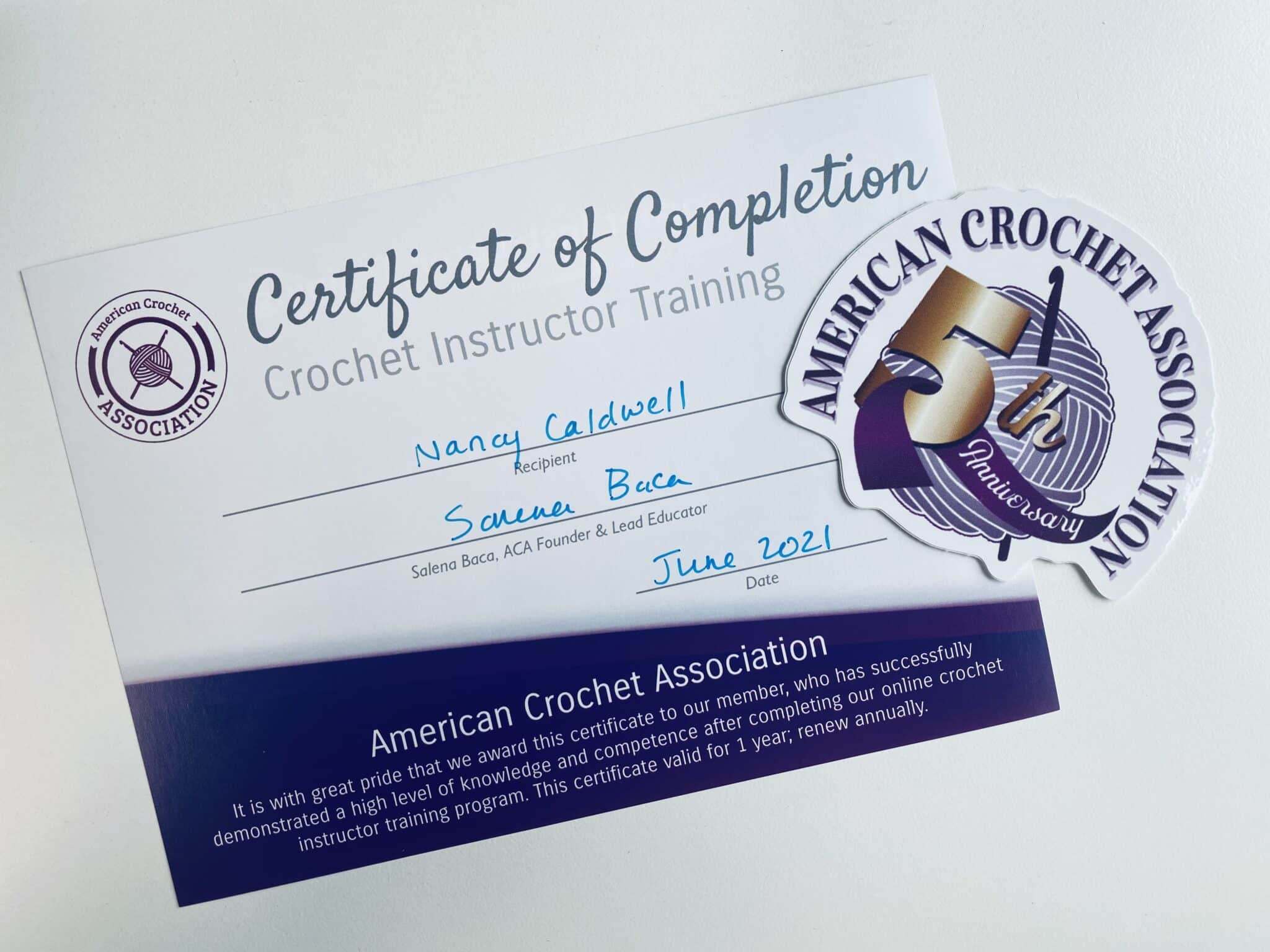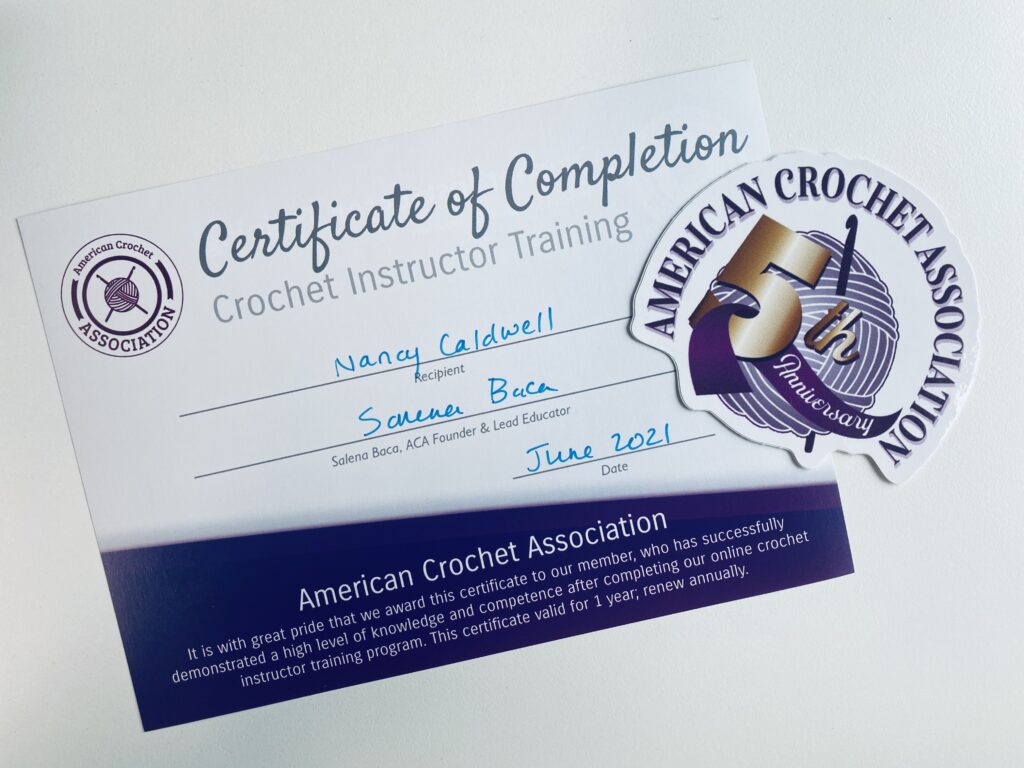 Certificates can have a broad meaning:
Completion: A program was completed (taking a course)
Competency: Knowledge in a subject was demonstrated (passing a test after taking a course)
While some fields (like medical or legal) have strict certification processes, the crochet world does not have a supreme authority to regulate or administer crochet certification.
Therefore, crochet certification is not a requirement, especially to teach.
The reality is, if someone wants to become a crochet teacher of any kind, they can simply do it; crochet teachers are self-regulated and what they demonstrate in terms of skill and ability is also self-regulated.
Side note…
I believe this is why beginner crochet lessons still use ineffective strategies like granny squares, long chains, and scarves made out of half double and double crochet stitches.
What is a certified crochet instructor?
When it comes to crochet instruction, certified could mean:
A program was completed: You demonstrated basic crochet knowledge and skill.
Competency was met: With the knowledge you demonstrated, you successfully taught others how to crochet using a particular lesson plan.
Certification can mean something as passive as taking a course (attendance), or as involved as showing competency within a subject (aptitude).
There are just a few platforms offering certification in the field of crochet instruction, and I'll share more on each one of them further down.
Do you need a certificate to teach crochet?
Nope!
You can teach crochet anywhere you want simply by showing up: yarn stores, online, events, conventions.
You probably won't be asked if you're certified to teach.
But, there are courses that will help you to build professional knowledge and skill.
A certificate can prove what you've been trained to do based on the education you've received.
The right course and certification process can show that you're able to:
Assess crochet skill and ability
Teach all basic crochet stitches
Teach pattern, chart and diagram reading
Teach patterns worked in rows, tubes, joined rounds
Teach basic techniques: slip knot, color change, add new yarn, gauge, size, fasten off work, adjustable loop.
While a program may simply offer a certificate for completion (attendance), you should consider investing your time in a course that will strengthen and build your competency.
Review the merits behind a certification process to calculate what you'll gain from earning it, because a certificate could lead to more and better teaching opportunities.
When you've gained valuable skills, a certificate will help you to prove what those skills are.
How to become a certified crochet instructor
There are two main platforms currently offering certification in the crochet world:
Here are some basic comparisons between the two; however, please click on each link above to learn more about these programs for yourself.
Ready to invest your time in a Crochet Instructor Training course that will strengthen and build your competency, then give you a certificate when you're done?
CLICK HERE to learn more and get started today.
Let me know in the comments or CLICK HERE to share in our community!
Peace + Love + Crochet
Salena